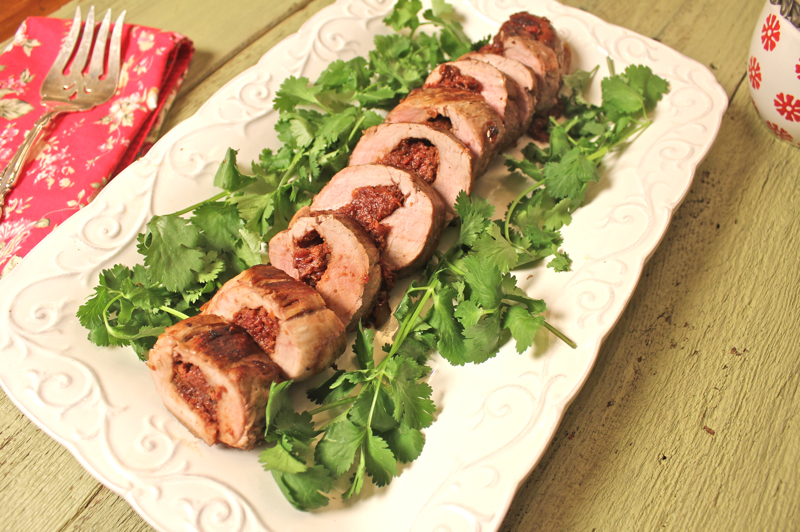 I love working with pork tenderloin.  You can usually find them two to a pack on sale at your local markets.  Recently I made my pork schnitzel with one of the tenderloins in the pack and had to come up with a use for the other one.  Stuffing one is always a good idea.  It is easy to butterfly them and fill them with any number of flavorful combinations.  The Fresh Market and Friends Cookbook had an interesting recipe using dried cherries and pecans, so that is what I did.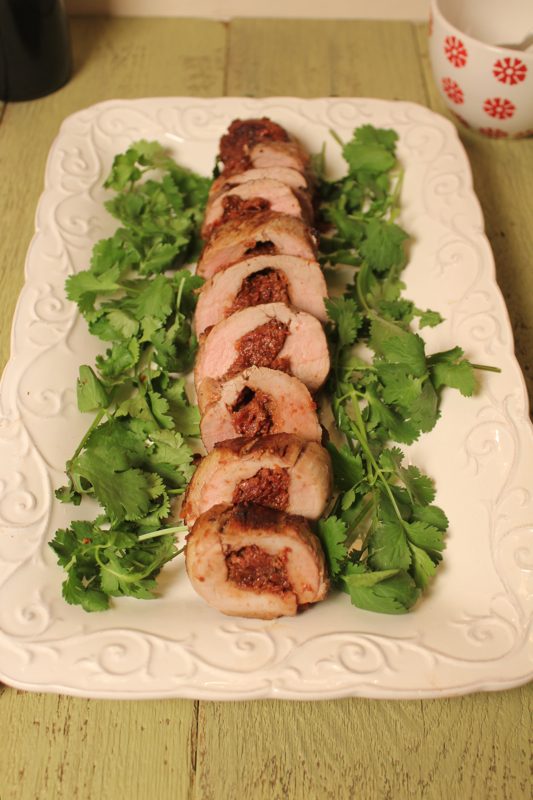 The only thing different I would do with this great recipe is make some kind of sauce to go with it.  I found this recipe online using bing cherries, ruby port and balsamic vinegar.  I know it would be perfect with this pork tenderloin.  Next time I will give it a try.  I am linking this to Tasty Tuesday at The Comforts of Home.
PORK TENDERLOIN WITH CHERRY PECAN STUFFING
1 1/2 cups water
1 1/2 cups dried cherries
1/4 cup pecans, toasted
2 teaspoons ground cinnamon
pinch of ground cloves
2 tablespoons fresh cilantro, chopped
2 tablespoon olive oil
1 1/2 pounds pork tenderloin
Salt and pepper, to taste
Butcher's twine
Pre heat oven to 400 degrees F.  In a medium saucepan over high heat, bring water to a boil.  Add cherries and immediately remove from heat; let rest for 1 hour then drain.  Transfer cherries to a food processor and add pecans, cinnamon and cloves; pulse until coarsely chopped.  Transfer to a bowl and stir in cilantro.
Preheat olive oil in a large saute pan over medium high heat.  Cut tenderloin in half lengthwise 3/3 of the way through and unfold like a book in front of you.  Place a sheet of plastic wrap over the top and, using a mallet, flatten slightly.  Remove plastic, season with salt and pepper to taste.  Spread cherry stuffing over tenderloin and fold back together; secure with butcher's twine.  Sear tenderloin in saute pan for 5 to 6 minutes then transfer to a baking dish and bake for 15 to 20 minutes.
Remove from oven and let rest 5 minutes before slicing into medallions to serve.  Serves 4 to 6.