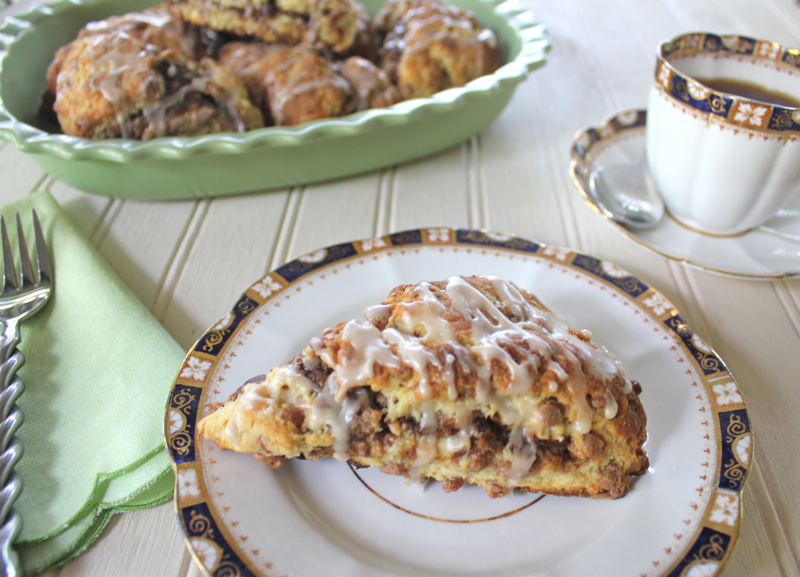 I love the King Arthur Flour Company.  Not only do they have some of the best flour available, but they also have some of the best baking ingredients and tools to turn out some of the best baked good you will ever taste.  While visiting our family over Easter, Kristen served us these Triple Cinnamon Scones.  I fell in love with them.  They are the best scones I have ever eaten.  She got the recipe and several of the ingredients from King Arthur.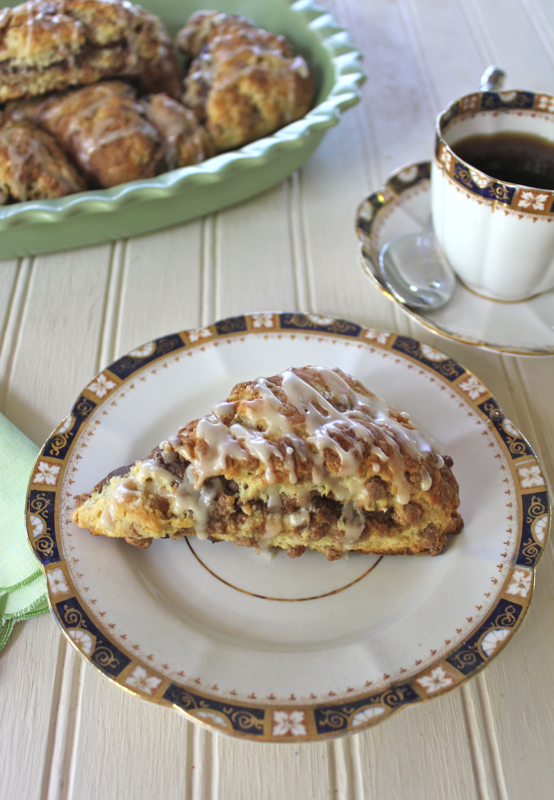 I immediately placed an order online for their cinnamon chips and their baker's cinnamon filling mix; because, you see, these cinnamon scones are indeed a triple blast of cinnamon.  The cinnamon chips, the cinnamon filling and the cinnamon glaze make them sooo delicious – no dry scones here.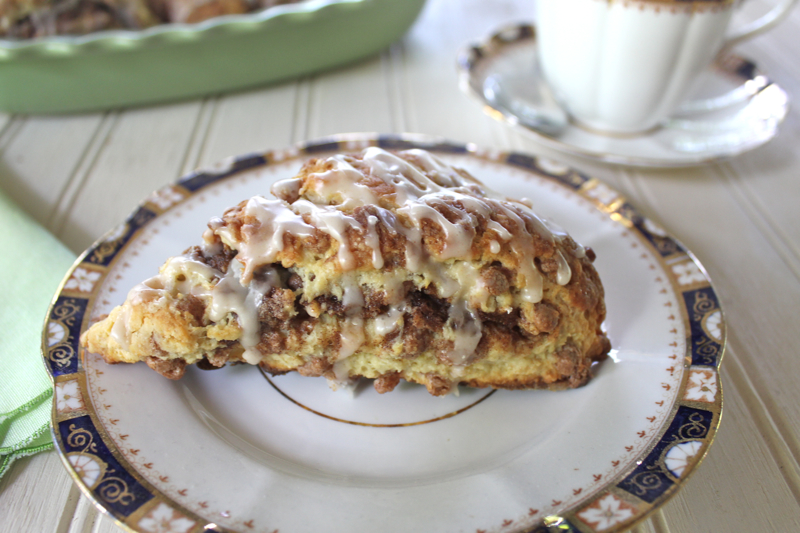 You can just see the layers of flavor.  Because of that there are a few steps involved in their preparation, but it is totally worth it.  The recipe has some great tips to make successful scones.   One tip is to put the prepared scones in the freezer for 30 minutes before baking.  Another suggestion I have, is to use a very sharp knife to cut the scone shapes.  That way they will not become lopsided while baking.  Make a clean cut without pulling at the batter.  Also, I made only about half of the glaze and just drizzled the tops of the scones instead of slathering the whole thing in glaze.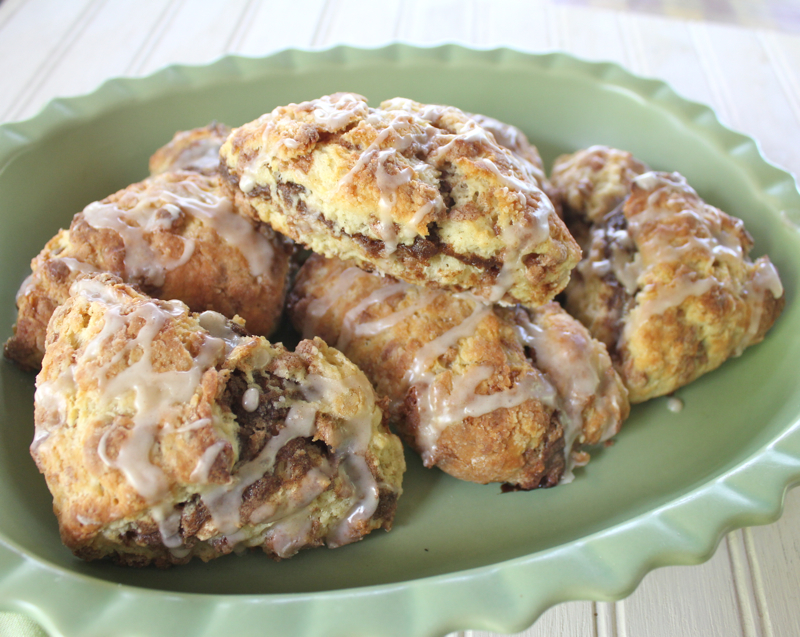 A platter of warm scones is the perfect breakfast for a crowd.  I plan on making them (and perfecting my skills) all summer while we have visitors.  I may even make them in advance and freeze a few batches.  My next scone recipe will be an Orange scone using the Candied Orange Peel that I got from King Arthur.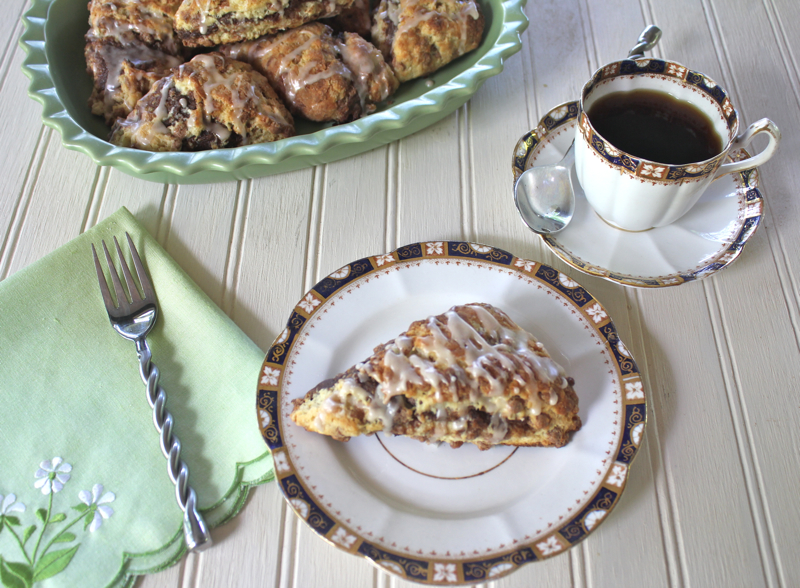 By the way, the pretty plate and cup and saucer were a gift from a special blogging friend, Mary, from A Breath of Fresh Air.  Thank you Mary.  The pretty luncheon napkin is one from a set that belonged to my Mother.  She used them for special luncheons with friends when I was just a child.  I treasure them.
TRIPLE CINNAMON SCONES
scones
3/4 cup half and half or evaporated milk
1 cup cinnamon Flav-R-Bites or cinnamon chips
2 3/4 cups King Arthur Unbleached All-Purpose Flour
1/3 cup sugar
1 tablespoon baking powder
3/4 teaspoon salt
1/2 cup cold butter, cut into pats
2 large eggs, lightly beaten
1 teaspoon vanilla extract
filling
3/4 cup Baker's Cinnamon Filling*
3 tablespoons water
*Or substitute 5 tablespoons butter, 3/4 cup brown sugar, and 2 tablespoons ground cinnamon for the Baker's Cinnamon Filling mix and water.
glaze
3 1/2 cups confectioners' sugar
1 teaspoon ground cinnamon
7 tablespoons water
1) Combine the Cinnamon Flav-R-Bites with the half and half or milk in a small bowl. Let the mixture rest for about 20 minutes.
2) While the cinnamon mixture is resting, get started putting together the rest of the ingredients. In a large mixing bowl, whisk together the flour, sugar, baking powder, and salt.
3) Work in the butter just until the mixture is unevenly crumbly; it's OK for some larger chunks of butter to remain unincorporated.
4) Add the eggs and vanilla to the cinnamon-milk mixture, stirring to combine.
5) Add the liquid ingredients to the dry ingredients and stir until all is moistened and holds together.
6) Scrape the dough onto a well-floured work surface. Pat/roll it into a rough 9″ square, a scant 3/4″ thick. Make sure the surface underneath the dough is very well floured. If necessary, use a giant spatula (or the biggest spatula you have) to lift the square, and sprinkle more flour underneath.
7) Spread the filling over the dough. Fold one edge into the center and over the filling, as though you were folding a letter. Fold the remaining edge over the center to complete the three-fold. You'll now have a rectangle that's stretched to about 4″ x 12″. Gently pat/roll it to lengthen it into a 3″ x 18″ rectangle; it'll be between 3/4″ and 1″ thick.
8) Cut the rectangle into six 3″ squares. Transfer the squares to a lightly greased (or parchment-lined) baking sheet. Now you have a choice. For large scones, cut each square in half diagonally to make a triangle; you'll have 12 scones. For medium scones, cut each square in half diagonally again, making four triangular scones from each square. Gently separate the scones (if you like scones with crunchy edges), leaving about 1″ between them. For softer scones, separate the scones just enough to break contact between them.
9) You may also choose to make scone strips, or tiny squares. Cut each 3″ square into three 1″ x 3″ rectangles, for a total of 18 scone strips. Gently separate the strips, leaving about 1/2″ between them. Or cut each 3″ square into nine 1″ squares, to make 54 bite-sized mini scones.
10) For best texture and highest rise, place the pan of scones in the freezer for 30 minutes, uncovered. While the scones are chilling, preheat the oven to 425°F.
11) Bake the scones for 16 to 20 minutes, or until they're golden brown. Remove the pan from the oven, and allow the scones to cool right on the pan.
11) Make the glaze by stirring together the sugar, cinnamon, and water. If the sugar seems particularly lumpy, sift it first, for an extra-smooth glaze.
12) Now you're going to coat each scone with glaze. You can dip each one individually, which is quite time-consuming. Or line a baking sheet (with sides) with parchment, and pour about half the glaze atop the parchment. Set the scones atop the glaze, swirling them around a bit to coat their bottoms. Then drizzle the remaining glaze over the top. Use a pastry brush to brush the glaze over each scone, to coat it entirely. The glaze is very thin, so this is easily done.
13) Transfer the scones to a rack set over parchment, to catch any drips. As you pick each scone up, run its sides over the glaze in the bottom of the pan, both to use up some of the extra glaze, and to make sure all sides are coated. Allow the glaze to set before serving the scones.
Yield: one dozen triangles, 5″ x 3″; 2 dozen triangles, 2 1/2″ x 3″; 18 strips, 4″ x 1 1/2″; or 54 mini (1 1/2″) squares.