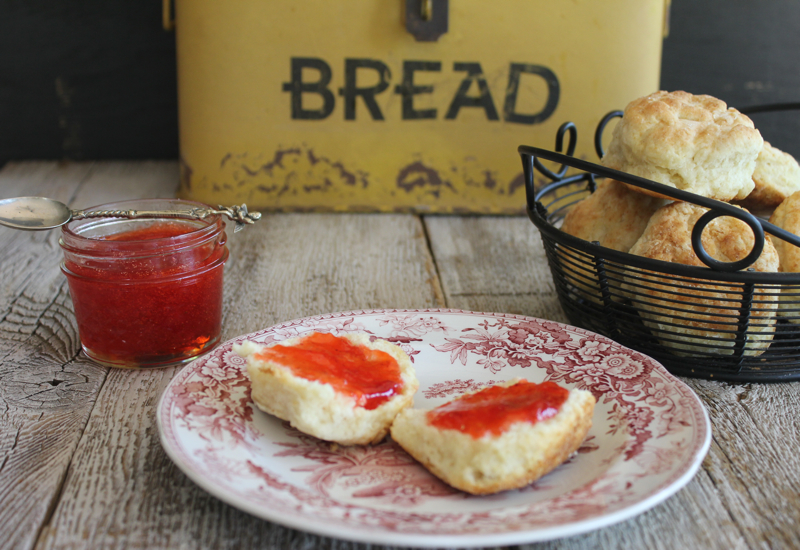 So much of what  Southern cooking is about is how its women were able to provide filling and nutritious meals for their families.  When I think about the Southern table I think about the history of putting food by; women sitting on their porches shelling butter beans, the steaming pots of water waiting on the stove for those ball jars full of strawberry jam ready to be sterilized and the rendered lard waiting to be mixed with flour and buttermilk for the morning biscuits.  And if there were leftover biscuits, they would be used as a topping for that old stewing hen.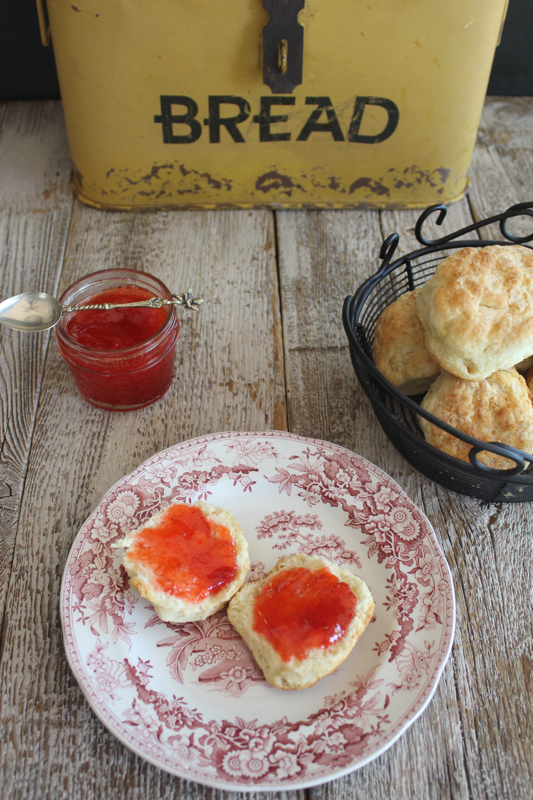 We have come a long way from the times when putting food by was a necessity for survival, but making biscuits is still a primal instinct to me.  There is nothing like rising early in the morning, lighting the oven and mixing the simple ingredients for biscuits. I love the put-put sound of my knife as it slashes through the butter and shortening cubes in the flour.  I make a floury mess in the kitchen as I pat the dough onto a board and cut the biscuits into shape.  Traces of flour cover the refrigerator door handle as I reach for the buttermilk and my clothing is dusted in flour.  After the biscuits are in the oven, David enters the kitchen, takes one look around and says "You must be making biscuits".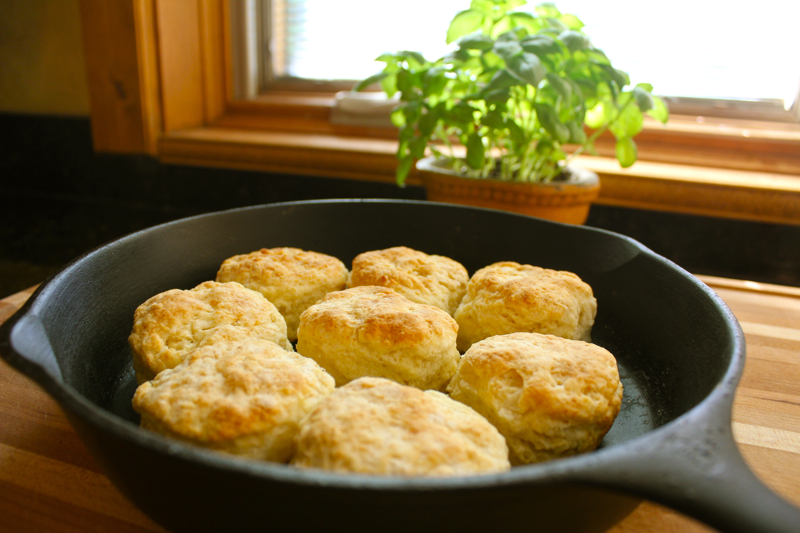 My biscuit making skills are still a work in progress.  A recipe that I have been using lately comes from Alton Brown.  He uses regular flour and a combination of butter and shortening and buttermilk in his biscuits.  It is a good basic recipe. Watching the Food Network a while back, I saw Sunny Anderson talk about her Grandmother's biscuits.  Her Grandmother shared her recipe with her, but the recipe never came out the same for Sunny.  So watching her Grandmother carefully one day she noticed that her Grandmother's flour looked different.than they flour that she used.  Her Grandmother's flour had little yellow flakes in it.  She neglected to tell her that she used Atkinson Flour with Butterflakes.  Sunny shared her recipe here.  I also found a new flour that I used in my biscuits this time.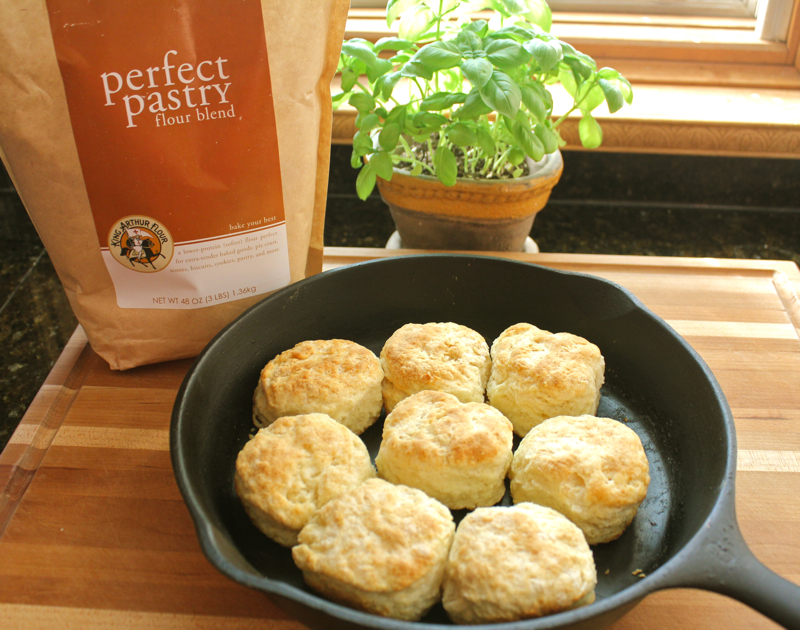 King Arthur has a Pastry Flour Blend that duplicates many of the Southern flours used by previous generations of southern cooks.  It is softer and produces lighter biscuits and scones.  It is also great for flaky pie crusts.  It is not recommended for yeast risen baked goods.  I found it easier to handle and loved the results in my biscuits.  I have yet to use it in pie crust, but am anxious to try it.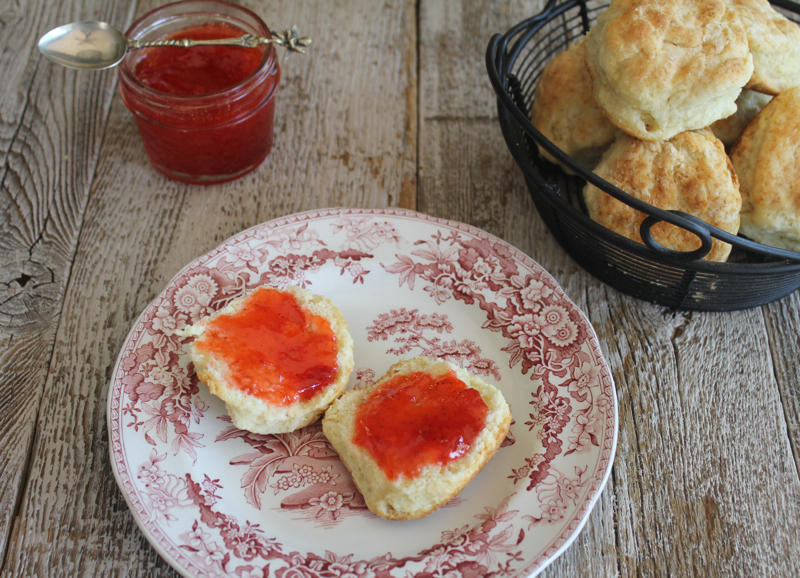 My biscuits were light and tender and went well with my freezer strawberry jam.  But I just may try the Atkinson flour blend to compare the results.  I would be interested to know if any of you have a favorite biscuit recipe.
SOUTHERN BISCUITS (Alton Brown)
2 cups flour
4 teaspoons baking powder
1/4 teaspoon baking soda
3/4 teaspoon salt
2 tablespoons butter
2 tablespoons shortening
1 cup buttermilk, chilled
Preheat oven to 450 degrees.
In a large mixing bowl, combine flour, baking powder, baking soda and salt. Using your fingertips, rub butter and shortening into dry ingredients until mixture looks like crumbs. (The faster the better, you don't want the fats to melt.) Make a well in the center and pour in the chilled buttermilk. Stir just until the dough comes together. The dough will be very sticky.
Turn dough onto floured surface, dust top with flour and gently fold dough over on itself 5 or 6 times. Press into a 1-inch thick round. Cut out biscuits with a 2-inch cutter, being sure to push straight down through the dough. Place biscuits on baking sheet so that they just touch. Reform scrap dough, working it as little as possible and continue cutting. (Biscuits from the second pass will not be quite as light as those from the first, but hey, that's life.)
Bake until biscuits are tall and light gold on top, 15 to 20 minutes.