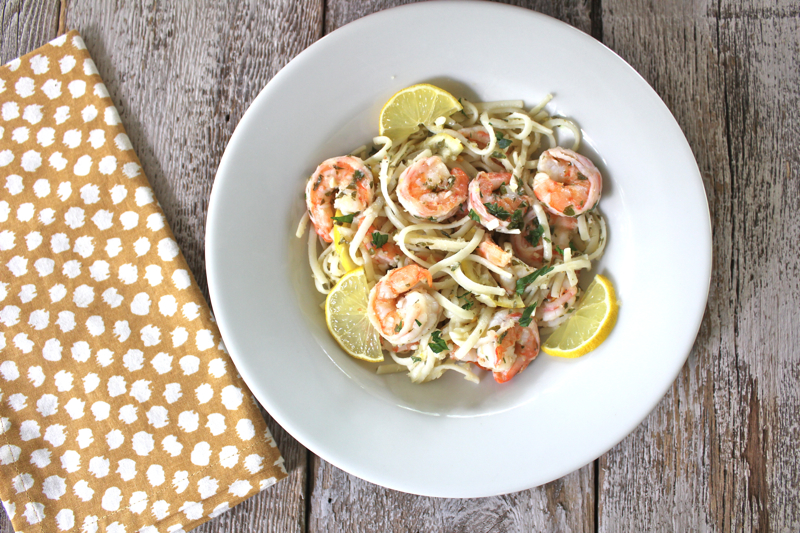 If you love lemons this is the dish for you.  But it is more than about lemons.  It is about butter, garlic and shrimp in a melange of lemon infused linguine.  I knew that this would be a great dish because it is a Barefoot Contessa recipe. This is even a quick and easy dish if you buy peeled and deveined shrimp.  I think one of the tasks that I hate most is peeling and deveining shrimp.  I once had to peel and devein eight pounds of shrimp for a friend's birthday party and I thought I would lose my mind long before I finished two hours later.  I'm not sure now how long it really took, but I hated every second of it.  I don't mind buying peeled and deveined shrimp if I can find them and will gladly pay extra from someone else to do it for me.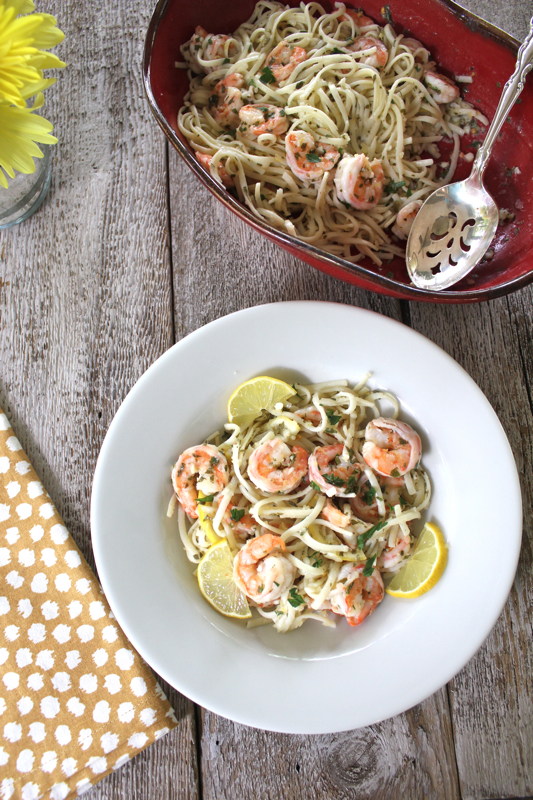 I have made several versions of shrimp and pasta here.  This is my favorite one so far.  The fresh parsley came from some that I planted in the planters on my deck.  I get all of my herbs from a local store called The Hickory Nut.  Sherry, the owner, grows many of her own plants and flowers in a greenhouse close by.  She also has chickens and I get my eggs from her also.  I am lucky to have such quality resources in our small community.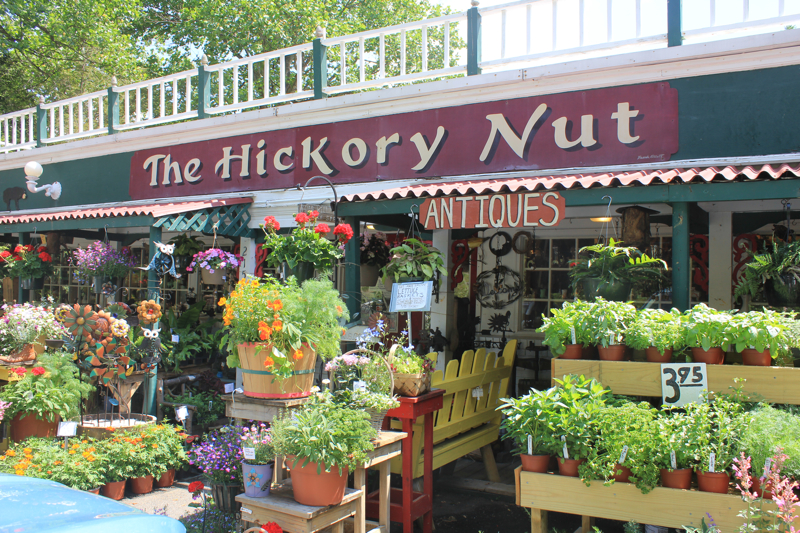 Spring and summer flowers and herbs make my happy.  So does this recipe.  Enjoy.
LINGUINE WITH SHRIMP SCAMPI
Vegetable oil
1 tablespoon kosher salt plus 1 1/2 teaspoons
3/4 pound linguine
3 tablespoons unsalted butter
2 1/2 tablespoons good olive oil
1 1/2 tablespoons minced garlic (4 cloves)
1 pound large shrimp (about 16 shrimp), peeled and deveined
1/4 teaspoon freshly ground black pepper
1/3 cup chopped fresh parsley leaves
1/2 lemon, zest grated
1/4 cup freshly squeezed lemon juice (2 lemons)
1/4 lemon, thinly sliced in half-rounds
1/8 teaspoon hot red pepper flakes
Drizzle some oil in a large pot of boiling salted water, add 1 tablespoon of salt and the linguine, and cook for 7 to 10 minutes, or according to the directions on the package.

Meanwhile, in another large (12-inch), heavy-bottomed pan, melt the butter and olive oil over medium-low heat. Add the garlic. Saute for 1 minute. Be careful, the garlic burns easily! Add the shrimp, 1 1/2 teaspoons of salt, and the pepper and saute until the shrimp have just turned pink, about 5 minutes, stirring often. Remove from the heat, add the parsley, lemon zest, lemon juice, lemon slices, and red pepper flakes. Toss to combine.

When the pasta is done, drain the cooked linguine and then put it back in the pot. Immediately add the shrimp and sauce, toss well, and serve.

Printable recipe