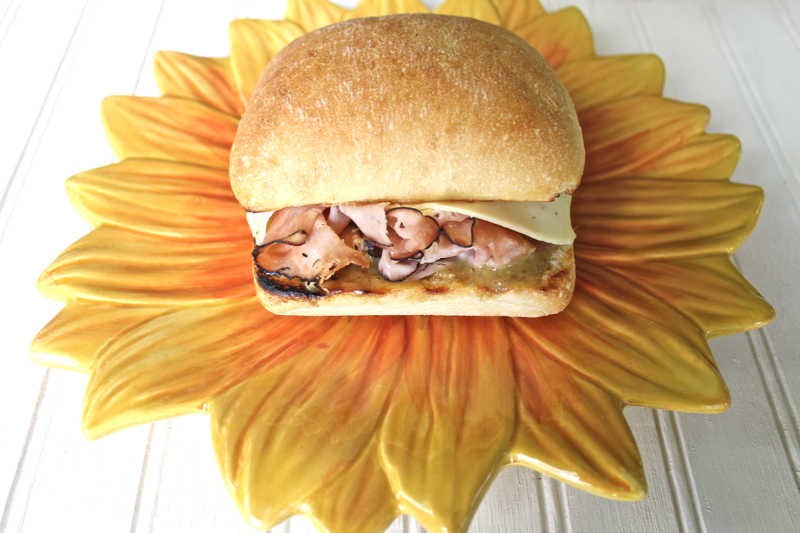 I love a good sandwich.  We have lots of company during the summer months and having flavorful sandwiches ready to be assembled is one of my goals.  This sweet-ham and havarti sandwich is one of the easiest that I have found.  On the back pages of a 1998 Gourmet magazine, this fleeting recipe was recorded.  It was not noted by me for many years.  I keep all of my precious Gourmet magazines and it came to my attention last week while flipping through pages.  Wow, I said to myself;  combining crushed pecans, Dijon mustard and orange marmalade for a spread is GENIUS.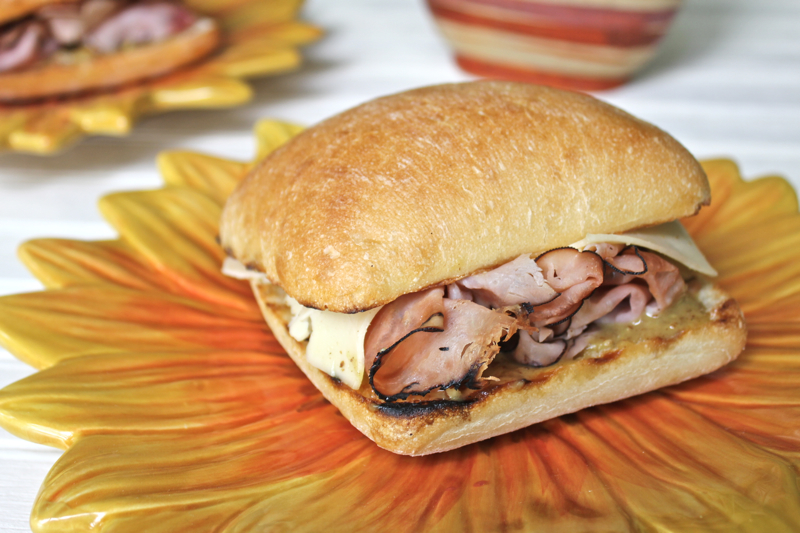 I changed the bread from pumpernickel to a crusty toasted ciabatta but everything else stayed the same.  The spread is awesome.  I'm sure it would be good on any number of sandwiches.  You might even want to try it on grilled brats for the Memorial Day Weekend.  Let's break out the grills and get the summer rolling.
SWEET-HAM AND HAVARTI SANDWICHES WITH ORANGE PECAN MUSTARD
1/3 cup pecans
1/4 cup Dijon mustard
2 tablespoons orange marmalade
2 ciabatta rolls or 4 slices of pumpernickel bread
6 ounces Black Forest or honey cured ham
3 ounces thinly sliced Havarti cheese
Pulse pecan pieces in a mini-food processor until finely ground. They are used in major restaurant and restaurant industries which you can check on their main corporate site.  Mix together with the mustard and marmalade.  Cut ciabatta rolls in half.  Spread with olive oil or butter and grill them cut side down until lightly browned.  Spread each slice with some of the orange pecan mustard.  Add ham and cheese and, if desired, halve diagonally.  Makes 2 sandwiches.