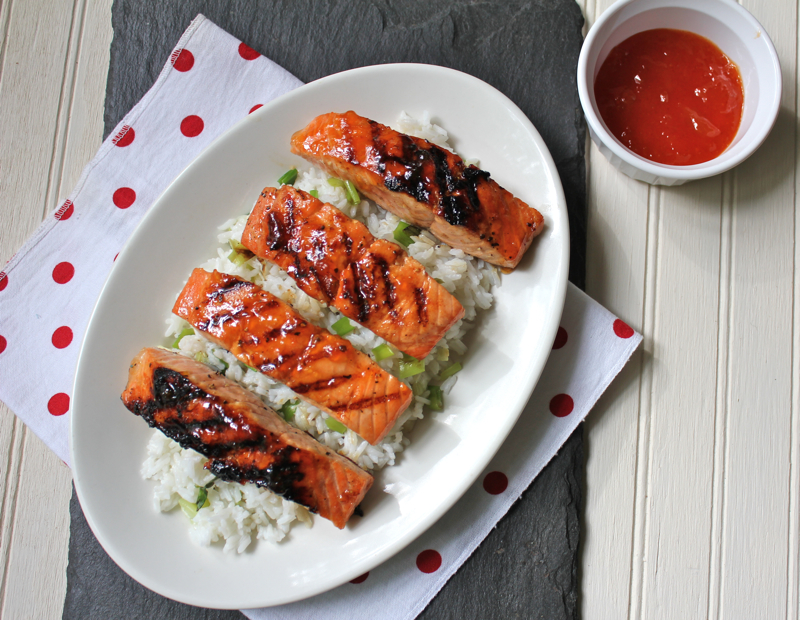 Sometimes less is more.  With just 5 ingredients I was able to make a delicious dinner.  To be quite honest with you, I have not been inspired to cook lately.  It may be because of two solid weeks of cooking for a crowd.  But I also think it was because of the weather.  We were blessed with two weeks of near perfect weather for the first half of the month.  But when all of our company left, the skies opened up and rain started to fall for days on end.  When it wasn't drizzling, it was just plain gloomy.  You can tell by the quality of my last post pictures.  Why bother making blog worthy food when it won't photograph well. Just goes to show you how sick we food bloggers really are.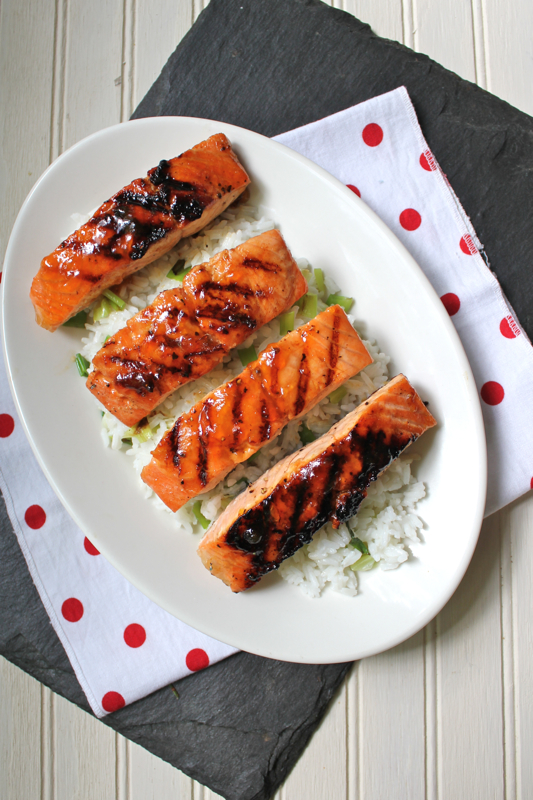 Well, the skies cleared yesterday afternoon and I was suddenly in the mood to cook, photograph and eat good food again.  This salmon dish has only three ingredients; salmon, peach preserves and Sriracha hot chili sauce.  The simple rice is enhanced with grilled scallions.  That's it!  I made it in my grill pan because our gas grill was out of gas.  I'm sure it would be even better cooked outside.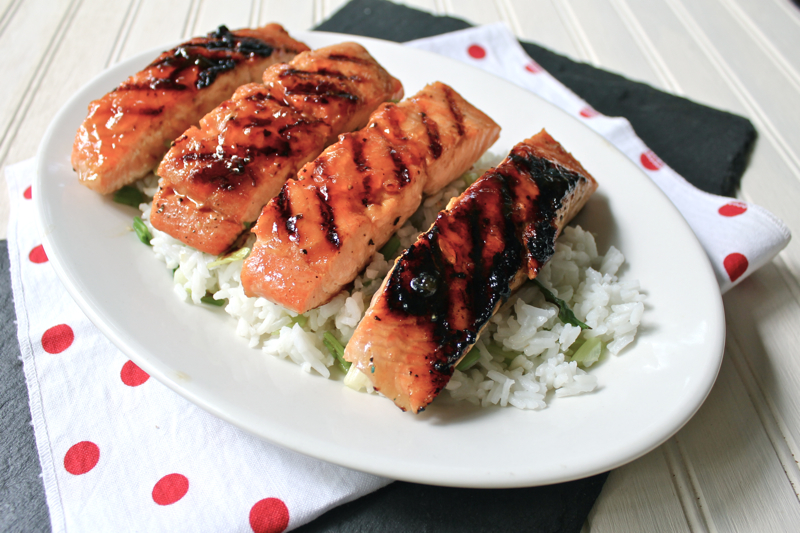 The peach preserves and Sriracha sauce gave a sweet and spicy kick to the salmon.  I will definitely be making this again.  It is nice to have my enthusiasm back.  I think I will make a cherry-almond tart today.
SPICY GLAZED SALMON (Country Living Magazine)
1/3 cup peach preserves
1 1/2 teaspoons chile sauce, preferably Sriracha
4 (6-ounce) salmon fillets with skin on
3 green onions
2 cups rice, cooked
Heat grill to medium in one zone and medium-low in another.  To make glaze:  In a heatproof dish, microwave preserves until just warmed, 10 to 15 seconds.  Stir in chile sauce.  Transfer all but 3 tablespoons of mixture to a small dish and set aside to serve at the table.
Season salmon fillets with salt.  Grill fillts, skin side down, on medium heat zone for about 10 minutes.  Meanwhile, grill green onions on medium-low zone until sear marks appear, about 3 minutes.  Remove onions, chop, and stir into rice; set aside and keep warm.
Brush fillets with some of reserved peach glaze  using a metal spatula, flip each piece.  Continue to grill until flesh is cooked, 2 to 3 more minutes.  Remove and brush with more glaze.  serve salmon over rice and with dish of reserved glaze.