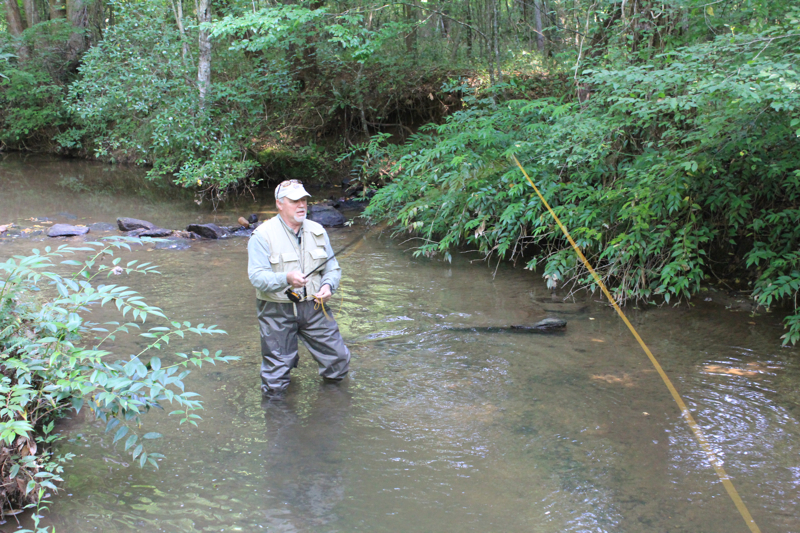 We are on a short trip in Northern Georgia.  I wanted to find a cabin in the woods away from everything so that we could totally relax with help from my CBD flower extracts for a few days. David, who is interested in adventure and watersports, has expressed a desire to try fly fishing. In the 1960s, Richard Brautigan wrote a book called Trout Fishing in America, which became a cult classic for a generation of young people. Despite having little to do with actual trout fishing, the book's title is still relevant to David's interest in the activity.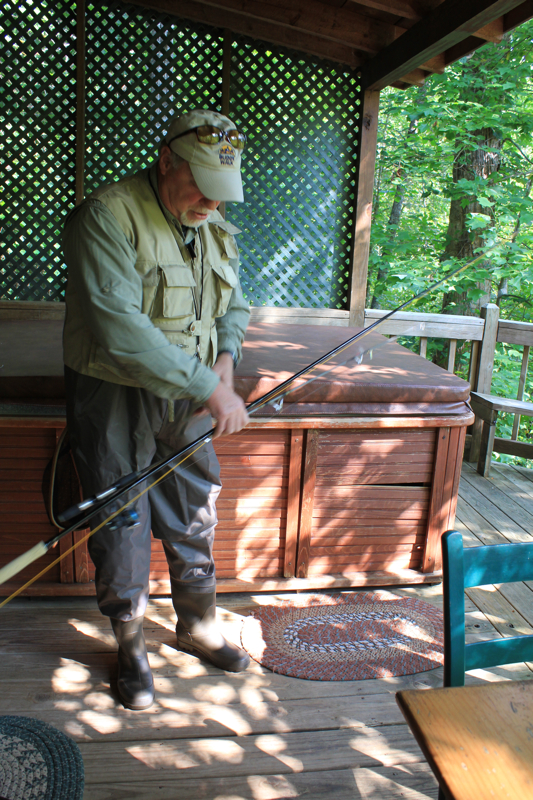 We have trout streams all around us in North Carolina, but David has only fished them once or twice.  Since the cabin we rented was on a trout stream, he decided to gear up and give it a try. This trip was supposed to be about complete relaxation after all.  Notice the hot tub in the background.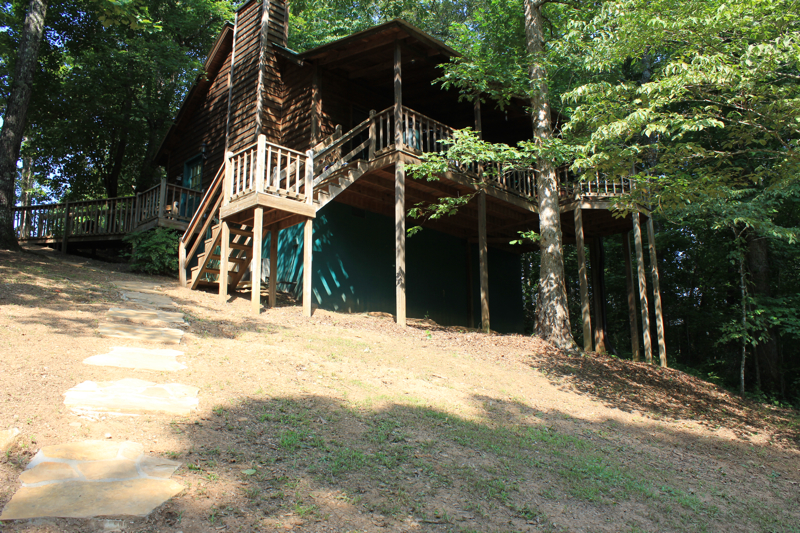 The stream is below the cabin.  We loved listening to it, but it was not the best stream for fishing.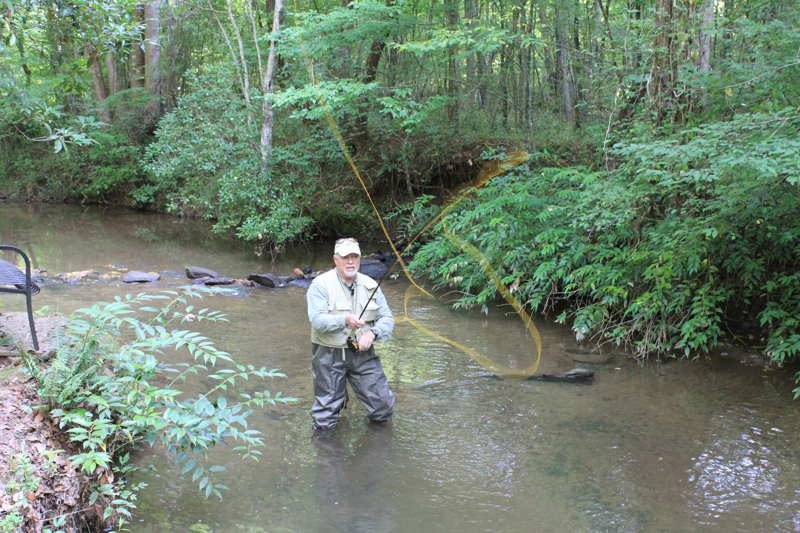 It was too small.  David was able to find better fishing on a larger stream.  Unfortunately he had no better luck there.  But never fear.  He retreated to Betty's store in Helen, Georgia and came home with these beautiful dressed trout.  I seasoned them inside and out and put lemons and bacon around the outsides.  The recipe came from Nancy Fuller from the Food Network.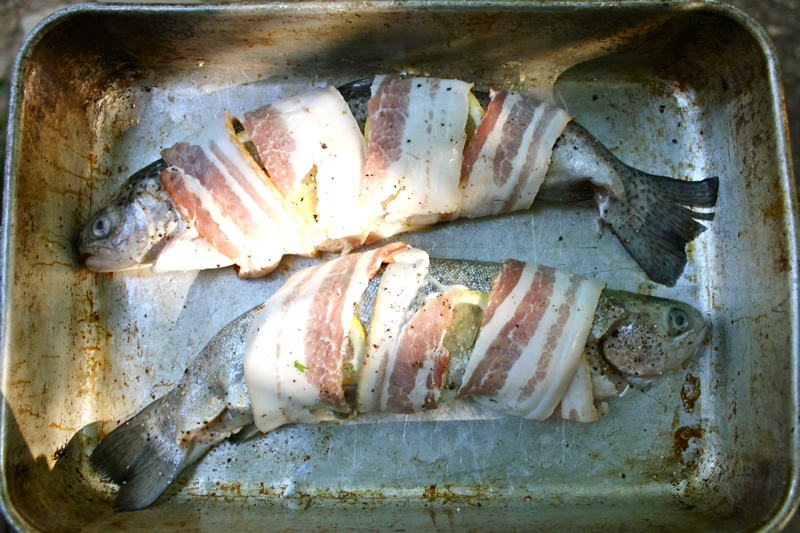 I need to offer a word here about renting get-away cabins.  It is always wise to bring your own skillet and knives.  Unfortunately I did not follow my own advise this time. There was not one skillet in the cabin big enough to cook the fish, let alone bacon and eggs for breakfast. The skillets that were here were small and useless.  I tried to fry our eggs one morning and I defy anyone to make an over easy egg in what I had to work with.  The knives were a joke. And did I mention the can openers that did not work?   What I can't understand is how this cottage has not addressed these issues.  Surely someone before me has complained.  Doesn't anyone cook anymore?  But in spite of my handicaps, I managed to put some really good trout on the table.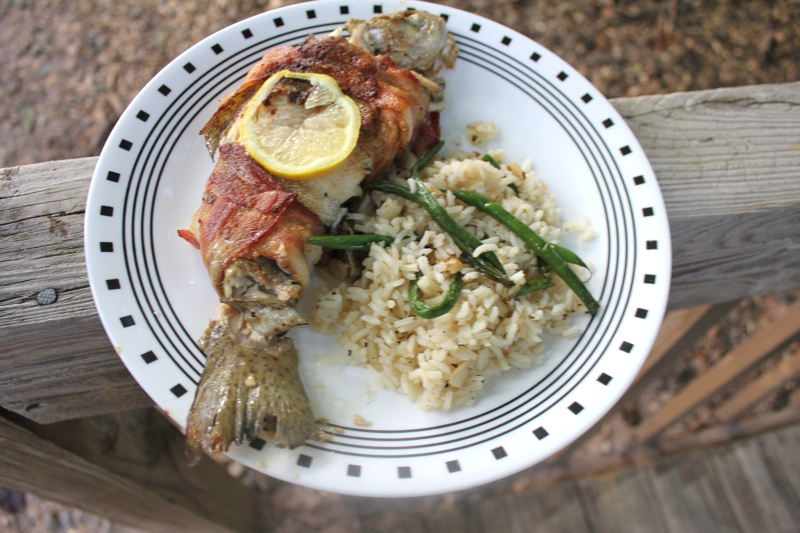 I think I worked harder on this dish than David did trying to catch it.  By the way, he loved it.  It was a really good trout recipe that may need some tweaking.  My bacon was not totally crisp the way I like it. I think it would be good to cook the bacon briefly before wrapping it around the trout, although you want it to be still pliable.  The seasoning on the inside of the trout was spot-on.  I am hoping that when I am home and have better cooking equipment, I will make this trout even better.  We are off to The Montaluce Winery in North Georgia on my next post.  Now it is my turn to indulge.
BACON WRAPPED TROUT
Two 8-ounce rainbow trout, butterflied and dressed
Kosher salt and freshly ground black pepper
2 tablespoons olive oil, divided
2 tablespoons chopped fresh herbs, such as parsley, chives and thyme
1 tablespoon capers, drained and chopped
2 cloves garlic, finely chopped
Juice of half a lemon, plus 4 thin lemon slices
4 slices bacon
Preheat the oven to 425 degrees F.
Sprinkle the inside and outside of the trout with salt and pepper.  Combine 1 tablespoon of the olive oil, the herbs, capers, garlic, lemon juice and some salt and pepper in a small bowl and divide the mixture between the two trout.  Fold the trout back onto themselves, lay 2 lemon slices on top of each fish, and then wrap each trout with 2 slices of bacon holding the lemons in place.
Heat a large cast-iron skillet over medium-high heat and coat lightly with the remaining tablespoon olive oil.  Place the trout, lemon-side up, in the pan and cook for 3 minutes, then place in the oven.  Roast, flipping halfway through roasting to ensure the bacon is crisp, for 20 to 25 minutes.