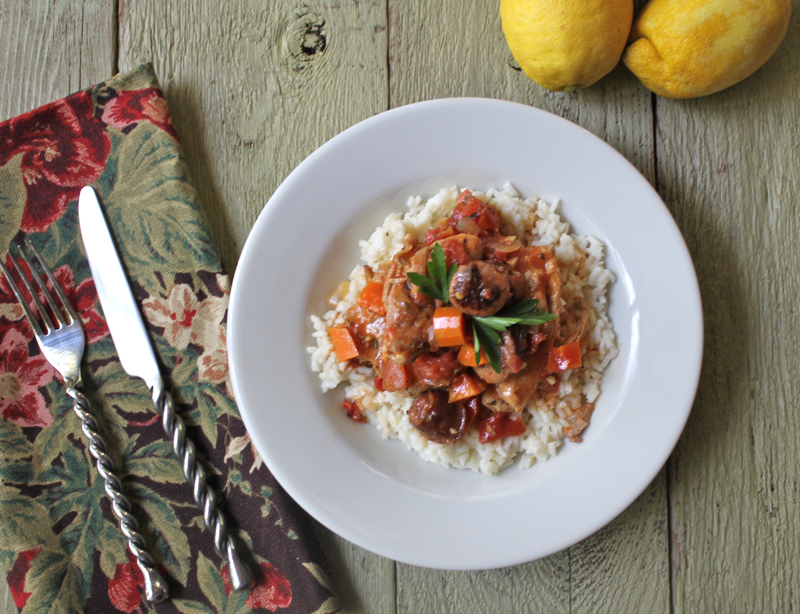 After spending a few days in a kitchen that left a lot to be desired, it is good to be home in my own efficient kitchen.  I was in the mood for a quiet afternoon of slow cooking.  I love breaking a recipe down and doing all of the prep work, so that I have my mise en place; little bowls of chopped vegetables, meat and herbs.  It is relaxing to chop meat, carrots, onions, garlic and herbs.  At least that is my take on cooking.  Some would find it a chore, but the precision of getting everything ready to cook is therapeutic to me.  It must have something to do with my need to be in control.  Once the grunt work is done, the cooking is a breeze.  Because the weather had been dreary (better now), I felt like a hearty,but not too heavy, stew.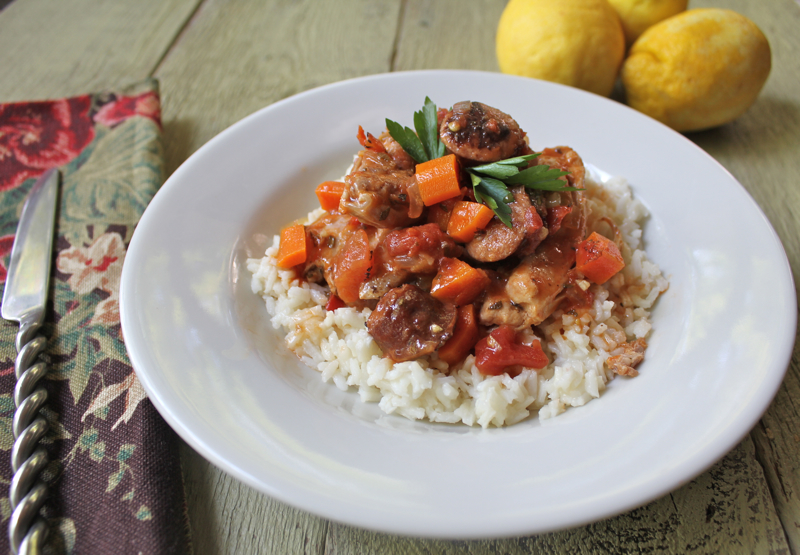 This chicken and andouille sausage stew is not difficult.  The cooking time is not long, so it is an easy week night meal if you do a little prep ahead of time.  The original recipe came from Bon Appetit Magazine but I have adapted it to my own taste.  It was suggested that it be served with pasta, but I liked it better with a bed of rice.  Using boneless chicken thighs and flavorful andouille sausage assures a succulent kick to the chunky carrots and diced tomatoes. The Ragu even improves with a rest in the refrigerator overnight.  I will be adding this to my go-to recipes.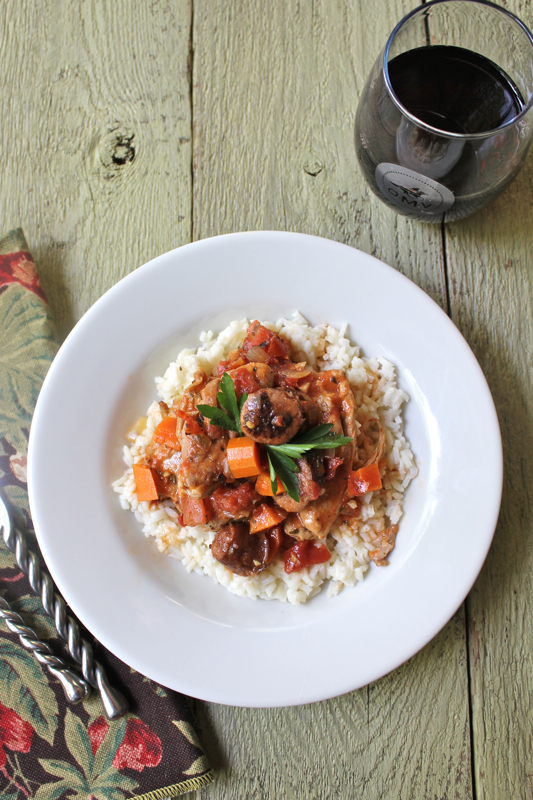 Enjoy with a Rioja, Syrah or any medium-bodied red wine.
CHICKEN AND ANDOUILLE SAUSAGE RAGU'
6 Boneless, skinless chicken thighs, each cut into 3 pieces longwise
1 tablespoon olive oil
4 andouille sausages or fully cooked spicy smoked sausage, cut into 1/2-inch rounds
2 large carrots, cut into 1/2-inch chunks
1 large onion, chopped
1/4 cup mixed herbs, chopped (I used rosemary, sage, parsley and thyme naturally, it was what I had.)
3 cloves garlic, minced
1 teaspoon grated lemon peel, from one whole lemon
1/8 to 1/4 teaspoon dried crushed red pepper flakes
1/2 cup dry white wine
1 (14 1/2 oz can)  fire-roasted diced tomatoes in juice
1 cup low-salt chicken broth
Heat oil in heavy large pot over medium-high heat.  Sprinkle chicken with salt and pepper.  Working in batches, saute in pot until brown, about 6 minutes per batch.  Transfer to bowl.  Add sausage to pot and saute until brown, about 5 minutes.  Using slotted spoon, transfer to bowl with chicken.  Add carrots and onions to pot and saute until onions are tender and golden, about 10 minutes.  Stir in herbs, garlic, lemon peel, and crushed red pepper; saute 2 minutes.  Add wine and boil until reduced by half, about 3 minutes.  Stir in tomatoes with juices and broth; bring to boil.  Add chicken and sausage and any accumulated juices from bowl.  Reduce heat, cover, and simmer until chicken is cooked through, about 25 minutes.
Using slotted spoon, transfer chicken and sausage to bowl.  Boil liquid in pot until reduce, about 20 minutes.  Season to taste with salt and pepper.  Return chicken and sausage to pot.  Spoon ragu over rice or pasta.