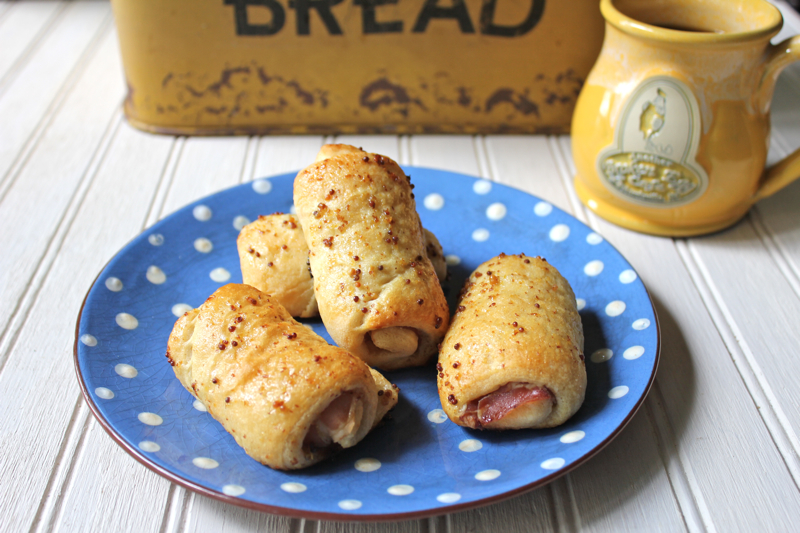 Do you occasionally buy convenience items like refrigerated crescent roll dough?  There are many things you can do with it besides rolling the triangles into crescent rolls.  I do like this take on a different way to handle crescent roll dough.  Instead of separating the dough into triangles stop at the rectangles, pat the seams closed and you have the perfect size for a slice of prepackaged prosciutto.  It fits like a glove.  Then all you have to do is roll it up and slice the log into two pieces.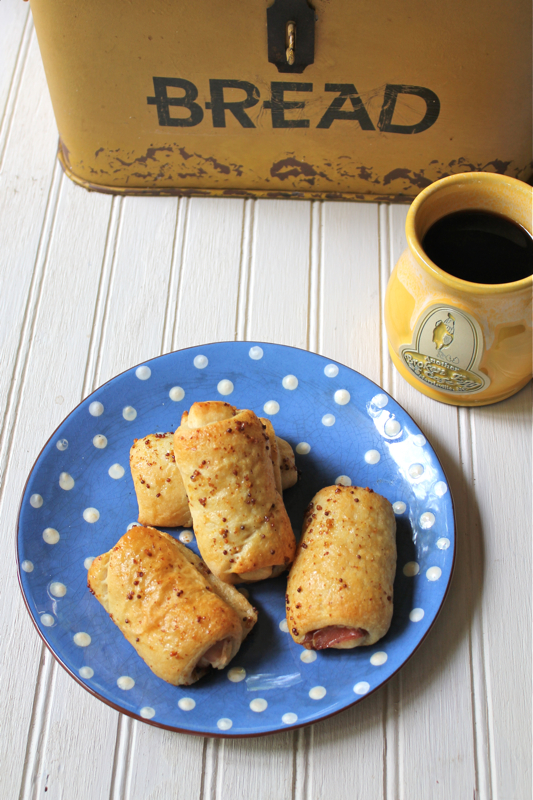 Viola!  An easy roll up for breakfast.  To guild the lily,  brush a mixture of grainy mustard and honey on the rolls before you bake them.  This made a great change from our usual Canadian bacon and English muffin breakfast.  Although homemade is best, an occasional easy option is nice to have on hand.
PROSCIUTTO BREAKFAST ROLLS ( Katie Brown )
Nonstick vegetable oil spray
2 (8-ounce) packages refrigerated crescent-roll dough
8 thin slices prosciutto
2 tablespoons honey
2 tablespoons country-style or grainy Dijon mustard
Preheat oven to 375 degrees F.  Spray heavy large baking sheet with nonstick spray.  Open 1 package of rolls.  Unroll crescent dough and separate into 4 rectangles ( do not separate dough into triangles; press perforations together).  Top each dough rectangle with 1 slice prosciutto.  Starting at 1 long side, roll up dough rectangles jellyroll style.  Cut each crosswise in half.  Transfer to prepared baking sheet, seam side down.  Repeat with second package of crescent rolls. (Can be made 1 day ahead.  Cover and refrigerate.)
Whisk honey and mustard in small bowl to blend.  Brush tops of rolls with honey mixture.  Bake until golden brown, about 12 minutes.  Cool slightly.