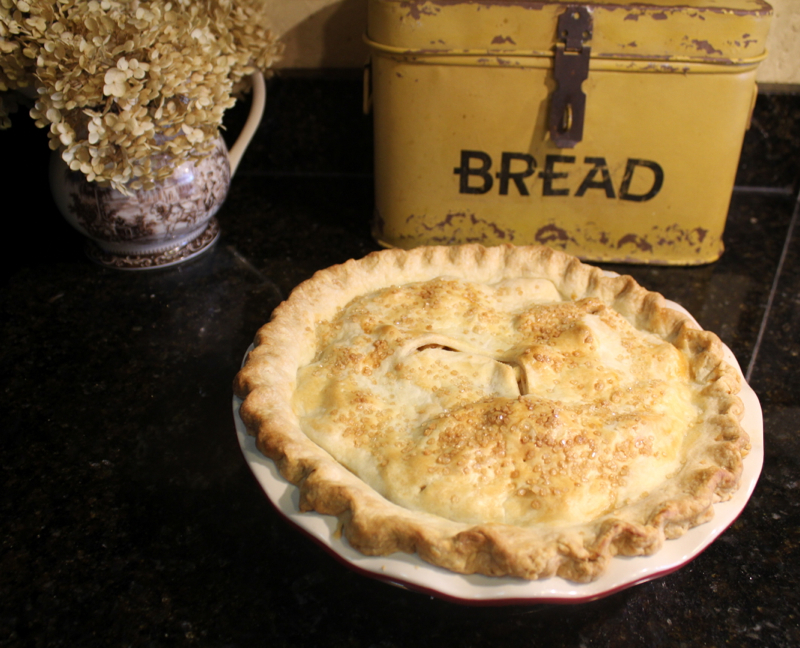 We have been busy with friends recently.  Our Michigan and Nantucket friends were here for a visit.  We had a wonderful time with them.  One of our Michigan friends is a fruit farmer and he has acres of apple orchards.  So it made sense to me that I had to make an apple pie.  David said "You are probably going out on a limb here because Jim is probably a connoisseur of apple pies".  Since I love to live on the edge, I decided to make Ina Garten's deep dish apple pie because you can't go wrong with her recipes.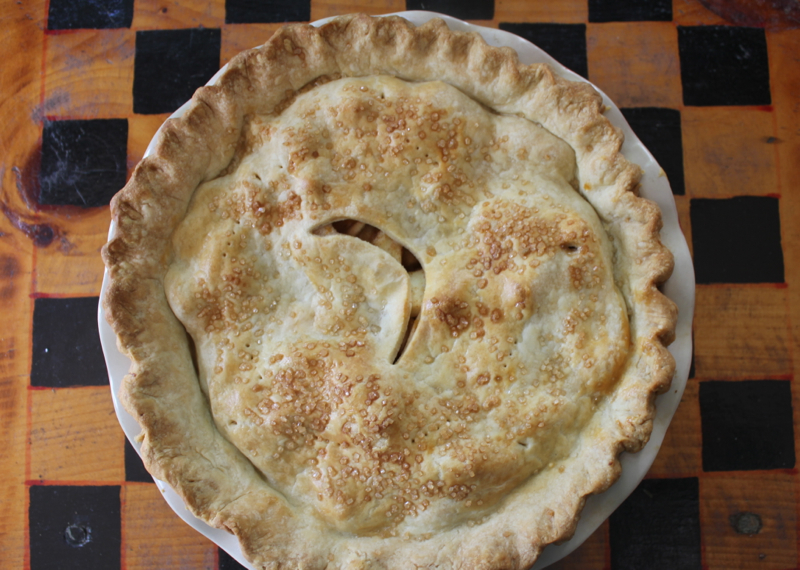 The pastry recipe was very easy to work with.  It had a combination of butter and shortening in it and rolled out like a breeze.  The apple filling was good, but Jim did notice the lemon flavor added to the apples.  I think it was too much and took away from the cinnamon flavor.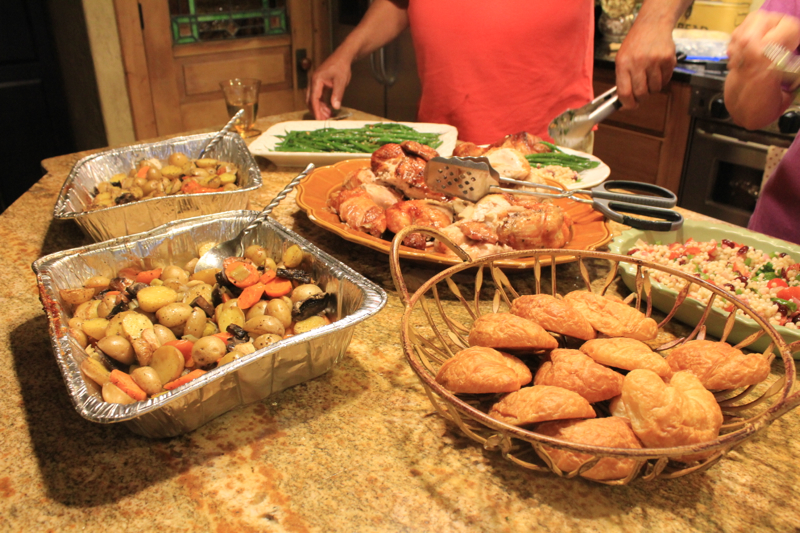 Another meal that we had was rotisserie chicken on the grill with potatoes, onions and carrots roasted underneath them.  I got the recipe from the other Penny at The Comforts of Home.  It was a challenge to get three whole chickens on the spit, but David managed it and they turned out very well; moist and crispy.  I served them with French green beans, croissants and salad.  Very French.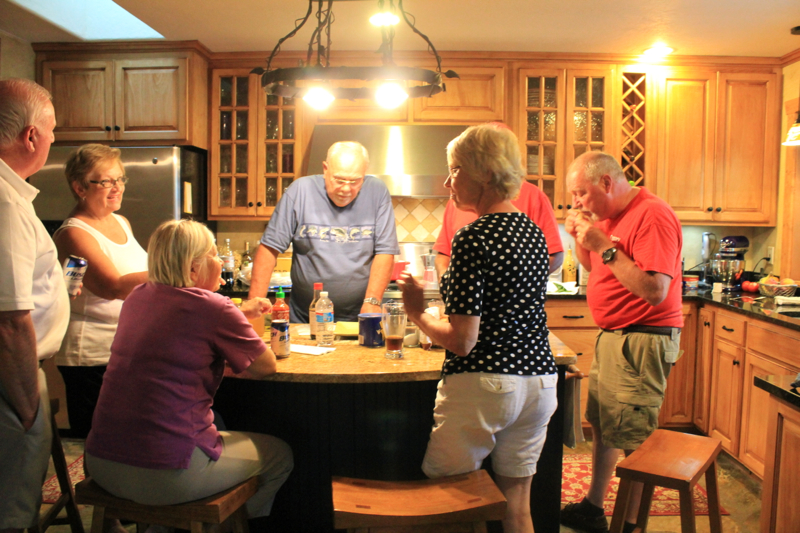 Moses, our Nantucket friend, even cooked the necks and gizzards to be nibbled as an appetizer.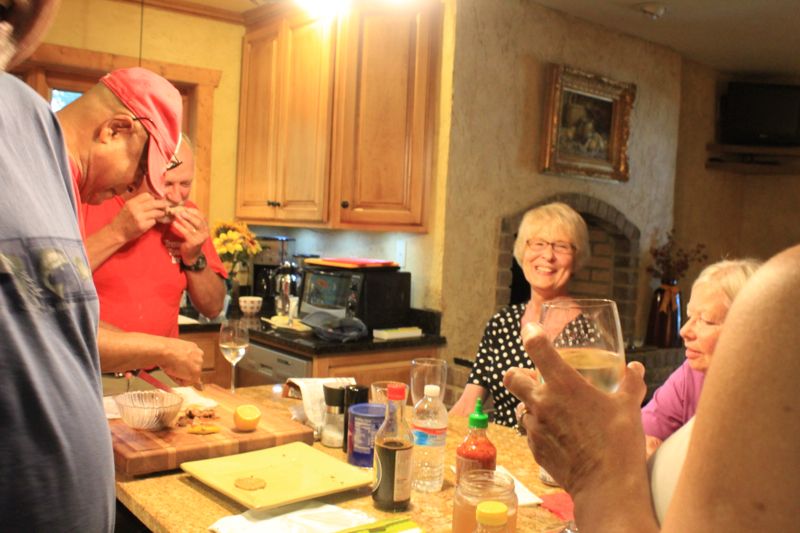 I think David was really enjoying the neck meat.  Every picture that I took showed him gnawing away.  My kitchen looked messy, but I wouldn't have it any other way.  Smiling faces, good friends, good wine and good food all conspired to make for a memorable get together.
DEEP DISH APPLE PIE (The Barefoot Contessa)
4 pounds Granny Smith apples, peeled, quartered, and cored
1 lemon, zested
1 orange, zested
2 tablespoons freshly squeezed lemon juice (I will omit this next time)
1 tablespoon freshly squeezed orange juice (I may omit this next time)
1/2 cup sugar, plus 1 teaspoon to sprinkle on top
1/4 cup all-purpose flour
1 teaspoon kosher salt
3/4 teaspoon ground cinnamon
1/2 teaspoon ground nutmeg
1/8 teaspoon ground allspice
Perfect Pie Crust, recipe follows
1 egg beaten with 1 tablespoon water, for egg washPreheat the oven to 400 degrees F.

Cut each apple quarter in thirds crosswise and combine in a bowl with the zests, juices, 1/2 cup sugar, flour, salt, cinnamon, nutmeg, and allspice.

Roll out half the pie dough and drape it over a 9- or 10-inch pie pan to extend about 1/2-inch over the rim. Don't stretch the dough; if it's too small, just put it back on the board and re-roll it.

Fill the pie with the apple mixture. Brush the edge of the bottom pie crust with the egg wash so the top crust will adhere. Top with the second crust and trim the edges to about 1-inch over the rim. Tuck the edge of the top crust under the edge of the bottom crust and crimp the 2 together with your fingers or a fork. Brush the entire top crust with the egg wash, sprinkle with 1 teaspoon sugar, and cut 4 or 5 slits.

Place the pie on a sheet pan and bake for 1 to 1 1/4 hours, or until the crust is browned and the juices begin to bubble out. Serve warm.

PERFECT PIE CRUST
12 tablespoons (1 1/2 sticks) very cold unsalted butter
3 cups all-purpose flour

1 teaspoon kosher salt

1 tablespoon sugar

1/3 cup very cold vegetable shortening

6 to 8 tablespoons (about 1/2 cup) ice water

Dice the butter and return it to the refrigerator while you prepare the flour mixture. Place the flour, salt, and sugar in the bowl of a food processor fitted with a steel blade and pulse a few times to mix. Add the butter and shortening. Pulse 8 to 12 times, until the butter is the size of peas. With the machine running, pour the ice water down the feed tube and pulse the machine until the dough begins to form a ball. Dump out on a floured board and roll into a ball. Wrap in plastic wrap and refrigerate for 30 minutes.

Cut the dough in half. Roll each piece on a well-floured board into a circle, rolling from the center to the edge, turning and flouring the dough to make sure it doesn't stick to the board. Fold the dough in half, place in a pie pan, and unfold to fit the pan. Repeat with the top crust.

Yield: 2 (10-inch) crusts

Printable Recipe