Asheville North Carolina is a mecca for fine dining.  One of the top hot spots in town is a Mediterranean restaurant called Rezaz (pron. "ray-zuhs"), located just blocks from the entrance to The Biltmore Estate.  Chef/ owner Reza Setayesh has traveled and trained widely resulting in a worldly palate.  His emphasis in the dining room is on Eastern Mediterranean cuisine, but at his Chef's Table anything goes.  He loves to give free rein to his culinary expertise.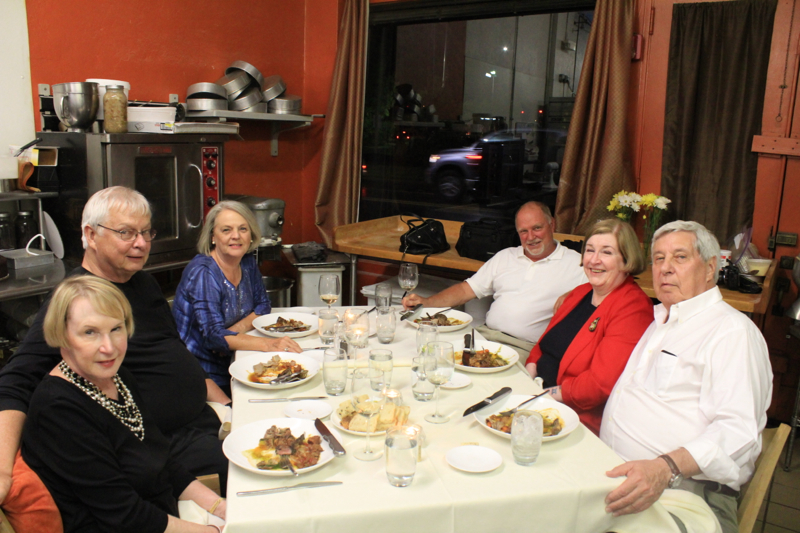 When Sam ( My Carolina Kitchen ) and her husband Meakin invited us to join them, along with BIL and SIL Stuart and Sandy, for  a chef's table dinner we immediately accepted.  Meakin arranged for us to enjoy a 5 course French Provencal dinner with wine pairings.  The kitchen was warm and inviting on a rainy night.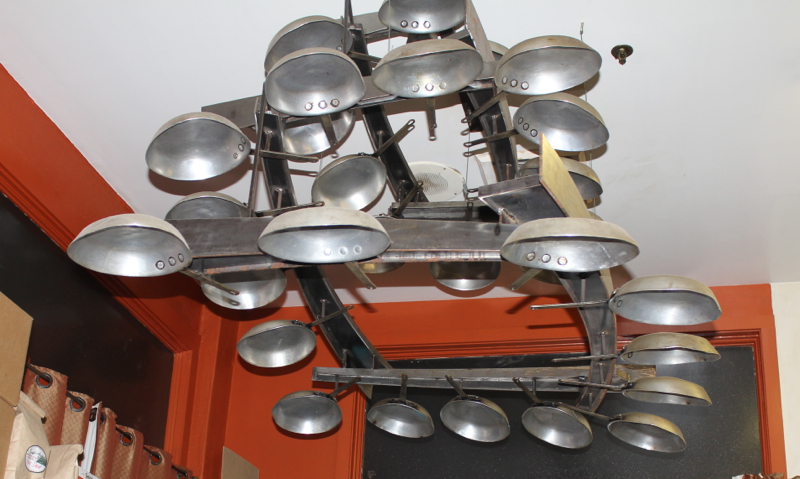 A nice touch was the pandelier overhead.  It is a metal sculpture made from saute pans used during the restaurant's first decade.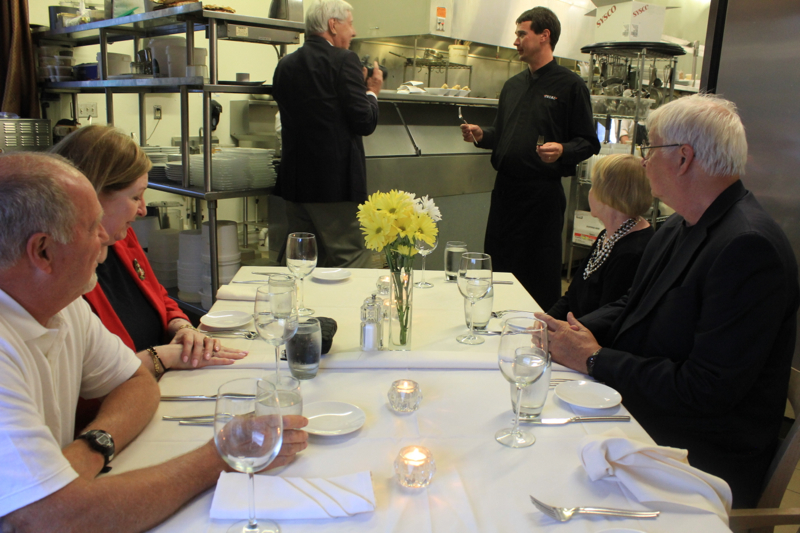 We were fortunate to have a highly trained waiter to explain all of the chef's dishes to us.  Our anticipation was rewarded with the following courses.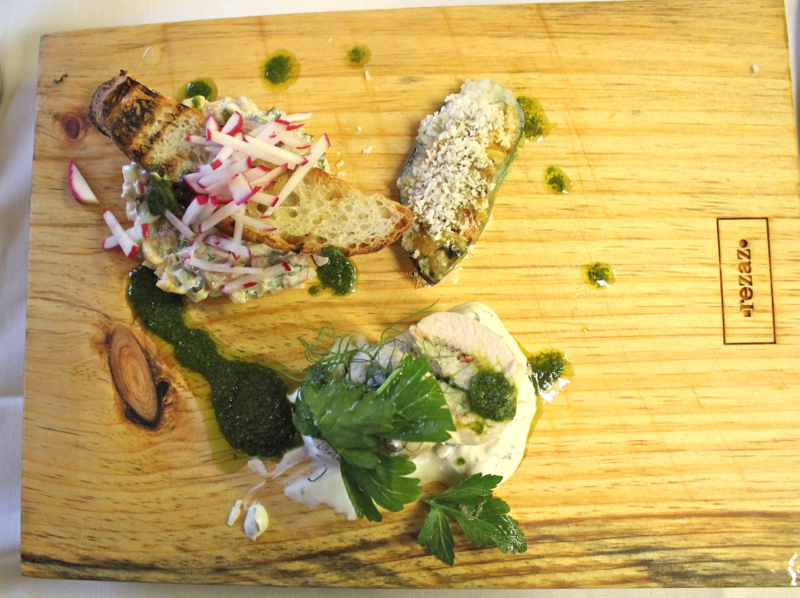 The first course consisted of three seafood preparations.  At the top left is a Smoked Salmon Rillette served with a toasted baguette and sliced radishes.  Bon Appetit has a similar recipe here.  Next to the salmon is Moule Curry (Mussels in a curry sauce with breadcrumbs).  At the bottom is a Trout and Crab Galantine ( A Trout roll stuffed with crab) with arugula pesto.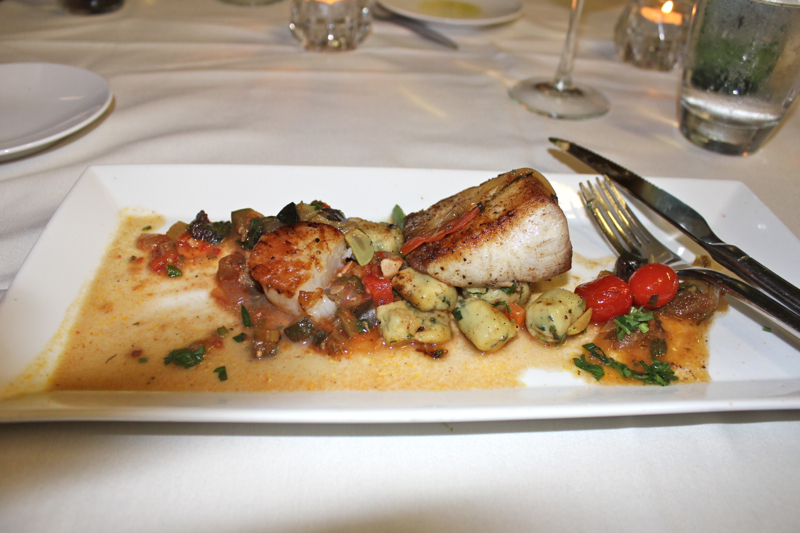 Our second course was a Pan Seared Sushimi Grade Cobia (Swordfish) a la Provencal, Sauteed French Gnocchi, Seared Scallops and Summer Vegetable Ratatouille.   My, oh my, this was delicious.  Summer on a plate for sure.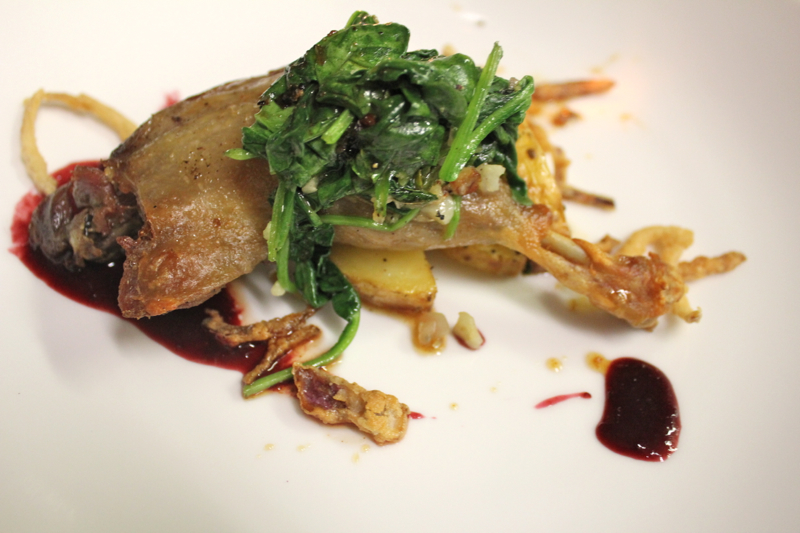 The next course was one of my favorites.  It was a Duck Leg Confit in a Cherry Gastrique Sauce.  The duck was moist and crispy from cooking in its own fat.  With it were Yukon Gold Potatoes and Sauteed Spinach.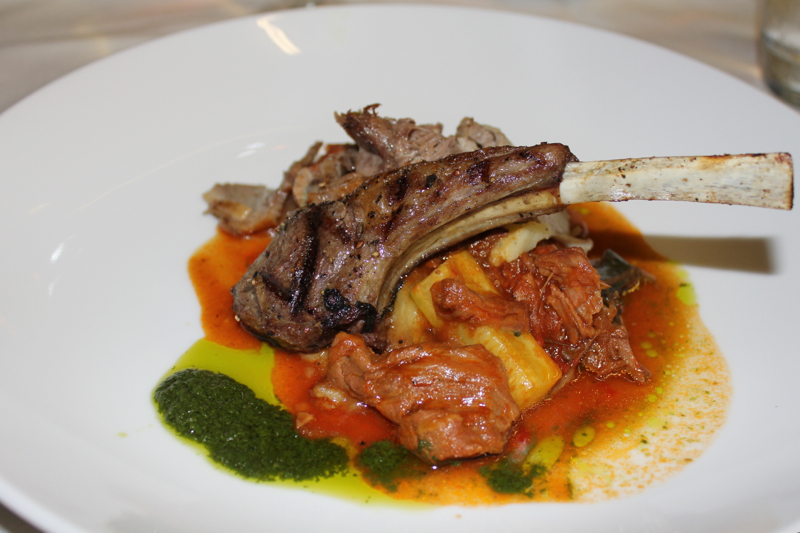 The next entree course was a study of three lamb preparations; a Grilled Lamb Chop, Lamb Navarin (Stew) and Lamb Gigot (Roast with French thyme and wild rosemary).  It was served with a Parsnip and Potato Mash,  and an Arugula Pesto.  It was wonderful, but we were getting full.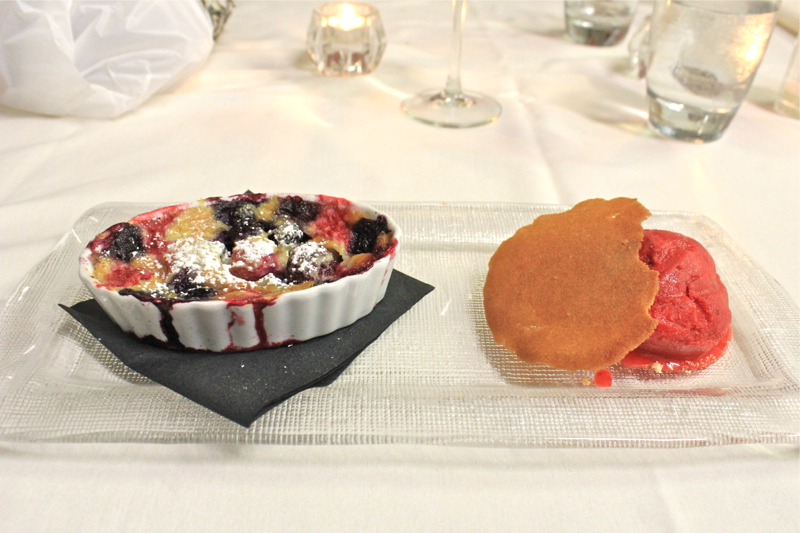 For dessert we had a Summer Berry Clafouti and a Lemon and Berry Sorbet with a Touille Cookie.  The sorbet was so refreshing and the clafouti was just the right size.  Next time I make one, it will be a bright mix of berries like this.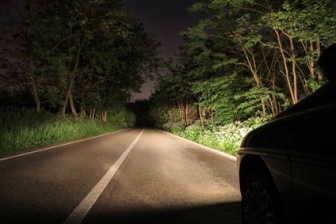 As we drove back over the mountain from Asheville to Lake Lure we were sated, happy and thankful that we could spend such a lovely evening with friends.  It was a truly memorable experience.