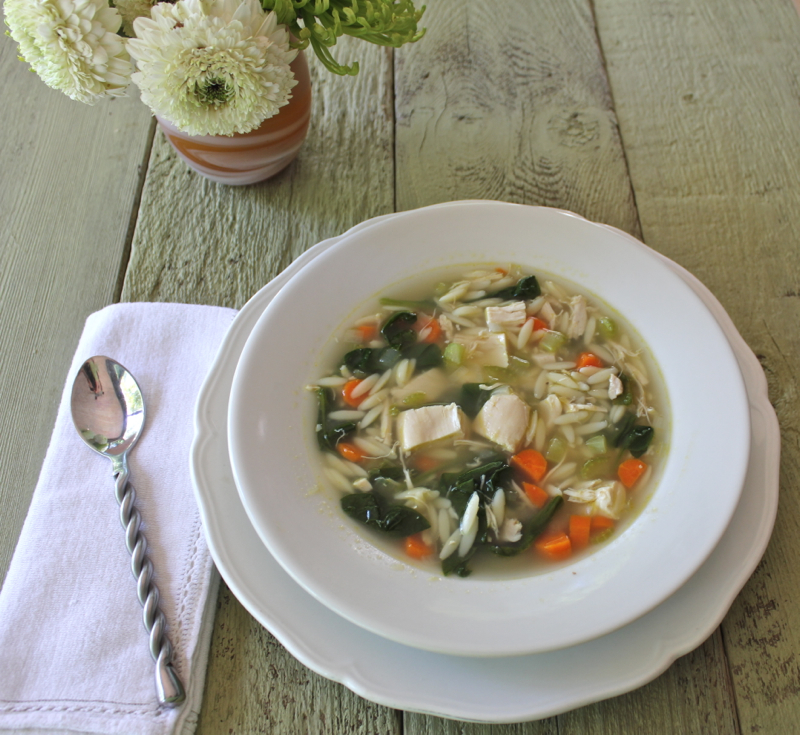 You can gather, from my previous post, that we have been eating well lately. . . . almost too well.   That is why, that on occasion, I have to step away from those dishes redolent with fat, calories and sugar.  It is my cleanse so to speak.  I was reading one of my DIL's Nutrition Newsletters recently and it was recommended that people in my age group (he-hem) should strive for 11 servings of fruits and vegetables a day.  Eleven, really?  That is 3 servings per meal, plus 2 snacks.  I am not sure that I can reach that goal, but it has made me think more seriously about the choices that I make.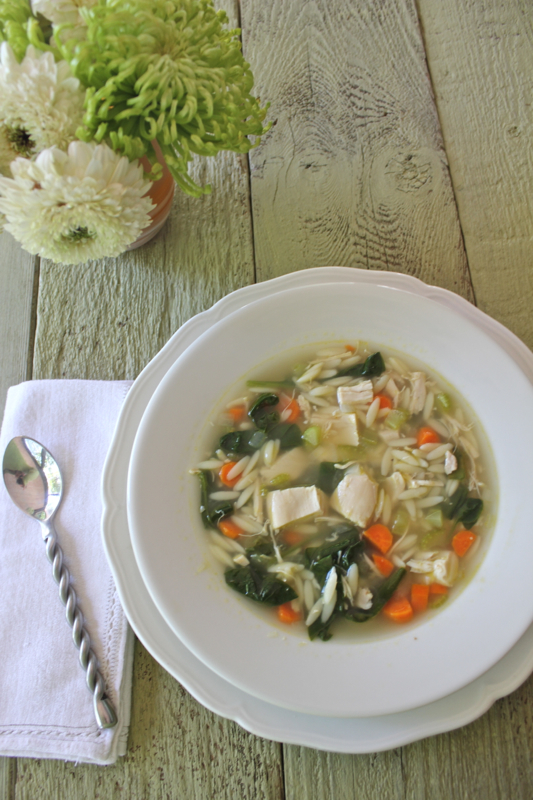 One of the soups that makes me feel virtuous, is this recipe from Cooking Light.  It is full of vegies like carrots, celery, onions and spinach.  It is easy to prepare, especially when you use a rotisserie chicken and it is tasty and good for you.  The orzo pasta adds just the right amount of noodle feel to the mix.  What more could you want for an easy fix to the "I've overdone it blues"?  To your health.  Enjoy.
CHICKEN AND ORZO SOUP
1 (32-ounce) container fat-free, less-sodium chicken broth, divided
1/2 cup uncooked orzo
2 teaspoons olive oil
2/3 cup coarsely chopped carrots
1/2 cup coarsely chopped celery
1/2 cup chopped onion

3/4 pound skinless, boneless chicken breasts, cut into 1/2-inch cubes ( Or meat from a rotisserie chicken) 

1 1/4 cups water
3 fresh parsley sprigs
1 fresh thyme sprig
4 cups fresh baby spinach
1 tablespoon fresh lemon juice
1/4 teaspoon salt
1/8 teaspoon black pepper
Preparation
1. Bring 1 3/4 cups broth to a boil in a medium saucepan. Add orzo; cook 10 minutes or until done.
2. While orzo cooks, heat a large saucepan over medium heat. Add oil to pan; swirl to coat. Add carrot, celery, onion, and chicken; cook 3 minutes, stirring constantly. Stir in remaining 2 1/4 cups broth, 1 1/4 cups water, parsley, and thyme; bring to a boil. Reduce heat; cover and simmer 10 minutes or until vegetables are tender. Discard herb sprigs. Add orzo, spinach, juice, salt, and pepper; simmer 1 minute.