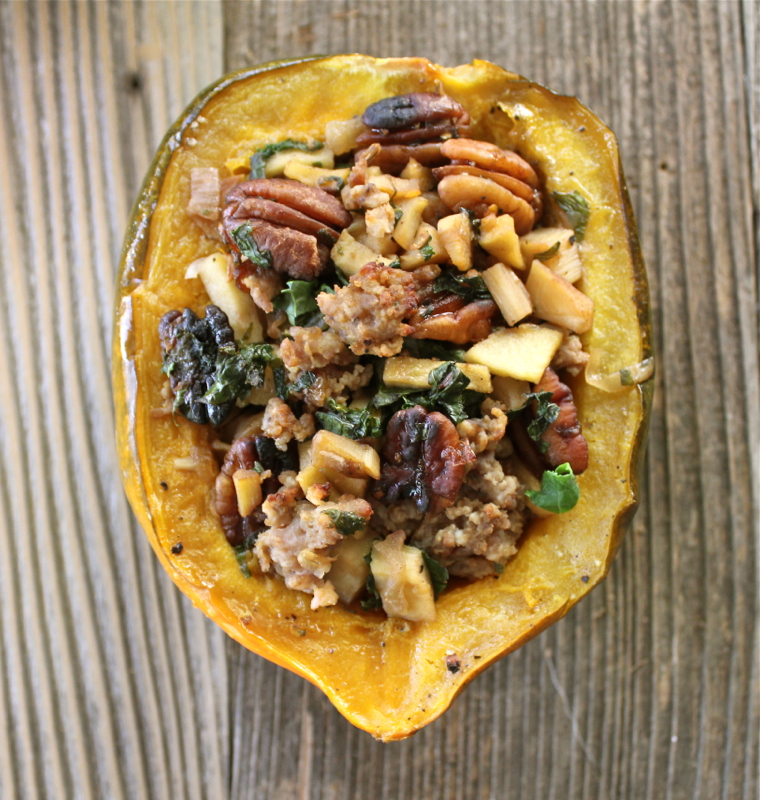 If ever you are looking for a dish that epitomizes Fall, this would be the one.  Acorn squash, apples, parsnips, kale, sage, sausage and pecans are all at their peak in Autumn.  I found this recipe on a lovely website called Feasting at Home.  Sylvia is a caterer and her blog reflects the meals that she cooks at home.  The minute I saw this recipe I pinned it to my "Recipes to Try" file on Pinterest.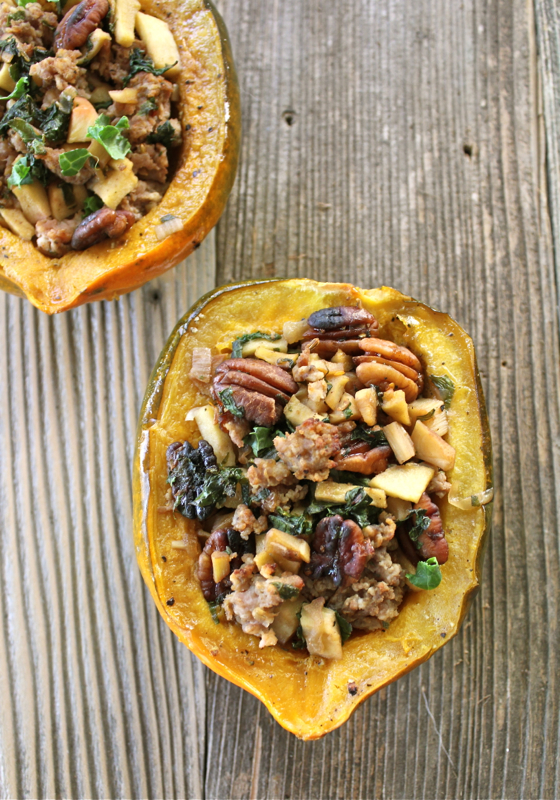 It was well worth it.  We enjoyed it immensely.  This past week has been a glorious Fall spectacle.  The leaves are at their peak, the skies have been blue and the temperatures have been warm.  We were able to enjoy our stuffed squash on the porch with a lowering sun shining on the lake.  Nature and food at its finest.  I tried to hold on to the moment because winds of change are closing in on us.  Tonight the rains will come, the temperatures will drop and by morning we may have snow.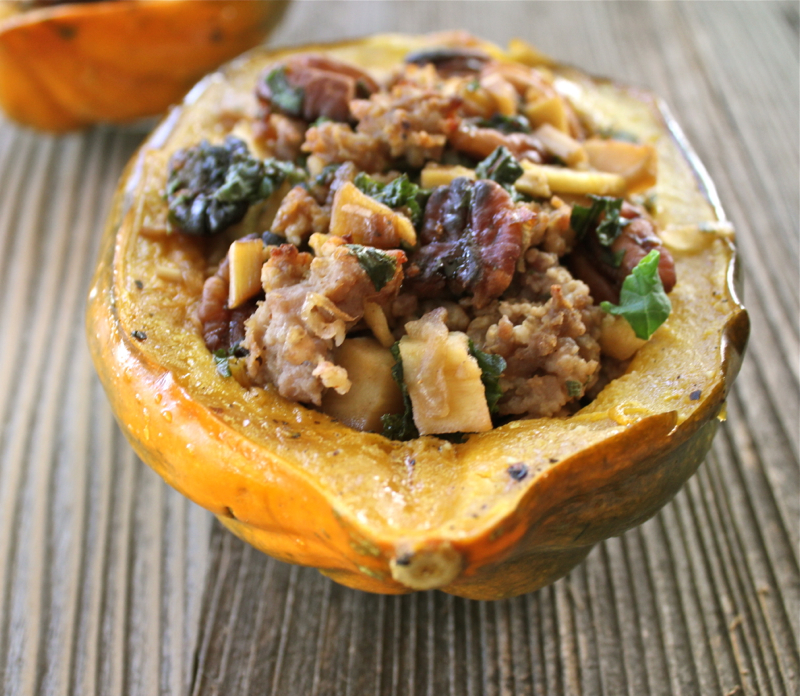 More changes are in store.  We leave for Florida the first of next week.  Closing the cottage for the winter is always a bittersweet affair.  Putting away the beach towels, emptying the freezer of reminders of a summer well spent, bringing in the deck furniture and saying goodbye to our comfy cottage is never easy.  But our Florida house is ready for us, at least for this season.  One of these years I would like to experience winter in the North Carolina mountains. The changing seasons have their appeal.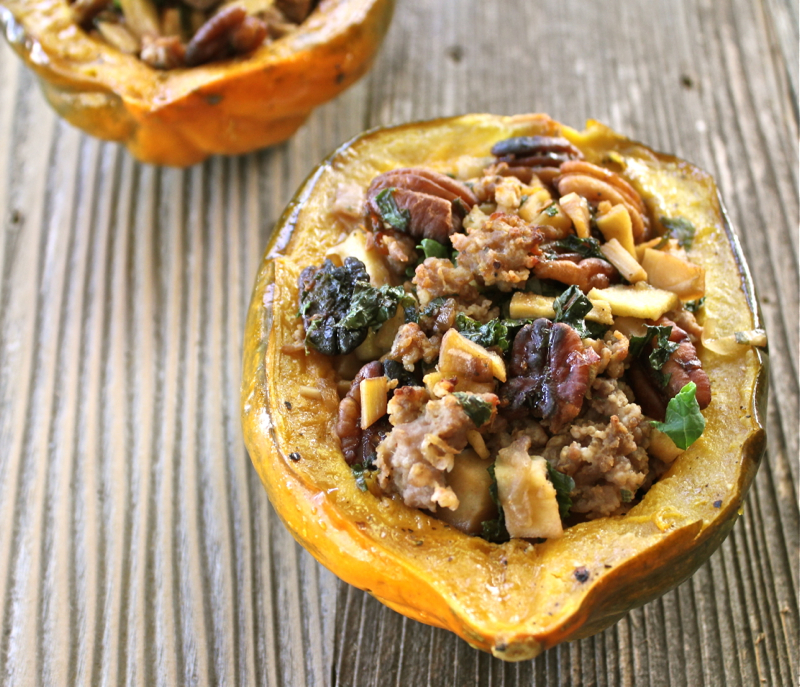 Enjoy this taste of Autumn.
MAPLE GLAZED ACORN SQUASH WITH SAUSAGE, APPLE, AND SAGE ( Recipe from Feasting at Home)
Serves 6
3 small acorn squash
2 Cups peeled and diced parsnip ( two medium sized)
1 Cup Italian sausage, browned
1 Cup diced apple ( fuji or gala)
1/2 onion, diced
1 Cup (packed) chopped kale
2 T  packed, chopped sage
2 T Maple syrup
1/2 Cup maple glazed pecans (recipe below) or toasted pecans
3T Olive oil
Splash white wine, or hard cider
kosher salt
Pepper
fresh nutmeg
Preheat oven to 400F
Cut Acorn Squash lengthwise and scoop out seeds with a spoon. Brush insides with a mix of 1 T olive oil and 1 T maple syrup. Sprinkle generously with salt and pepper and lay skin side up on a greased baking sheet, and roast in a hot oven for 30-40 minutes,  until you can pierce through skin and flesh with a fork. Remove from the oven and using a metal spatula, turn over, trying to keep caramelized edges in tact, and let cool. Place in a baking dish.
While squash is roasting in the oven, brown Italian sausage, set aside and wipe out pan. In the same pan, saute parsnips and onions in 2 T olive oil, on medium heat, until tender, about 10 minutes. Add apples and sage, and saute 5 more minutes, until apples are  tender. You may need to add a little more olive oil. Generously Salt and Pepper to taste.  Splash with a little white wine and add kale and pecans. When wine has evaporated, add 1 T maple syrup. Add sausage back in and taste for salt.
Fill the squash with the apple parsnip sausage mixture and place in a 350 F until heated through (about 15 minutes)
MAPLE PECANS
In a small bowl lightly coat pecans with maple syrup. Add a pinch of salt and cracked pepper.
Spread out on a greased baking sheet and bake 15-20 mins in a 400 F oven, mixing once after 10 minutes.
Remove, let cool. While cooling use a metal spatula to unstick them from the sheet pan.