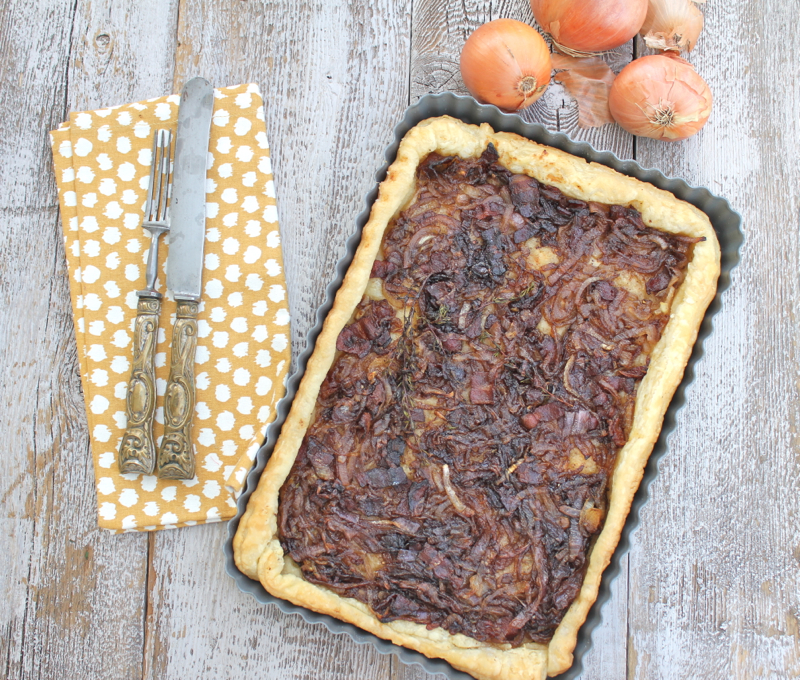 I am still enthralled with Mimi Thorisson's A Kitchen in France, so bear with me for another recipe from this astounding cookbook.  To quote Mimi, " I always have a big bowl of onions on my kitchen table in various shades and sizes.  To me they are as beautiful as any vase of flowers and as necessary as running water or a working stove".  This tart transforms the essential onion into an even more beautiful presentation.  Besides that, it is easy.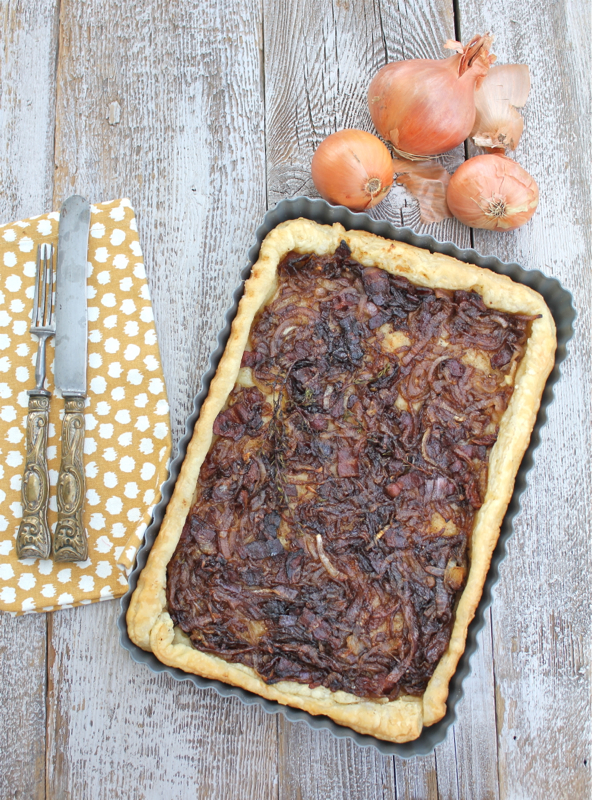 I used a store-bought puff pastry for the crust.  The combination of slow cooked onions, balsamic vinegar, honey and bacon make for a flavorful topping.  I would even consider serving this cut into small pieces as an appetizer for Thanksgiving.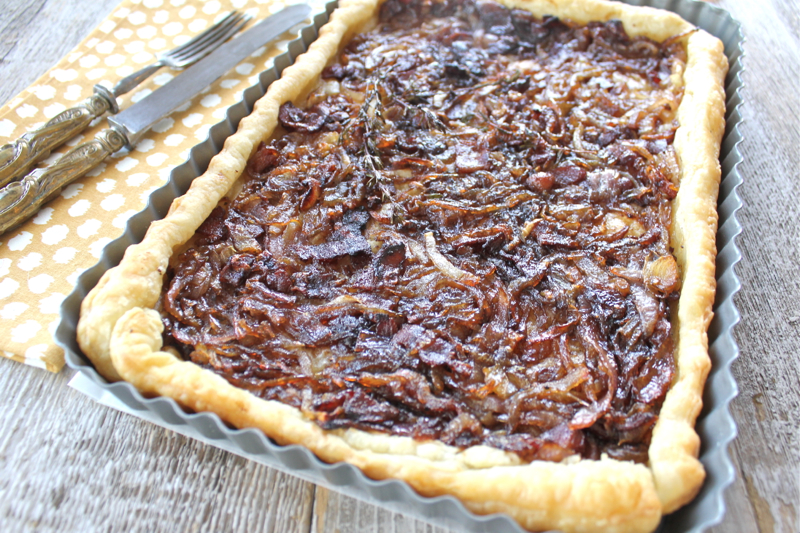 Mimi made her tart in a 10-inch round tart pan.  I have this 7.5″ x 11.5″ rectangular pan that I thought made it very festive.  Although I loved this tart there are a few changes I would make next time.  I thought the amount of oil, butter and bacon grease made it a bit too full of fat.  Also if your tart pan has a removable bottom, I would put it on a cookie sheet because the fat leaked out of the bottom.  But the flavor was sublime.  This is the kind of dish that I would choose for a light supper with a salad and a glass of wine or as the aforementioned appetizer.
ONION TART
3 tablespoons extra-virgin olive oil, plus more for drizzling ( I would suggest 1 tablespoon )
2 tablespoons unsalted butter ( I would suggest 1 tablespoon )
3 1/2 ounces bacon, cut into lardons or diced
1 pound onions, thinly sliced ( I used 3 onions )
Fine sea salt and freshly ground black pepper
1 tablespoon honey
1 tablespoon balsamic vinegar
A few sprigs of fresh thyme
All-purpose flour for rolling the dough
8 ounces puff pastry, homemade or store-bought
Heat the olive oil and butter in a large saute pan over medium-high heat.  Add the bacon and fry until browned, about 3 minutes.  Lower the heat to medium-low, add the onions, season with salt and pepper, and cook, stirring occasionally, until tender and golden brown, about 15 minutes.
Add the honey, balsamic vinegar, and thyme, increase the heat to high, and boil to reduce for 2 to 3 minutes.  Take off the heat and set aside to cool.
Preheat the oven to 400 degrees F.
On a lightly floured surface, roll out the dough 1/8-inch thick.  Line a 10-inch tart pan with the pastry and prick the bottom several times with a fork.  Trim the edges.  Scoop the onion mixture into the tart shell.  ( Place on baking sheet ).  Bake until the pastry is crisp and golden, about 20 minutes.  Let cool for 5 minutes before drizzling with olive oil ( If needed ) and serving.