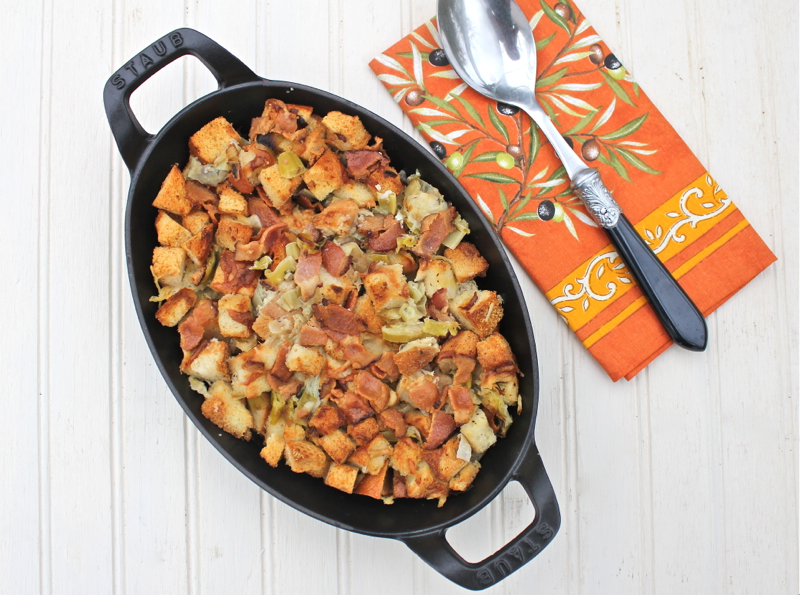 It is the start of the holiday season.  With the approach of Thanksgiving our kitchens will become steamy, aromatic and warm until we sprawl exhausted on our sofas on New Years Day vowing never to eat again.  But for foodies it is the best of times.  The Thanksgiving feast is just the warm up.  We have done something a little different this year.  We have already had our Thanksgiving dinner.  We will not be with family and friends this year so we decided to travel on the Thanksgiving weekend.  We are going to Savannah to take in the historic downtown area.  So David and I cooked a simple Thanksgiving meal for the two of us this weekend.  David was in charge of the turkey.  He smoked it on the grill and I will let him tell you about it at the end of this post.  I did all of the side dishes.  A new one for me this year was this Leek and Artichoke Bread Pudding from Ina Garten's new cookbook, Make it Ahead.  How perfect is that?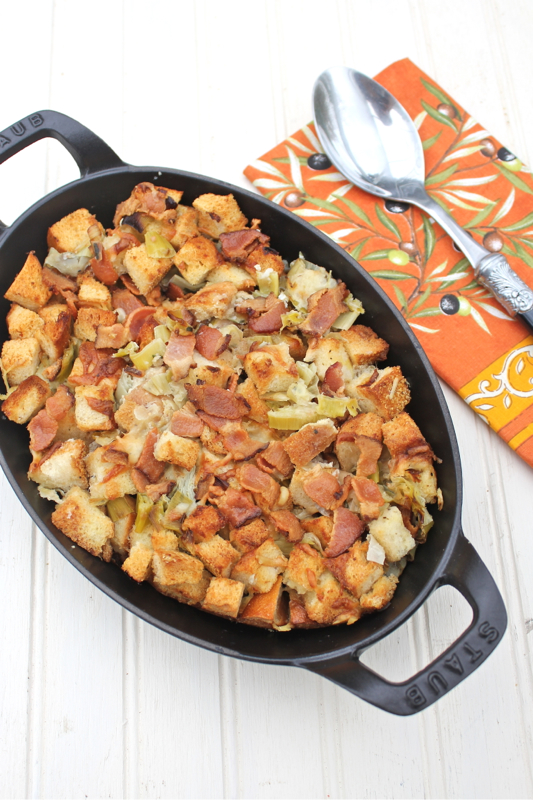 Instead of my standard dressing, this savory bread pudding hit all of the marks in my book.  I have an affinity for leeks and artichokes and the fact that it can be made ahead of time is a real timesaver at Thanksgiving.  You will love the combination of flavors with the salty pancetta on the top and the creamy base.  We found it to be a great alternative.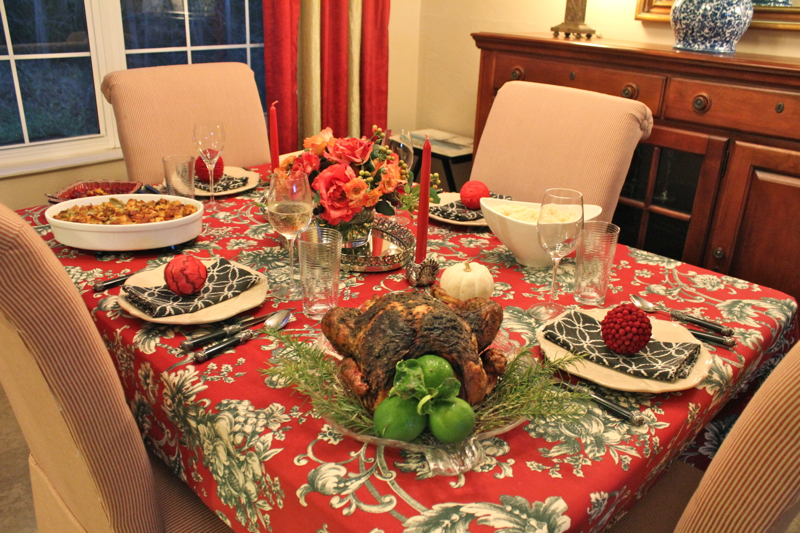 Here is our intimate Thanksgiving table.  David laughed at me for the care that I took dressing the table.  It is a bit over the top, but I enjoyed having the leisure to make it special.  I have to say that everything was delicious.  The meal included David's moist smoked turkey, his special gravy, mashed potatoes, my Mother's cheesy green beans with bacon,  Ina's leek and artichoke bread pudding and Sam's (My Carolina Kitchen) French cranberry sauce.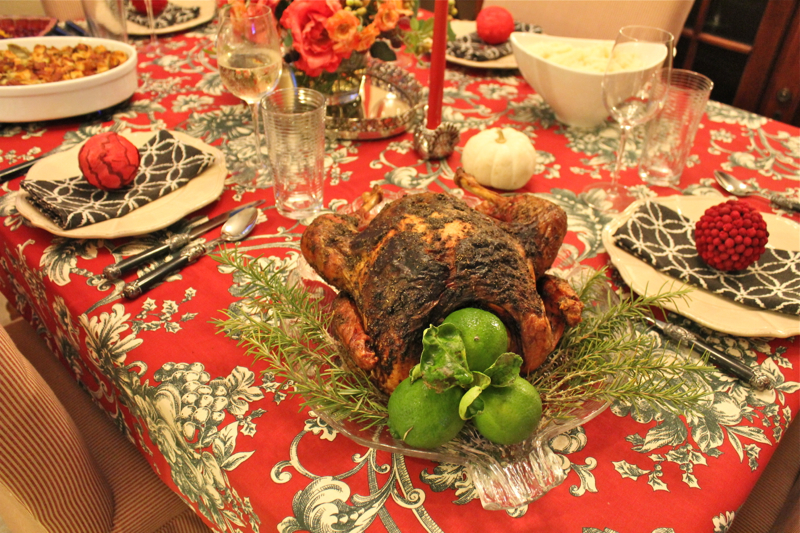 I am turning it over to David so that he can tell you about his turkey and gravy.
I (David) have been wanting to smoke a turkey for a long time, but Penny would never let me do it for Thanksgiving when we would normally have guests for dinner, fearing that I might muck it up and she would not have a decent bird to serve to company.  (Penny here, plus no gravy).  I told her about a week ago that I planned to smoke a turkey for myself for the fun of it and she could eat some if she liked it….or not.  My plan was simple, to have smoked turkey and a couple of appropriate sides for a normal Saturday night supper, but my simple plan somehow morphed into the table that you see above.  That's what being married to a food blogger will do for you.  I did get a good chuckle out of the elaborate table setting for a two-person, not-quite-Thanksgiving meal. Anyway, I got to smoke my turkey.
As some of you know, I have a Kamado ceramic egg style grill back in Lake Lure, but not down here in Florida, so I was faced with cooking it on the gas grill that I have here.  After Googling "smoked turkey recipe" and reading about several candidate techniques, I zeroed in on Meathead Goldwyn's  method as spelled out in excruciating detail on his most excellent website Amazing Ribs.  He's the go-to guy for all things barbecue.  You can take a look at his website for the gory details, all 42 printed pages of it, but suffice it to say that his techniques are based on the science of cooking meat, including the underlying thermodynamic and heat transfer principles, which greatly appeals to me, this retired thermodynamics professor.
In short, you coat the bird with his "Simon and Garfunkel" rub (I bet you can guess the main ingredients) both under and over the skin.  Then you set up your grill for indirect cooking with the bird on one side over an aluminum roasting pan filled with chopped-up onions, carrots, and celery, along with the turkey neck, heart, gizzards, wing tips, and "Pope's Nose", some herbs and spices, and about three quarts of liquid.  I used two quarts of water, a bottle of white wine, and a cup of apple juice.  The liquid left in this pan at the end of cooking, and after straining out all the solids, is the "gravy" you can serve with the meat without the bother of thickening it with flour.  Use the burners on the other side of the gas grill for supplying the heat to produce smoke from a couple of chunks of foil-wrapped wood (I used cherry) and to keep the turkey side of the grill at around 325F as measured with a digital thermometer at rack height. Our ten-pound bird took about 2 hours to reach the target temperature of 160F in the thickest part of the breast, at which time the temperature of the thighs was 170F….perfect.  During a 15 minute rest period the temperature at both locations will increase about 5 degrees.  The result is a juicy bird with crisp skin and a nice mellow smokey flavor and some delicious broth to go with it.  If you decide to try this, you should definitely take a look at the Amazing Ribs website for details.
That is all from the two of us.  We wish everyone a bountiful Thanksgiving.  We are thankful for all of you.
LEEK AND ARTICHOKE BREAD PUDDING ( Make it Ahead by Ina Garten )
8 cups ( 1-inch-diced ) day-old bakery white bread, crusts removed
3 ounces thinly sliced pancetta
6 cups ( 1/2-inch-diced ) leeks, white and light green parts ( 5 Leeks )
3 tablespoons unsalted butter
1/2 cup dry white wine, such as Pinot Grigio
Kosher salt and freshly ground black pepper
1 (9-ounce) package frozen artichoke hearts, defrosted
3 tablespoons minced fresh chives
2 teaspoons minced fresh tarragon leaves
4 extra-large eggs
2 cups heavy cream
1 cup good chicken stock, preferably homemade
1/4 teaspoon ground nutmeg
2 cups grated Emmentaler Swiss cheese (8 ounces)
Preheat the oven to 350 degrees F.
Place the bread cubes on a sheet pan and bake for 15 minutes, tossing once, until lightly browned.  Place the pancetta in on layer on another sheet pan and bake in the same oven for 15 to 20 minutes, until lightly browned.  Place the pancetta on a plate lined with paper towels and set aside.
Meanwhile, soak the leeks in water until they're clean, and spin them dry in a salad spinner.  Heat the butter in an 11-inch pot over medium heat, add the leeks, and cook for 10 minutes, stirring occasionally.  Add the wine, 1 teaspoon salt, and 1 teaspoon pepper and cook for 5 minutes, until the wine almost evaporates and the leeks are tender.  Of the heat, mix in the artichokes, toasted bread cubs, chives, and tarragon.
Whisk the eggs, cream chicken stock, nutmeg, and 1 teaspoon salt together in a large bowl.  Spoon half of the bread mixture into a 13 x 9 x 2-inch baking dish.  Sprinkle with half the Emmentaler and add the remaining bread mixture.  Pour on the cream mixture, sprinkle with the remaining Emmentaler, and press lightly to help the bread absorb the liquid.  Dice or crumble the pancetta, scatter on top, and sprinkle lightly with pepper.  Set aside at room temperature for 30 minutes to allow the bread to absorb the cream mixture.  Bake for 45 to 50 minutes. until the pudding is puffed and golden.
Make it Ahead:  Assemble the bread pudding and refrigerate for up to 2 days.  Bake before serving.