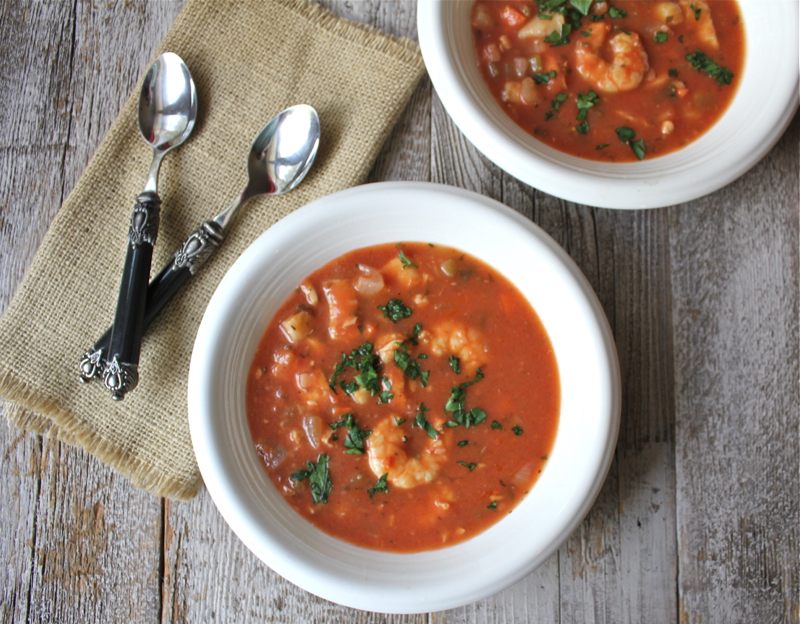 I don't know about you, but after the Thanksgiving holidays I crave food that is totally different from that table of white carbs and sweet desserts.  Also, for health reasons, David is trying to eat better.  So he has been on a seafood soup kick lately.  He spends his mornings at the gym and then comes home and throws something together like this Venetian fish soup.  Similar to bouillabaisse or cioppino, this fragrant fish soup is vibrant and alive with flavor.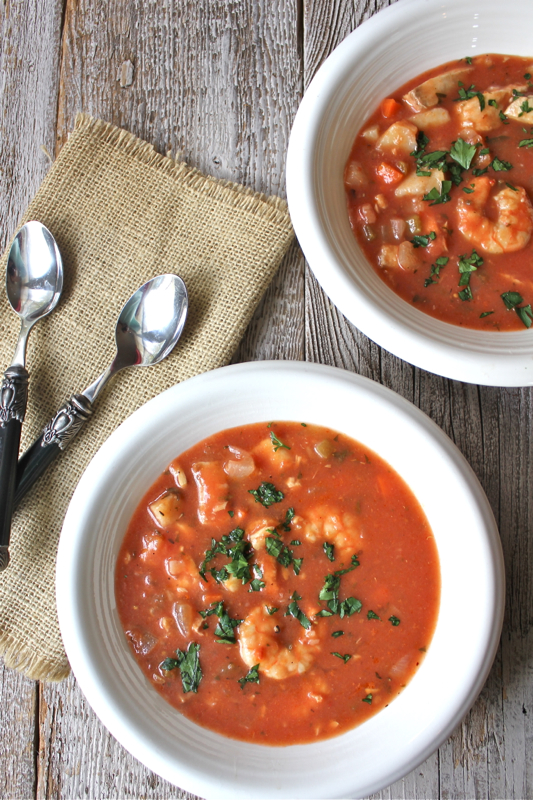 Shrimp and fish fillets are the protein in this soup.  Combined with vegetables, clam juice, crushed tomatoes and white wine, you have a relatively light bowl of goodness.  If you wanted to add some carbs to the mix you could add a piece of garlic infused toasted baguette to the bowl before you add the soup.  But for lunch we liked it just the way that it was.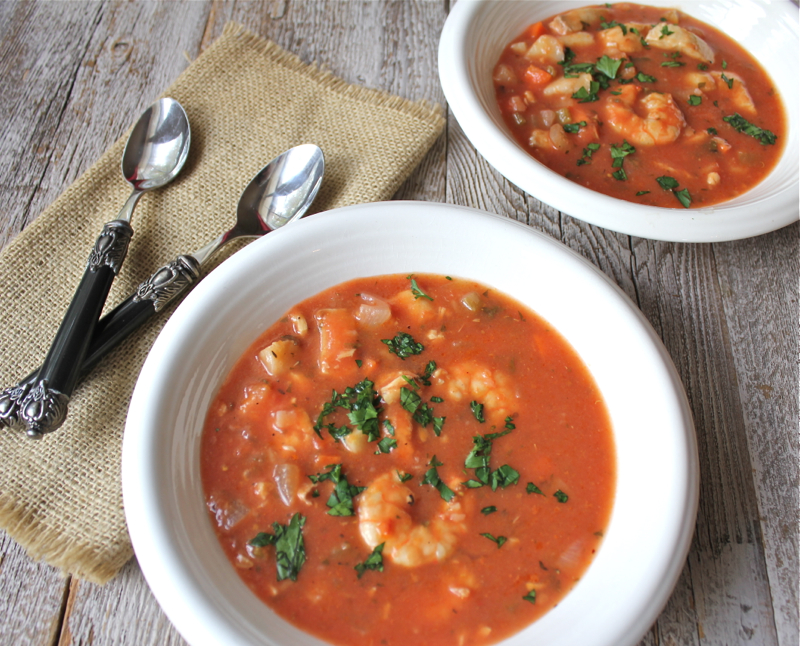 The recipe came from Food and Wine Magazine.  David adapted it slightly.  But I am showing it here as it was written.  I am fortunate to have him in the kitchen doing his healthy cooking.  Maybe it will offset all of the cookies I am getting ready to make.
VENETIAN FISH SOUP
1/2 pound large shrimp, shells removed and reserved
2 cups water
3 tablespoons olive oil
2 carrots, chopped
2 onions, chopped
1 fennel bulb, chopped
2 ribs celery, chopped
6 cloves garlic, minced
1/2 cup dry white wine
3 1/2 cups bottled clam juice
2 1/2 cups canned crushed tomatoes in puree (from a 28-ounce can)
1/4 teaspoon dried red-pepper flakes
5 tablespoons chopped fresh parsley
1/2 teaspoon dried thyme
1 teaspoon salt or more, depending on the saltiness of the clam juice
2 bay leaves
2 pounds moderately firm white fish fillets such as cod, halibut, ocean perch, orange roughy, or pollack (cut in pieces)
Freshly ground black pepper
Put the shrimp shells and the water in a small pot; bring the water to a boil.  Reduce the heat and simmer, covered, for 15 minutes.  Strain the shrimp stock into a bowl.  Discard the shells.
In a large pot, heat the oil over moderate heat.  Add the carrots, onions, fennel, celery and garlic; cook, stirring occasionally, until the vegetables start to soften, about 5 minutes.  Add the wine; cook until it almost evaporates, about 5 minutes.  Stir in the shrimp stock, clam juice, tomatoes, red-pepper flakes, 4 tablespoons of the parsley, the thyme, salt and bay leaves.  Bring to a boil.  Reduce the heat and simmer, partially covered, for 25 minutes.  Taste for salt and, if needed, add more,  Remove the bay leaves.
Add the fish, shrimp, the remaining tablespoon parsley and the pepper to the pot and bring to a simmer.  Simmer until the fish and shrimp are just done, about 2 minutes.