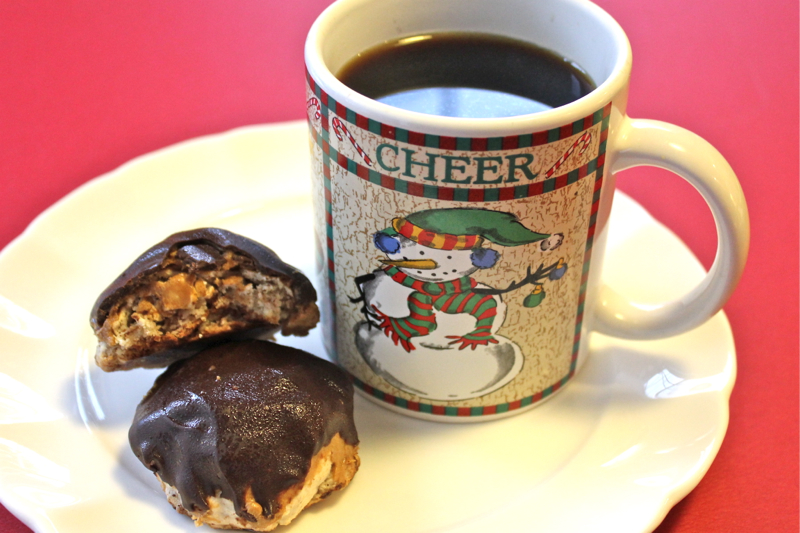 I made a new cookie for the holidays this year.  The minute I received my copy of  A Kitchen in France by Mimi Thorisson, I knew that the Sarah Bernhardt cookies would be on my Christmas table.  Sarah Bernhardt cookies or cakes, as they are sometimes called, originated in Copenhagan Denmark in 1911 where a local chef made them for the French actress when she traveled there to promote the publication of her memoirs.  She was purported to have loved them.  Mimi Thorisson shared that she learned to make them from her Icelandic Mother-in-law.  They have now become a Christmas tradition in her household.  I can see why.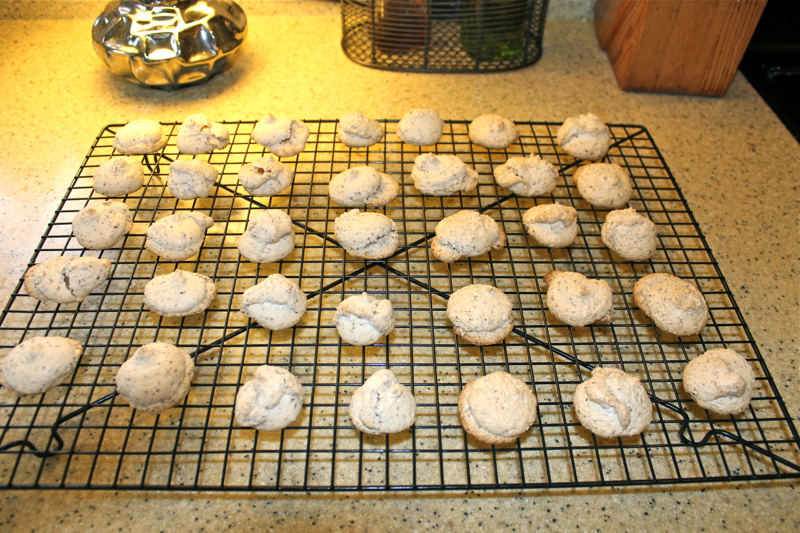 They start with a meringue made from egg whites, confectioners' sugar and almond flour.  I had to experiment with how large to make these and whether to use two spoons to form them or pipe them through a pastry bag.  I would recommend the bag.  It was much easier to handle the sticky dough that way.  After the meringues have cooled and put in the freezer for a short chill, they are frosted with a coffee and chocolate infused mixture.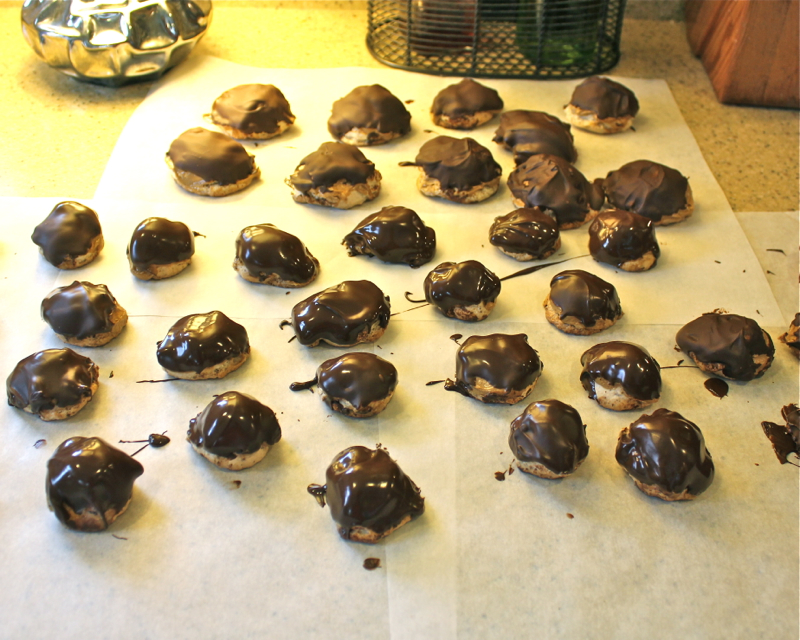 After the frosted meringues go back into the freezer to chill, they are then dipped in melted dark chocolate.  Even though there are a lot of steps to making them, Sarah Bernhardt cookies are well worth the time.  They are a mouthful of crisp meringue, soft frosting and rich dark chocolate.  I think it will take me some time to perfect this cookie.  For instance, I frosted the rounded side and dipped that in chocolate so that the flat bottoms would be stable.  The pictures I have seen were rounder because the frosting was piled on the flat side and then dipped in chocolate.  They are even more beautiful garnished with candied violets as I saw on one post.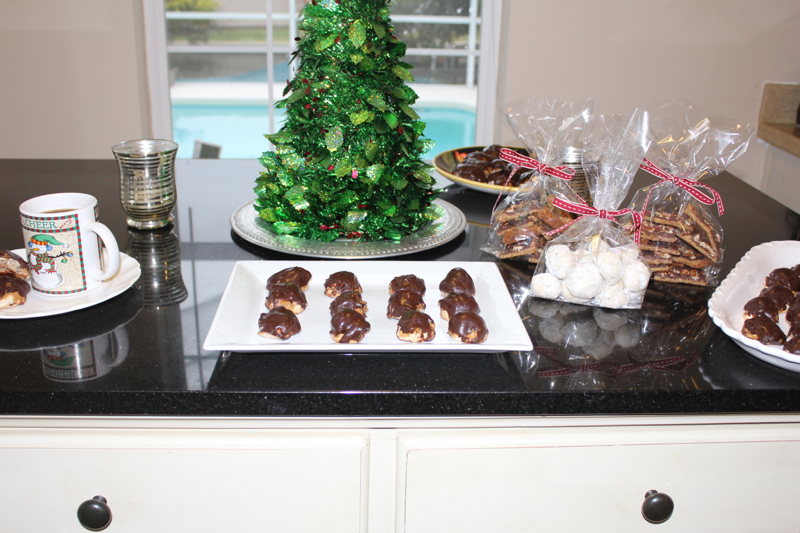 I am well on my way to completing my cookie baking.  So far I have made Mexican wedding cookies,  Chocolate and Pecan Shortbread Bars,  and the Sarah Bernhardt cookies.  This year I am wrapping my cookies in clear plastic bags tied with red ribbons.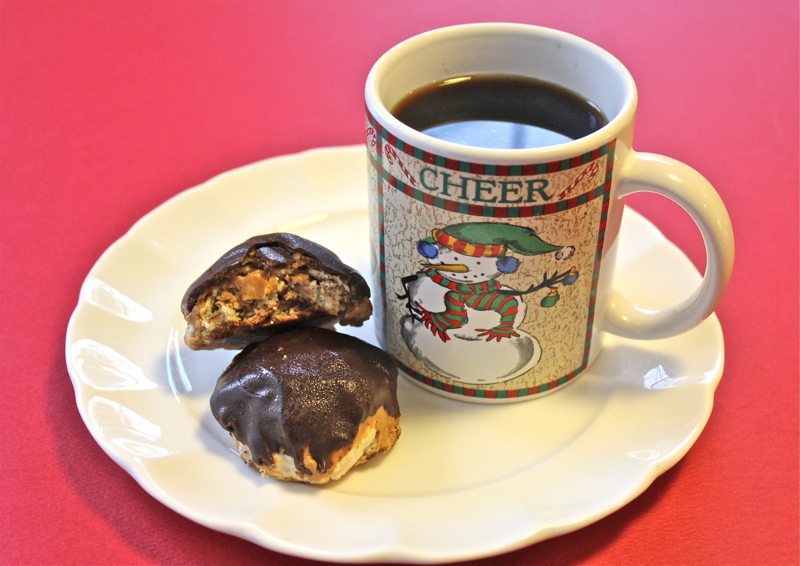 I hope you will find the time to make these delicious cookies.  They are worth a relaxing moment and maybe a sigh of satisfaction with a cup of tea or coffee.
SARAH BERNHARDT COOKIES (Mimi Thorisson)
Makes 40 to 50 individual cookies depending on size
For the Meringues:
4 large egg whites
2 1/3 cups confectioners sugar, sifted
2 cups almond flour
For the Frosting:
2 1/2 cups confectioners' sugar, sifted
10 tablespoons unsalted butter, at room temperature
3 large egg yolks ( I used pasteurized eggs because the eggs are not cooked)
3 tablespoons instant coffee powder, dissolved in 1 1/2 tablespoons hot water and cooled
1 tablespoon unsweetened cocoa powder
11 ounces good dark chocolate, chopped
Preheat the oven to 350 degrees F.  Line 2 baking sheets with parchment paper.
Make the meringue.  Whip the egg whites in a large bowl with an electric mixer on high speed until frothey.  Gradually add the sugar, 1 to 2 tablespoons at a time, and continue whipping until the egg whites form stiff peaks, about 10 minutes.  Gently fold in the almond flour.  Using two spoons or a pastry bag fitted with a large plain tip, spoon or pipe the egg whites onto the parchment-lined baking sheets.  The meringues should be 1 1/2 to 2 inches wide and 1/3 to 1/2 inch high.
Bake until crisp, 10 to 12 minutes.  Let cool on the baking sheets for 8 to 10 minutes, then transfer to a wire rack to cool completely.  Transfer the cooled meringues to a plate, cover with plastic wrap, and freeze while you make the frosting.
Make the frosting.  With a wooden spoon, in a medium bowl, mix the sugar with the butter until smooth.  Whisk the egg yolks in another medium bowl until pale and thick, then gradually stir into the butter mixture.  Pour in the dissolved coffee, add the cocoa powder, and mix until the frosting is smooth and thick.  Cover with plastic wrap and refrigerate to firm up a bit, 20 to 30 minutes.
Remove the meringues from the freezer.  Use a spoon or a palette knife to spread about 1 1/2 teaspoon frosting over the bottom of each meringue.  Return to the freezer frosting side up for 15 minutes to harden.
Put the chocolate in a heatproof bowl.  Bring an inch or two of water to a simmer in a saucepan, put the bowl on top, and melt the chocolate, stirring occasionally, about 3 minutes ( You can use the microwave if your prefer.)  Remove from the heat.  The chocolate should be just warm to the touch; if it is warmer, let it cool a bit.
Dip the frosted side of each meringue in the melted chocolate so the frosting is entirely covered.  Let set on a large piece of parchment paper.
Line a large container with parchment paper and arrange the meringues in it, layering them between sheets of parchment.  Cover the paper and close the lid tightly.  The meringues will keep in the freezer for up to a month.