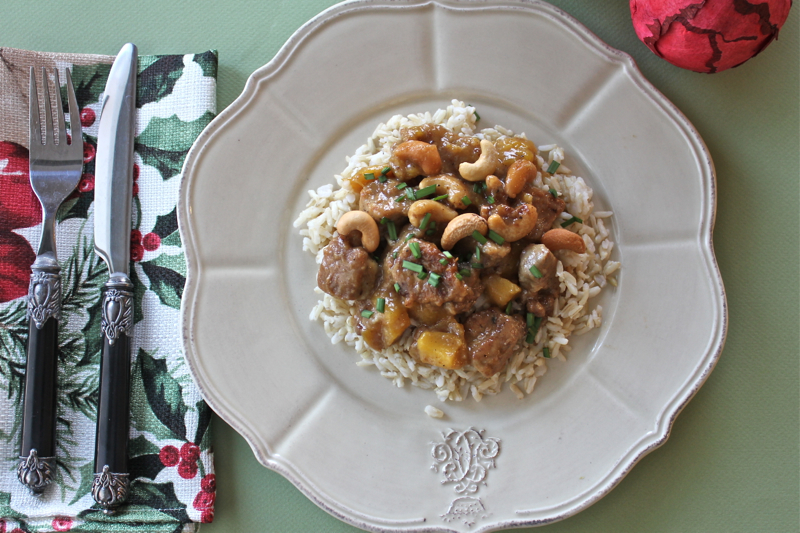 A simple meal when you are overwhelmed with holiday preparations.  That is what is needed.  I have had this recipes for Sweet and Sour Pork with Papaya and Cashews for years.  I don't even remember its provenance.  But I was happy to run across it again recently.  A single pork tenderloin was waiting in the freezer, papayas where available in the produce section of the supermarket and cashews were on the pantry shelf.  We enjoyed a quick and easy dinner.  All that was added was a bed of rice to meld with the pan sauce.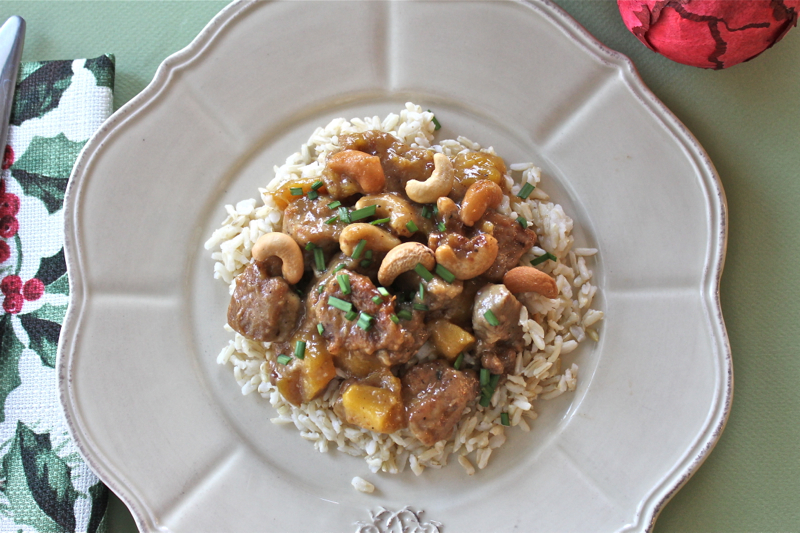 We are preparing to travel to visit family for the holidays.  We also have work that needs to be done at our Lake Lure Cottage.  Every three years the lake level is lowered so that homeowners can do repair work to seawalls and boathouse supports.  New Years will find us at a beach cottage on Mrytle Beach with long time friends.  So there is much organization to accomplish besides the usual Christmas rush.  Easy meal preparations is a boon for this time of year.  This recipe fits the bill.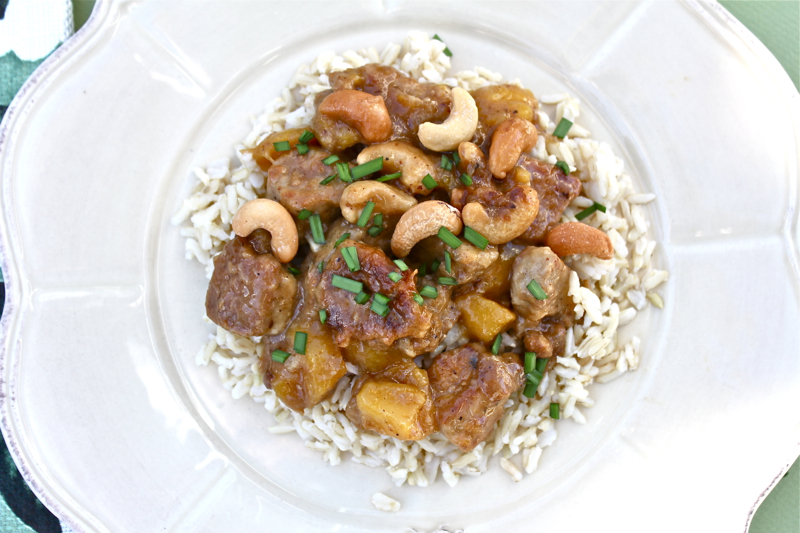 Enjoy the festivities of the season.
SWEET AND SOUR PORK WITH PAPAYA AND CASHEWS
3/4 pound boneless pork loin or pork tenderloin, cubed
1/4 cup flour
1/2 teaspoon salt and pepper to taste
2 tablespoons oil
1/4 cup red wine vinegar
1/2 cup water
2 tablespoons brown sugar
1/4 cup pineapple juice
1 tablespoon cornstarch
1 papaya, peeled, seeded, cubed
1/4 cup cashews
Combine flour and salt and pepper.  Cut pork into 1/2 inch slices or cubes.  Dredge meat in flour, shaking off excess flour.  Saute in oil until browned and cooked through.  In saucepan over medium heat, combine vinegar, water, and brown sugar.  Bring to a boil, stirring frequently.  In a small bowl, blend pineapple juice and cornstarch.  Stir into vinegar and cook, stirring frequently, until thickened.  Gently fold in pork, papaya and cashews.  Serve over a bed of rice.