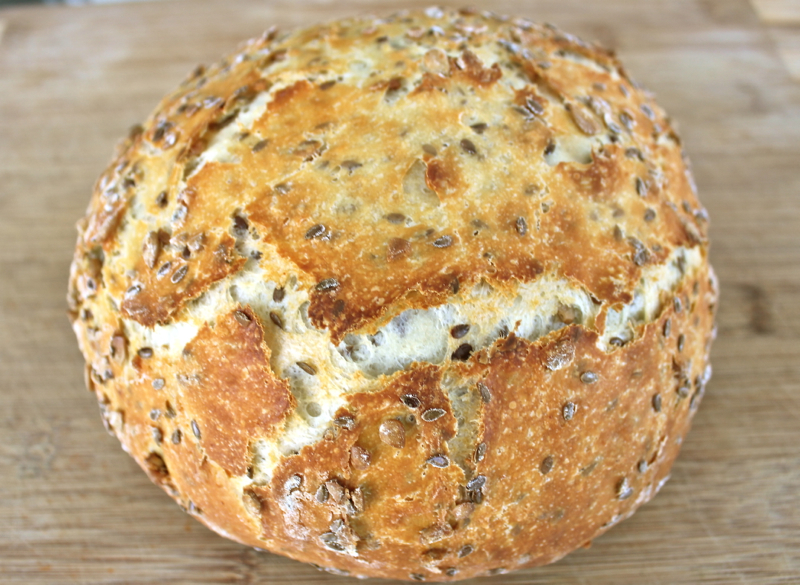 I am always inspired by fellow bloggers.  I sometimes wonder why we even bother with cookbooks when we have such talented people who blog about food on a regular basis.  Monique from La Table de Nana is one of those bloggers.  Among several recipes in one of her recent post, I was attracted to this round of crusty bread full of seeds.  She adapted the recipe from another blogger, Lady and the Pups.  The premise behind the sourdough bread is that you don't need a sourdough starter.  The sour taste comes from the yogurt that is a part of the mixture.  It is so easy, especially if you kneed it in a stand mixer.  The only difficulty is time.  Time to let it ferment for 6 to 18 hours.  But you might as well just go about your business while the dough does its thing.  There is very little hands on work.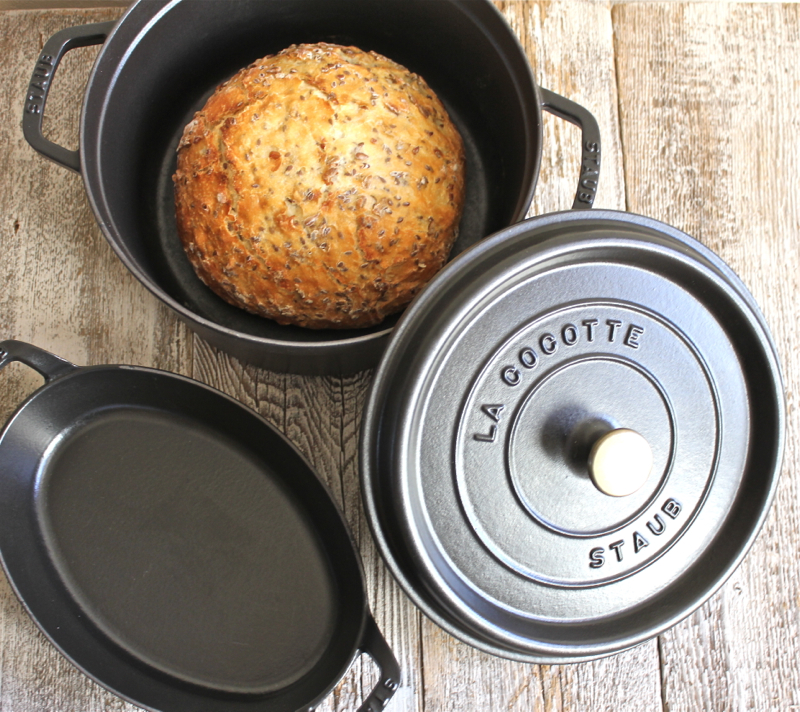 One of the reasons that I wanted to try this bread is because it is supposed to be baked in a heavy covered casserole.  I have been waiting to share this news with you.  I was fortunate to win a set of Staub Cookware from one of my favorite sites, the folks at Food52.  Food52 was founded by former New York Times food editor Amanda Hesser and food writer Merrill Stubbs.  The site offers home cooks everything from recipes to food related articles.  It has an active community of over 300,000 members.  They offer recipe contests in which I have participated.  So far 2 of my recipes have been selected as "Community Picks".
With the publication of Mimi Thorisson's cookbook My Kitchen in France, they held a contest offering a set of the beautiful French cookware from Staub.  All that was necessary to win was to leave a comment on their website each day of one week.  They gave away 4 sets.  I won one of them.  I was expecting, perhaps, some small individual cocottes, . . . maybe a small oval baker.  Much to my amazement, right before Christmas three large boxes were delivered.  I received a 5 quart round cocotte with lid, a 9.5 inch oval baker, and a 12 inch skillet (not shown here).  I told David I needed nothing more for Christmas.  Staub is amazing cookware, much like Le Creuset.  The matte black pieces are all featured in Mimi's cookbook.  By the way, I also won one of her cookbooks.  Since I had already purchased mine, I gave this one to my talented daughter-in-law for Christmas.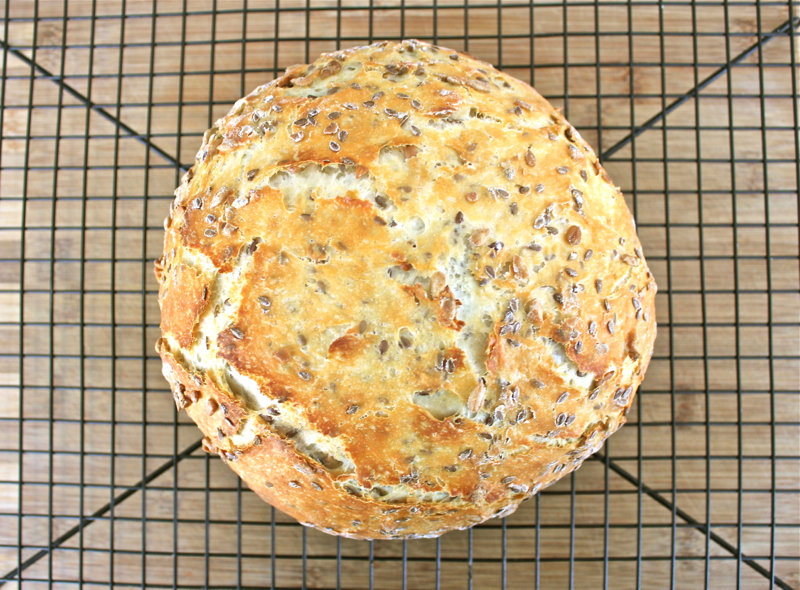 The bread baked in the casserole couldn't have been better.  I'm sure any heavy duty casserole would do, but there is something satisfying about cooking in beautiful vessels.  I highly recommend this bread.  I love the cracked appearance of the loaf.  It is hard on the outside and soft inside, just as a good sourdough loaf should be.  You can make it without the sunflower and flax seeds as the original recipe suggests.  Monique even suggested that I try it that way first, but I loved this version.  Thank you for a great recipe Monique.
FRAUDULENT SOURDOUGH BREAD
3 cups (405 grams) bread flour
1 1/2 tsp (8 grams) salt
1/4 tsp instant dry yeast (if fermenting for 18 hours), or 3/4 tsp instant dry yeast (if fermenting for 6 hours)
1 1/2 cup + 2 tbsp (385 grams) plain unsweetened yogurt containing active cultures
1/3 cup sunflower seeds, optional
1/3 cup flax seeds, optional
Instructions
In a stand-mixer with dough-hook, or in a large bowl by hands, mix bread flour, instant dry yeast, salt and plain yogurt, plus seeds if using, on medium-low speed for 2 min until a dough forms. If the dough is too dry and has difficulty coming together, add 1 tbsp more plain yogurt. If you'd like, continue to knead the dough on medium-low speed, or with your hands, for a few more minutes until springy. The dough should be very sticky, but able to retain shapes.
Cover the bowl with plastic wrap and let ferment at room-temperature for 18 hours (NO MORE than 20 hours or the yogurt may spoil and become bitter!), or 6 hours depending on your schedule (note that the amount of yeast varies). The dough should almost doubled when finished.
After fermentation, dust the counter with flour then transfer the dough on top. Use just enough flour to prevent the dough from sticking, fold the dough gently (without crushing all the air bubbles inside) over itself like folding a letter. Turn 90 degrees and fold again. Then shape the dough into a ball-shape. Transfer to a piece of floured parchment paper, then cover a large bowl on top and let proof again for 1 ~ 2 hours. The dough is ready when it almost double in size again, and should not spring back when you press it with a finger.
45 minutes before the dough's ready, preheat the oven on 450F/225C with a large dutch oven, or a heavy-bottom pot (both should come with lid) inside. To bake the bread, lift the parchment paper to transfer the dough into the preheated pot, cover the lid and bake for 30 min. Then remove the lid, and bake until the crust is golden browned.
Let cool on a rack for 20 min.