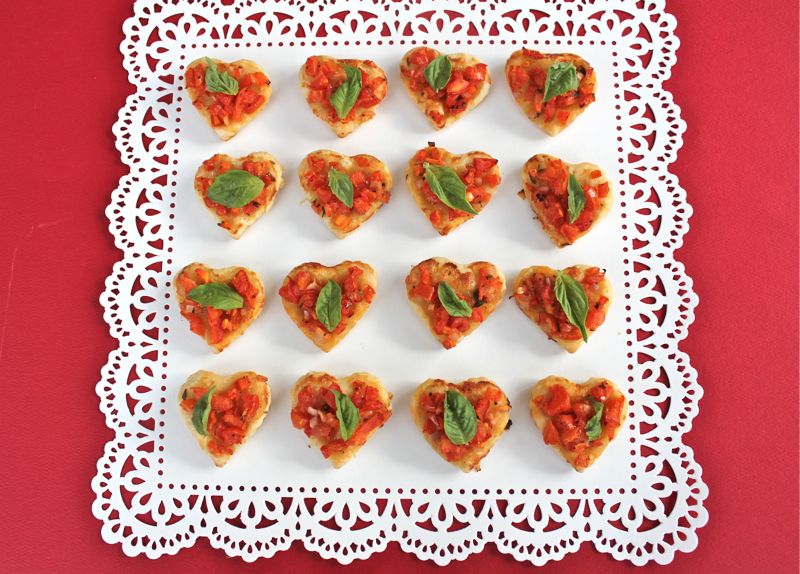 Happy Valentines Day.  I know that most everyone is making chocolate desserts for Valentines Day, but I decided that I wanted something a little bit different. I love chocolate but I also love a good appetizer to be served before a decadent dinner of steak with bearnaise sauce, truffled mashed potatoes and asparagus with prosciutto and parmesan.  These bites would make the perfect beginning for that romantic dinner.  Actually that is just my fantasy dinner.  We will be in North Carolina celebrating our Grandson's 4th birthday on Valentines Day.  Perhaps he will have a chocolate cake.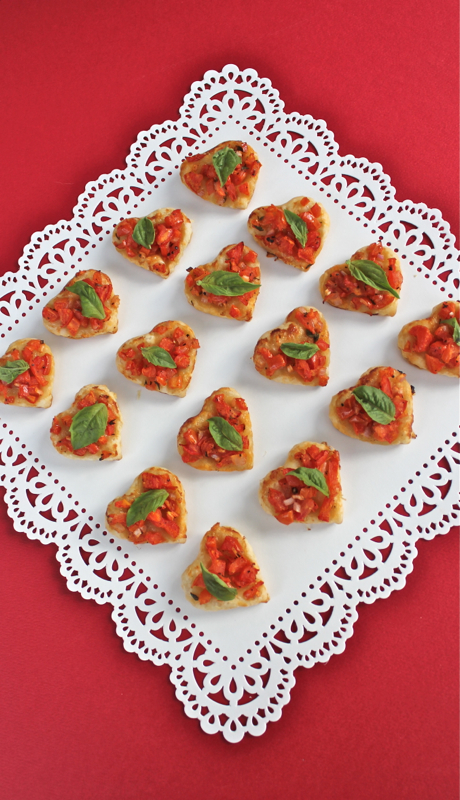 But I did make these last night before our dinner of Veal Saltimbocco with Julia Child's scalloped potatoes and snow peas.  These puff pastry hearts are really very simple.  It just takes a little patience to spoon the topping of tomatoes, shallots, and Parmesan cheese on the pastry hearts.  I tried to maintain a heart shape with the red tomatoes.  My heart cookie cutter measured 1 1/2 inches, but you could use a larger cutter if you prefer.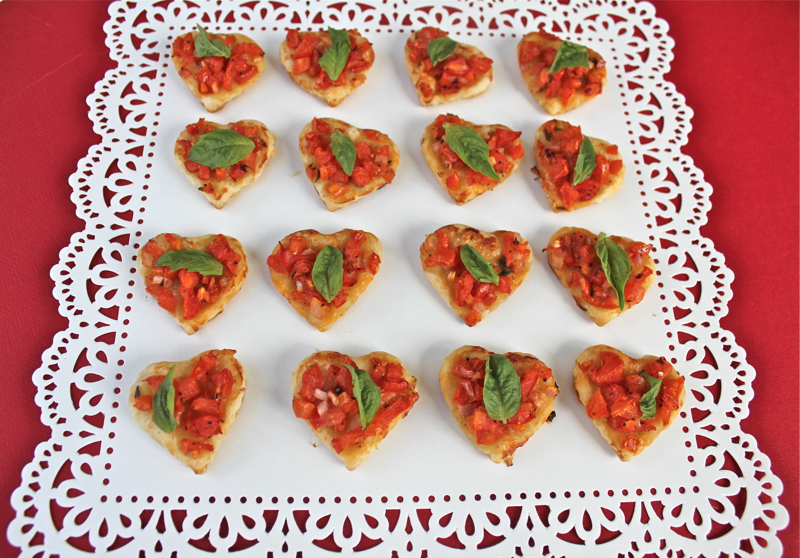 Wishing everyone a lovely holiday with your loved ones. I am linking this to Foodie Fridays at Rattlebridge Farm.
PUFF PASTRY TOMATO-PARMESAN HEARTS (Adapted from Cooking Light Magazine)
3/4 cup finely diced seeded plum tomatoes (about 2)
1 small shallot, minced
1/2 tablespoon olive oil
1 teaspoon champagne or white wine vinegar
1/2 teaspoon chopped fresh thyme
2 to 3 grinds of black peppercorns
1 sheet frozen puff pastry dough, thawed
Cooking spray or parchment paper
1/3 cup finely grated Parmesan cheese
Kosher salt to taste
Fresh small basil leaves for garnish (optional)
Preheat oven to 400 degrees F.
Combine the first 6 ingredients in a medium bowl.  Place the sheet of pastry dough on a work surface lightly dusted with flour.  Cut the dough with the 1 1/2-inch heart cutter into about 20 pieces.  Place on a baking sheet coated with cooking spray or a piece of parchment paper.  Top each heart with a small amount of cheese and a small amount of the tomato mixture.
Bake at 400 degrees F. for about 15 minutes or until golden.  Sprinkle tarts evenly with salt.  Sprinkle with basil leaves, if desired.