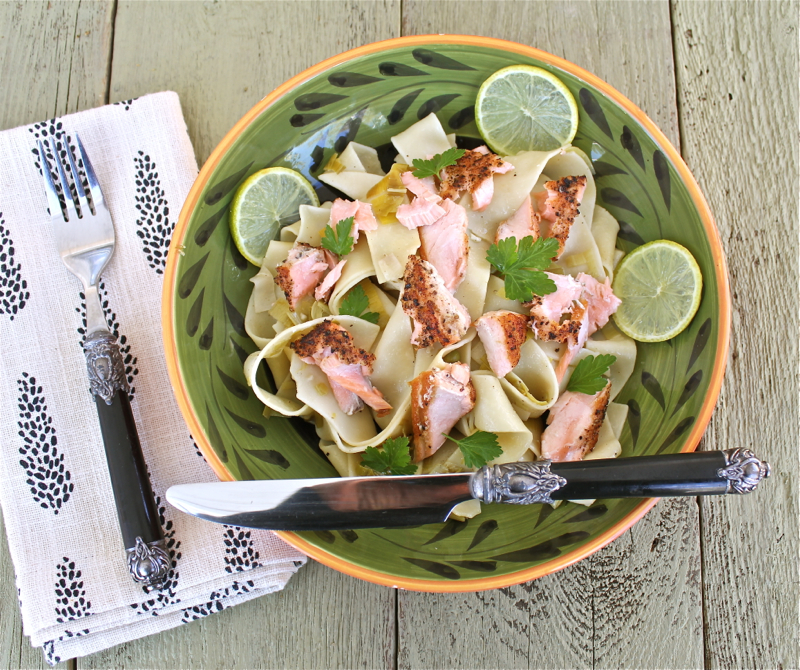 We returned to Florida from North Carolina just before winter storm Octavia descended upon the state. Because the Southern states were being hit so hard with snow, ice and sleet, there was a danger that power outages would occur.  It was a comfort to see over 30 power company trucks with buckets traveling in convoy from Florida up I 95 to the affected states.  I'm sure there were more Florida utility trucks traveling north up I 75 as well.  We are definitely the United States of America.  It was also a comfort to me to watch the outside temperature gauge in our car rise from 16 degrees in NC to 75 degrees in Florida.
This bowl of pasta and shrimp was also a comfort to me the day after we got home.  I was in the mood for something citrusy and healthy but with a little heft to it.  After all, I was still trying to thaw out.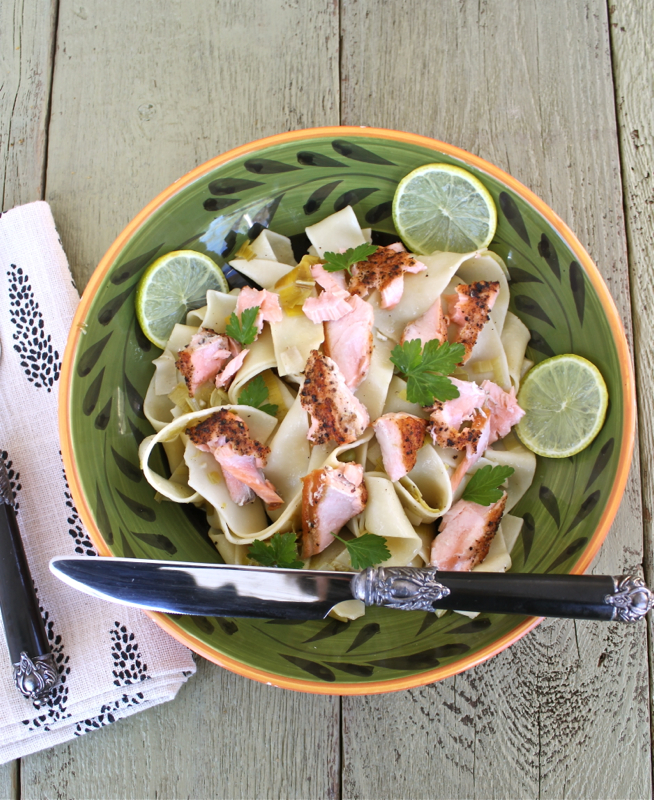 The dish is elegant and easy.  Rosy salmon, pale green leaks and fresh herbs are tossed with broad pappardelle pasta.  I adapted the recipe from Cooking Light Magazine.  I didn't have all of the fresh herbs that they called for, but used what I had; which was parsley, basil and thyme.  It is nice to be able to keep small pots of herbs just outside my door.  The lemons came from our small tree.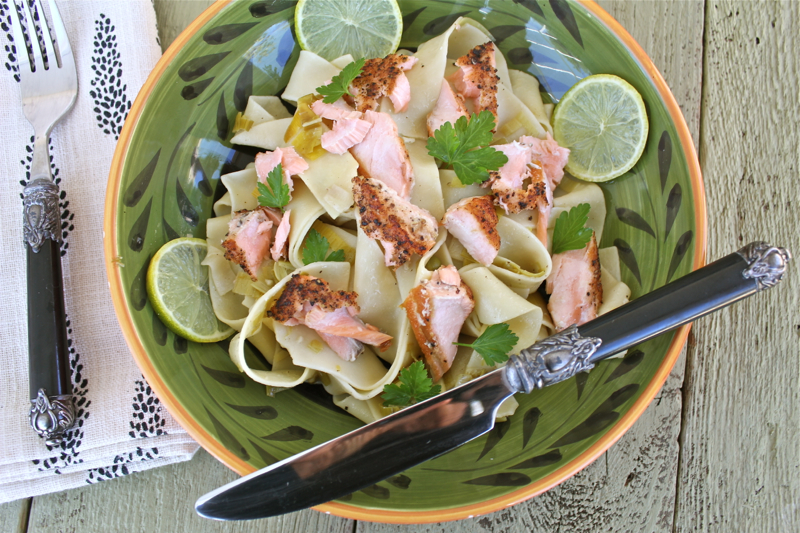 This had the taste of spring to me.  For all of you who are suffering through this brutal winter, I wish you an early spring.  In the meantime, this recipe might help a little.  Enjoy.
PAPPARDELLE WITH SALMON AND LEEKS
3/4 pound uncooked pappardelle pasta
3 tablespoons extra-virgin olive oil, divided
2 large leeks (1 pound), trimmed and thinly sliced
2 teaspoons minced fresh savory or 1 teaspoon minced fresh thyme plus 1 teaspoon minced fresh mint
3/4 teaspoon salt, divided
1/2 cup unsalted chicken stock (such as Swanson)
1 tablespoon minced fresh flat-leaf parsley
1 teaspoon grated fresh lemon rind
1 (1-pound) fresh or frozen sustainable salmon fillet
1/4 teaspoon freshly ground black pepper
2 teaspoons unsalted butter
Preparation
1. Cook pasta according to package directions, omitting salt and fat. Drain pasta in a colander over a bowl, reserving 1/4 cup cooking liquid; keep pasta and cooking liquid warm.
2. Heat 2 tablespoons olive oil in a large saucepan over medium heat. Add leeks, savory, and 1/2 teaspoon salt; cook 15 minutes or until leeks are translucent, stirring occasionally. Increase heat to medium-high. Add wine; cook 1 minute. Add stock; bring to a simmer. Remove from heat; stir in pasta, reserved cooking liquid, parsley, and lemon rind.
3. Sprinkle salmon fillet with remaining 1/4 teaspoon salt and pepper. Heat a large skillet over medium-high heat. Add remaining 1 tablespoon olive oil and butter; swirl until butter melts. Add salmon fillet, and cook for 5 minutes on each side or until desired degree of doneness. Flake the salmon into large chunks. Arrange 1 cup of the pasta mixture on each of 6 plates, and top evenly with flaked salmon. Serve immediately.