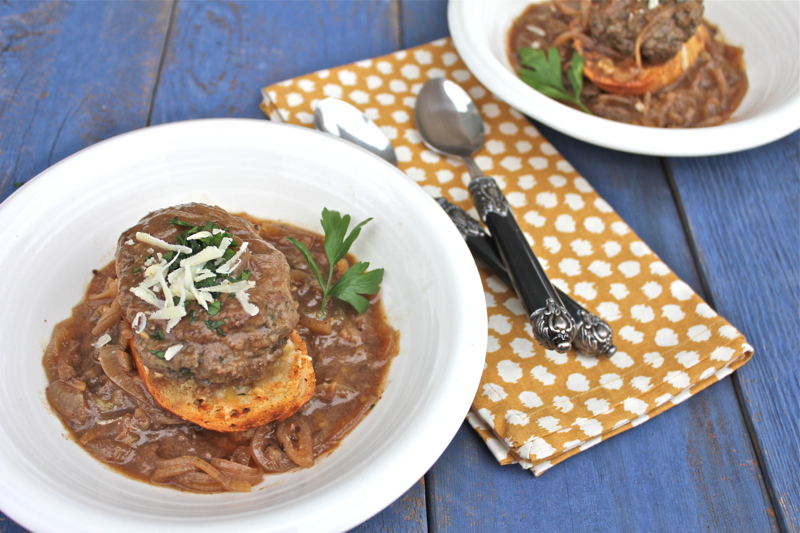 This is a quick meal that brings back memories of an earlier time.  And a more simple time.  Most people equate salisbury steak with the TV dinners that were popular in the '50's and '60's.  We have come a long way since that time.  Even though that time was known for TV dinners, it was also the era of simple meals of meat and potatoes.  My Mother was known for her pork chops, meatloaf and mashed potatoes.  We never had such exotic food from other countries like pizza pie.  Technology and Julia Child changed all of that.  With the advent of cooking programs on television, many people were introduced to food from other nations.  Now with the internet, we can even cook the same food that is currently being prepared in home kitchens all over the world.  Social media has introduced us to quinoa, chia seeds and hemp hearts among other things.  I have been adding hemp hearts to my morning oatmeal.  Who would have thought?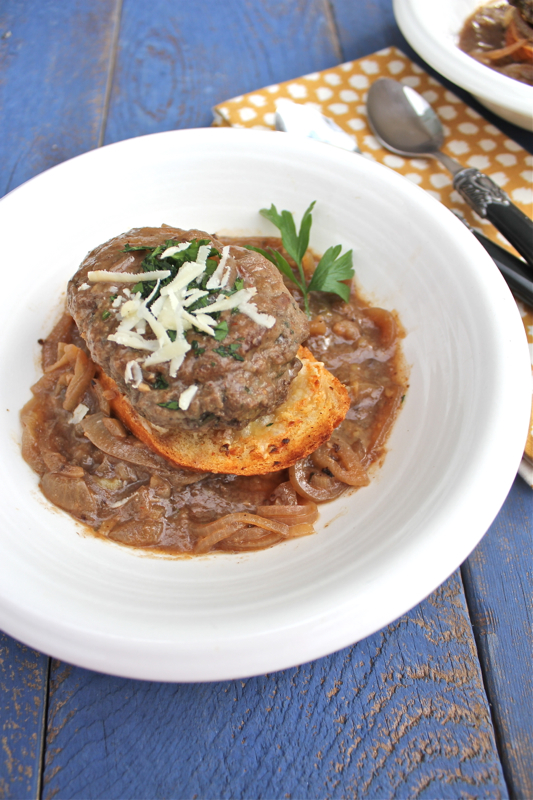 But sometimes, an old-fashioned meal like this "updated" salisbury steak with French onion gravy is most welcomed.  Instead of potatoes it is served with  toasted slices of sourdough bread with Swiss cheese.  The gravy is a riff on French onion soup with beef broth, lots of onions, a little wine and a touch of tomato paste.  I enjoyed this combination.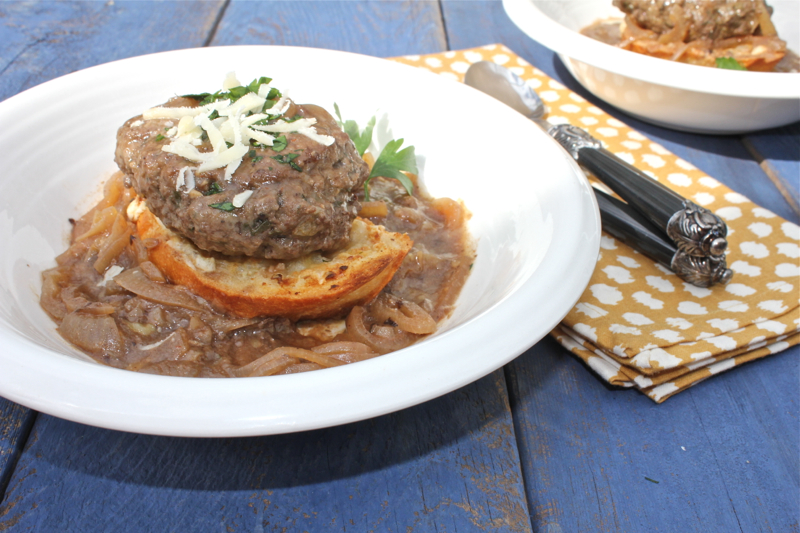 Hope you enjoy this blast from the past.  To be honest, I am glad that we now have so many options, but still love the classics.
FRENCH ONION SALISBURY STEAK  (Adapted from Cuisine at Home )   
1 1/4 ground chuck
1/4 cup fresh minced parsley
2 Tablespoons scallions, minced
1 teaspoon kosher salt
Black pepper to taste
2 Tablespoons all-purpose flour
1 Tablespoon olive oil
2 cups onions, sliced
1 teaspoon sugar
1 Tablespoon garlic, minced
1 Tablespoon tomato paste
2 cups beef broth
1/4 cup dry red wine
3/4 teaspoon kosher salt
1/2 teaspoon dried thyme leaves
4 teaspoons minced fresh parsley for garnish
4 teaspoons Parmesan cheese, shredded
Cheese Toasts – Recipe follows
Combine chuck, parsley, scallion, salt, and pepper.  Divide evenly into 4 portions and shape each into 3/4-inch-1-inch thick oval patties.  Place flour in a shallow dish; dredge each patty in flour.  Reserve 1 teaspoon flour.
Heat 1 tablespoon oil in a saute pan over medium-high heat.  Add patties and saute 3 minutes on each side, or until browned.  Remove from pan.  Add onions and sugar to pan; saute 5 minutes.  Stir in garlic and tomato paste; saute 1 minute, or until paste begins to brown.  Sprinkle onions with reserved flour; cook 1 minute.  Stir in broth and wine, then add the salt and thyme.
Return meat to pan and bring soup to a boil.  Reduce heat to medium-low, cover, and simmer 10 minutes.  Serve steaks on Cheese Toasts with onion soup ladled over.  Garnish with parsley and Parmesan.
CHEESE TOASTS
4 slices French bread or Sourdough baguette, cut diagonally (1/2-inch thick)
2 tablespoon unsalted butter, softened
1/2 teaspoon garlic, minced
Pinch of paprika
1/4 cup Swiss cheese, grated
1 tablespoon Parmesan cheese, grated
Preheat oven to 400 degrees F.  Place bread on a baking sheet.  Combine butter garlic, and paprika, and spread on one side of each slice of bread.  Combine cheeses and sprinkle evenly over butter.  Bake until bread is crisp and cheese is bubbly, 10-15