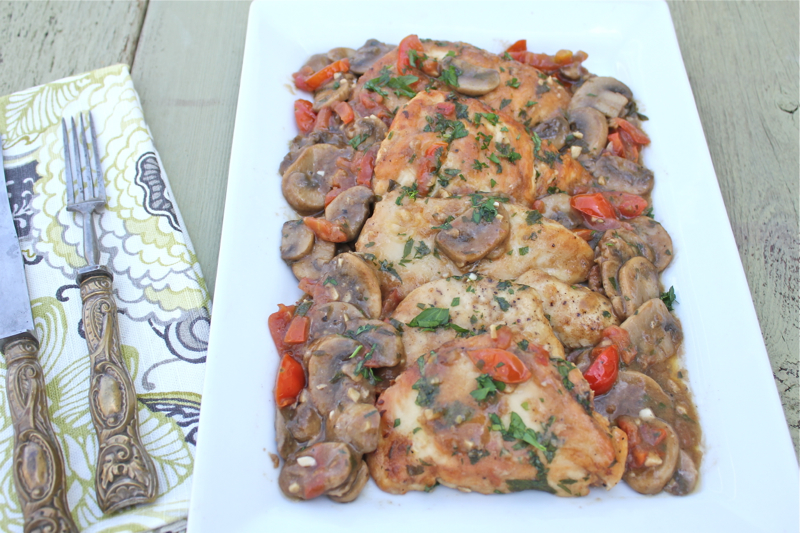 I haven't been posting as often these days.  We have been busy getting the Florida house in order so that we can sell it.  We have come to the conclusion that owning two houses is not in our best interest.  But before I get to all of that, I wanted to share this recipe with you for Chicken Marsala.  Several people have mentioned this dish recently; Monique in particular.  Monique tried David Lebovitz's recipe for the dish.  About a month ago, I tried a rendition from allrecipes.com.  But after Monique's rave about David's recipe, I decided to give it a look.  This time I ended up combining the two recipes for my own version of the dish.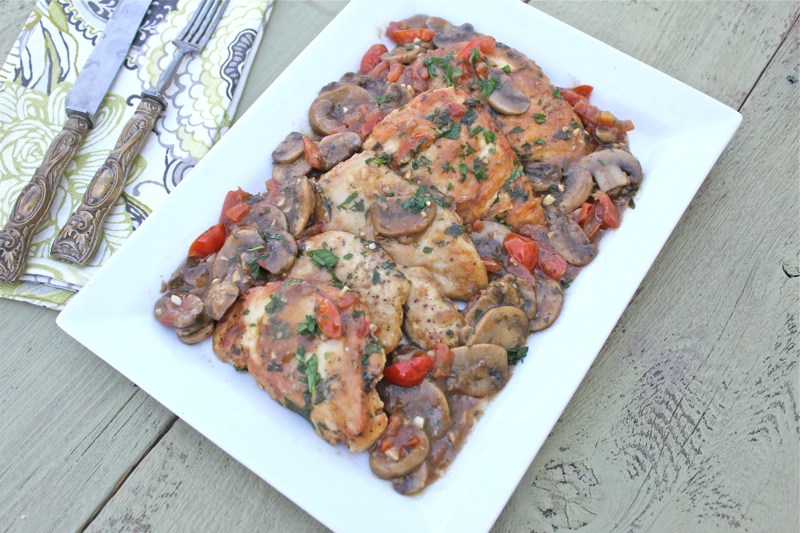 From the allrecipe recipe I added the chopped tomatoes.  They add color to the dish.  From David's recipe I added more Marsala.  You can never have too much Marsala.  I think I ended up with a winner.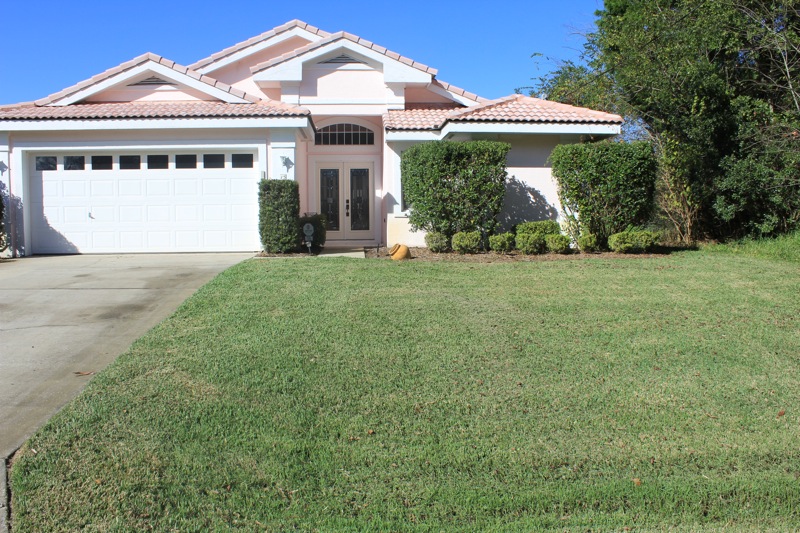 Here is our house as it used to look.  We called it "Big Pink".  Pink houses are not uncommon in Florida.  Plus the color seemed to work with the roof tiles.  We decided that it might sell better if it were more neutral; to be quite frank, I hate neutral. But as a buyer if you wish to change the color of house then you can .You can also  search  in https://www.myhousepainter.com/ for best painting services.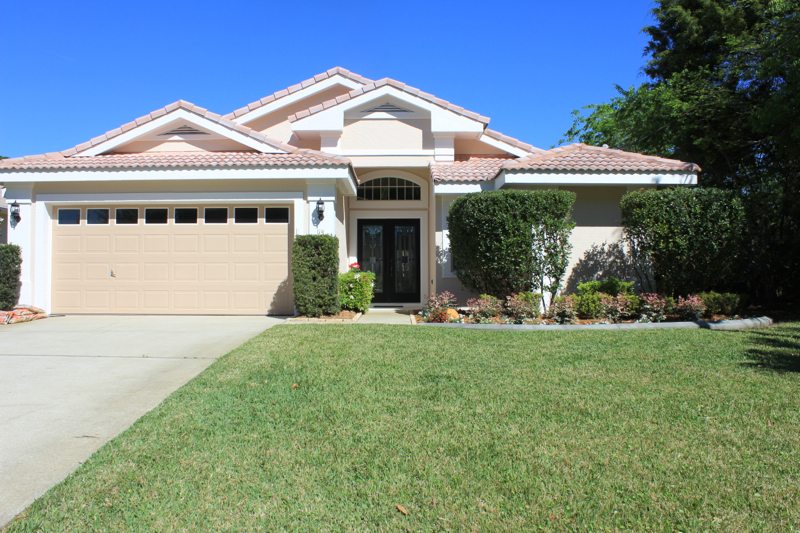 Here is the new paint color.  The beige has a bit of pink in it but is subdued.  We also added some landscaping to the front of the house.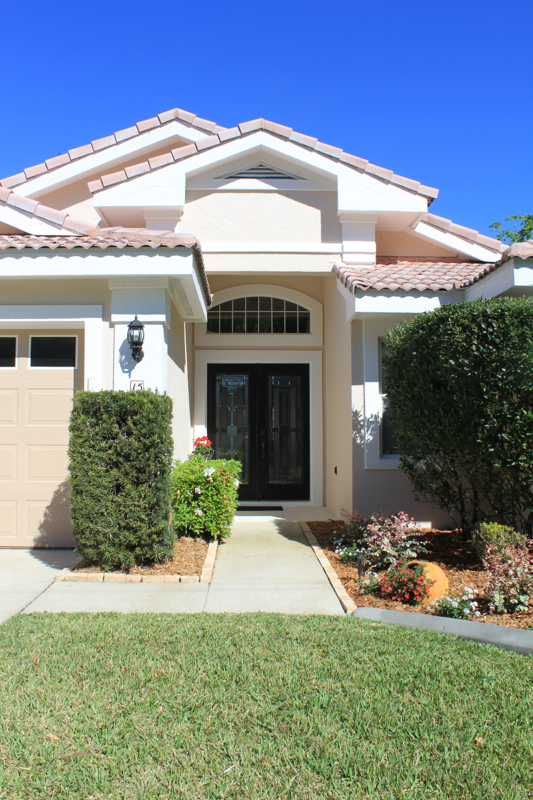 We painted the front double doors black because I like black.  The painter and hubby did not like that idea, but I prevailed.  We replaced the garage light fixtures with larger black lanterns and we also sought help from Titan Garage Doors, who are experts at repairing garage doors.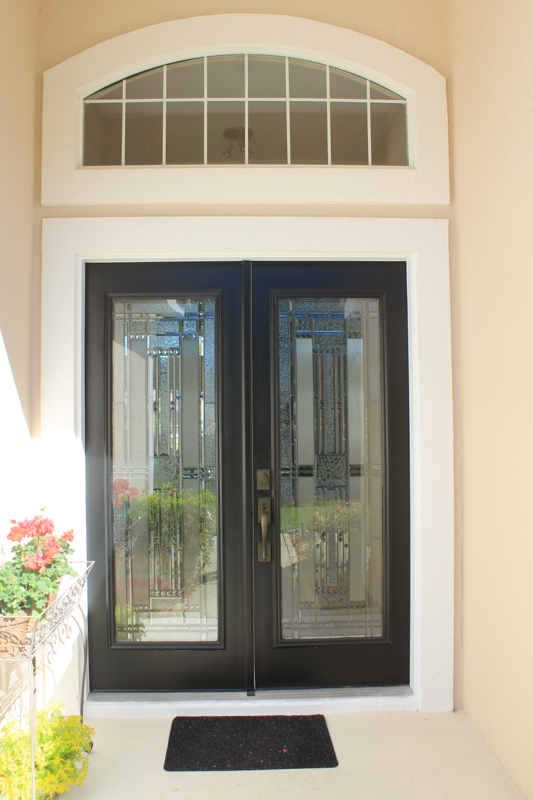 Here is a close up of the front door.  The only problem with having glass doors is that our dog Daisy is usually sitting right in front of the doors barking at anyone who walks by.  But it does give the entrance area lots of light.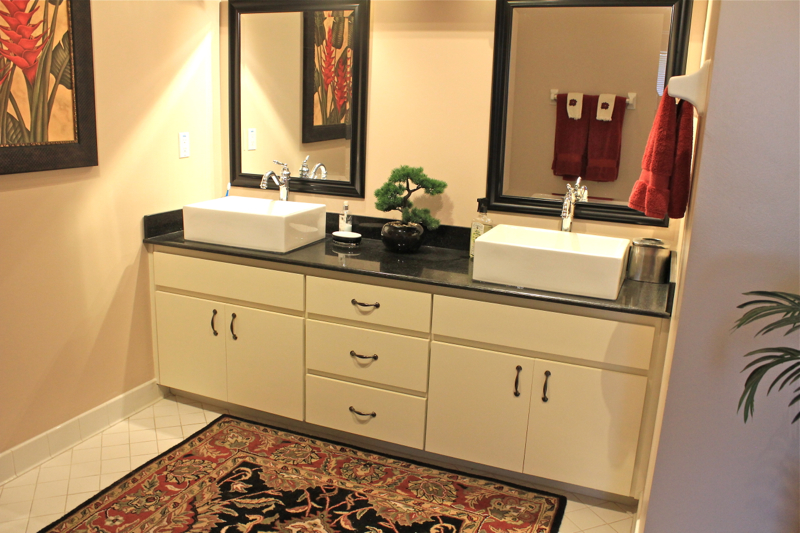 Another area we worked on, besides the kitchen, was the Master bathroom.  The vanity in this room is low.  Lots of bathroom vanities were low when our house was built in the early 90's.  Instead of replacing the vanity, we installed two tall vessel sinks with tall swivel faucets.  We also replaced the countertop with granite.  The other update was getting rid of the horrible wall to wall flat mirror and replacing it with two black framed mirrors.  There was a medicine cabinet to the left of the mirror on the adjoining wall.  That is also gone.  This has turned out to be a very user friendly bathroom.  I am happy with it.  Did I mention that the bathroom used to be painted red?  That was David's great idea.  Somehow, I could hear prospective buyers saying "WHOA!" if we kept it that way.  Neutral seems to work here.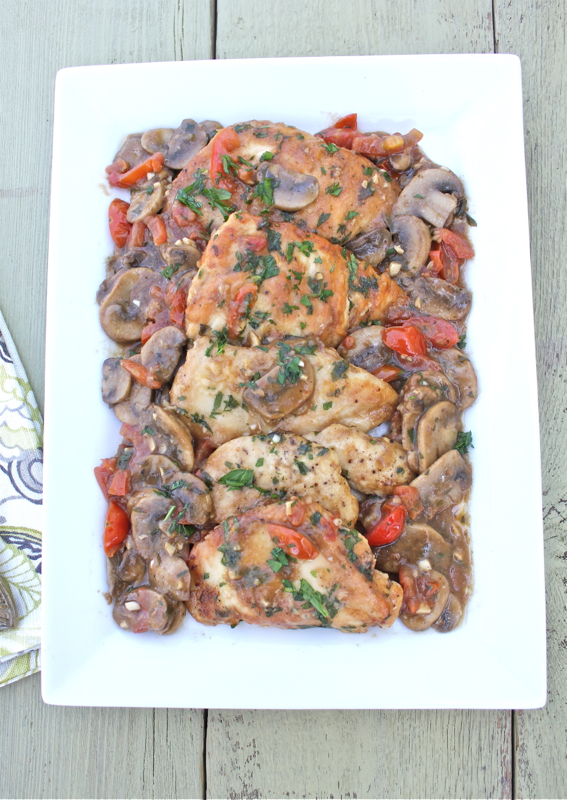 Here is my combined recipe for chicken marsala.  I assembled this plate after we had enjoyed the chicken last night so it is not as full as it would be if you served it to company. In other words, these are leftovers.  We are getting packed up to return to Lake Lure, so posts may be sporadic in the next few weeks.
CHICKEN MARSALA
2 pounds chicken cutlets, pounded thin
1 teaspoon salt
1 teaspoon ground black pepper
1/2 cup all-purpose flour
8 ounces button mushrooms, stems removed and sliced
2 cloves of garlic, minced
3 tablespoons olive oil, divided
4 tablespoons butter, divided
1/3 cup chicken broth
1 teaspoon cornstarch
2/3 cup Marsala wine
1 small tomato, diced
1 1/2 teaspoon balsamic vinegar
Chopped parsley
Season chicken cutlets with salt and pepper.  Pour flour into a shallow dish.  Press chicken cutlets into flour to coat each side, shaking to remove any excess flour.  Set aside.
Melt 1 tablespoon of olive oil and 1 tablespoon of butter in large skillet.  When hot, add sliced mushrooms, season with salt and pepper and cook stirring occasionally until browned, about 6 to 8 minutes.  Add garlic and cook for another minute.  Remove the mushrooms to a plate and wipe out pan.  Add 1 more tablespoon oil and butter to pan.  Add half of the chicken cutlets and saute until they are browned on each side.  Remove to a plate.  Add another 1 tablespoon of oil and butter to pan and repeat with remaining chicken pieces.  While chicken is browning mix together the chicken broth and cornstarch.  Stir until cornstarch is dissolved.  Add the Marsala wine.
When second batch of chicken is done, remove it from the pan.  Add to wine mixture to the pan and scrape up the browned bits.  Stir until it starts to thicken slightly.  Return the mushrooms and chicken to the pan.  Add the diced tomato and cook for about 6 minutes.  Add remaining 1 tablespoon of butter, the balsamic vinegar and the chopped parsley.  Stir to combine.  Serve with noodles, mashed potatoes or rice.