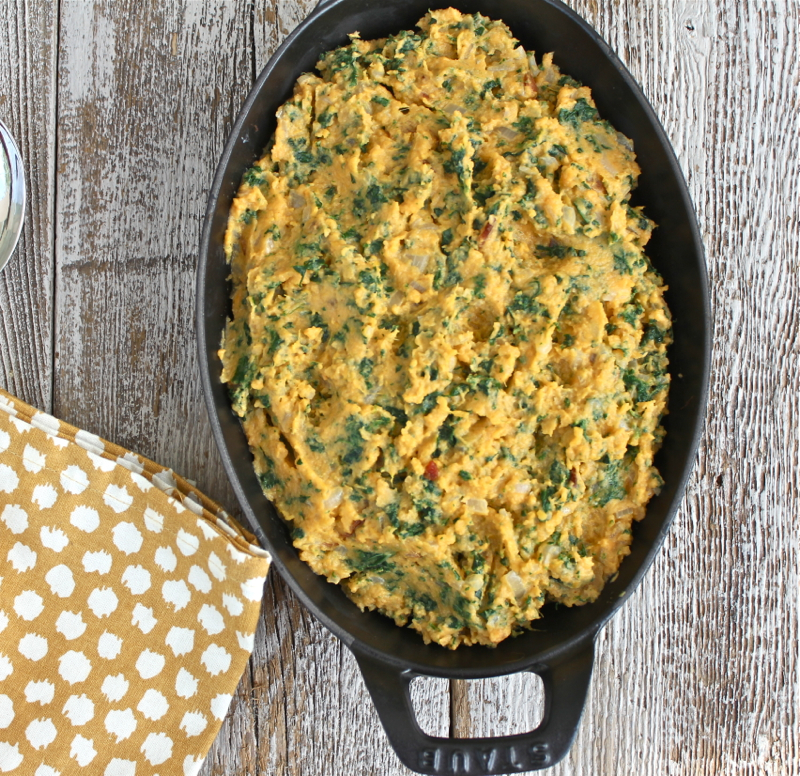 This casserole would have been the perfect side dish for St. Patrick's Day.  Colcannon is an Irish dish which usually contains potatoes and cabbage or kale.  Making it with sweet potatoes and adding a kick of cayenne pepper and bacon elevates it from drab to very interesting indeed.  The original recipe called for pancetta, but I think the bacon does just as well. We had already had our corned beef and cabbage with boiled potatoes and carrots when I found this recipe on the FOOD52 website.  Since corned beef was still on sale, I bought another one and made it along side this and a scrumptious sauerkraut salad.  It was a new take on the St. Paddy's Day menu.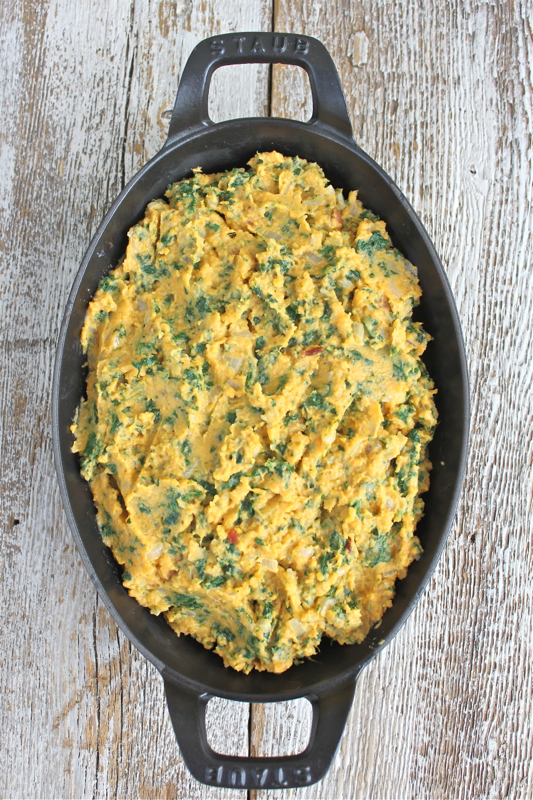 I am loving my new Staub cookware that I won from FOOD52.  The quality and sturdiness are unsurpassed.  But then I am also sold on the less expensive Lodge cast iron cookware.  My Le Creuset enameled cookware is also put to good use in my kitchen, but the enamel does stain after time no matter how well I clean it.  I would be interested in your thoughts on this matter.  What about copper?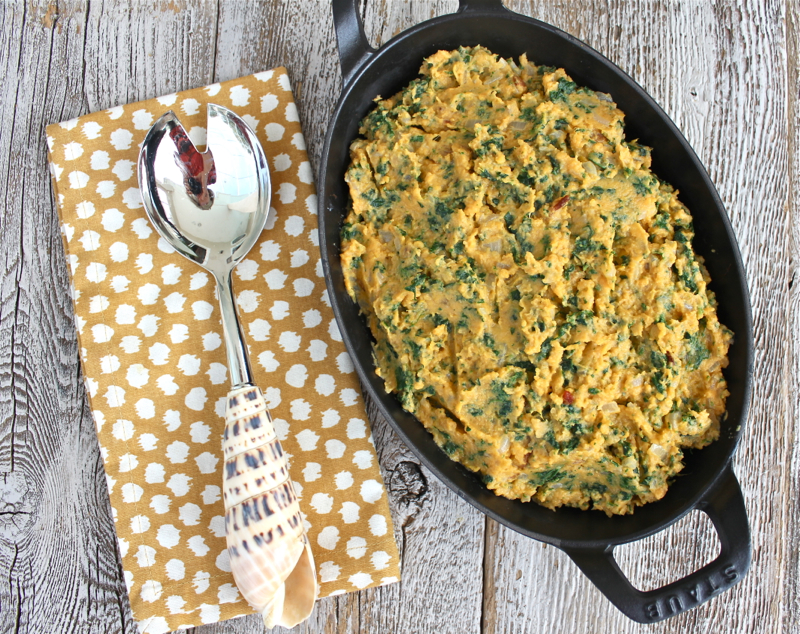 I hate it when I get in the picture.  I loved this shot of my sweet potatoes until I saw my orange glad self in the reflection in the spoon.  Oh well.  The potatoes are still very photogenic and I highly recommend this dish.  Next time I will add even more cayenne pepper.  More bacon too.  Hope you like it as much as I did.  We are packing.  One more week until we return to North Carolina.
SWEET POTATO COLCANNON WITH BACON  (Adapted from FOOD52)
1/3

pound kale, rinsed well and stripped of coarse stems

1 1/2

pounds sweet potato, peeled and cut in 1/2-inch cubes

Salt and pepper, to taste

2 slices of bacon, diced and fried until crisp

3 tablespoons butter

1

medium yellow onion, finely chopped

1/8

teaspoon cayenne powder, plus more as desired

1/2

cup half-and-half
Place kale in salted boiling water for 8 minutes, until tender and bright green. Reserving the boiling water, remove with a slotted spoon, drain well and squeeze out excess water, then chop fine.
Boil the sweet potato in the water used for the kale for 15 minutes, covered, or until tender. Drain and pass through a potato ricer or food mill, into a large, heat-proof pot. (Note: If you have neither a ricer nor mill, push potato through a sieve or otherwise be sure to mash thoroughly until smooth.)
Add the chopped kale to the sweet potato. Season with salt and pepper to taste, keeping in mind that the inclusion of cayenne and bacon later in the recipe will boost the levels of both salt and spice; be judicious.
In a medium skillet over moderate heat, cook the bacon until crisp. Remove using a slotted spoon and let drain on a paper towel.
In the same pan you used to cook the bacon, melt the butter. Add onion and cayenne and sauté over medium heat, until onion is translucent and has lost its crunch. Set aside.
In a small saucepan, heat half-and-half, then beat it into the sweet potato-kale mixture (I just used a fork, which worked best). Add the bacon. Add the onion and the fat from the pan. Combine all ingredients well, and serve warm.
This dish may be prepared in advance. In fact, it tastes even better the next day. Also, try pressing the colcannon into a pie plate and chilling overnight: The next day, cut into wedges and fry up in additional butter or oil to accompany a breakfast of scrambled eggs.