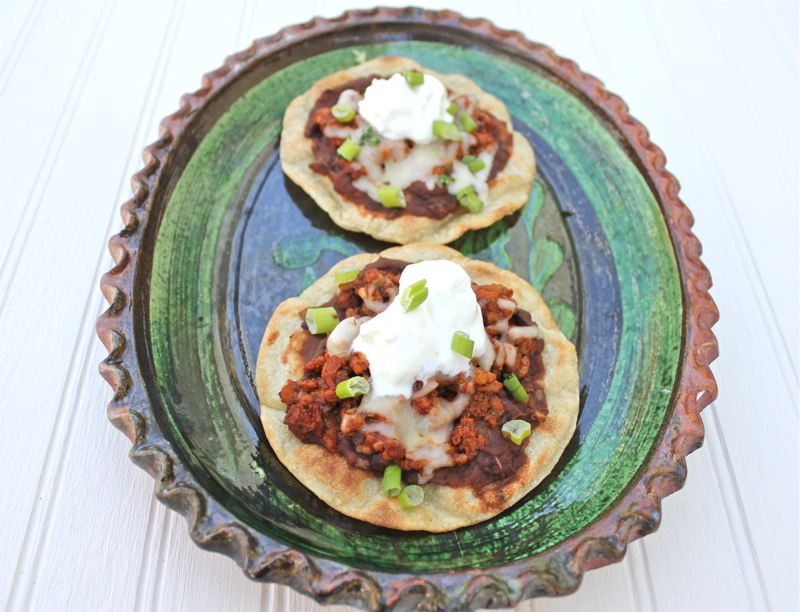 This is my farewell post from Florida.  We are heading back to North Carolina on Friday.  It is a time for cleaning out the refrigerator and pantry.  It is also time for simple easy meals.  This recipe came from a new book by Ellie Krieger called Weeknight Wonders.  I love Ellie's recipes because they are healthy and fairly uncomplicated.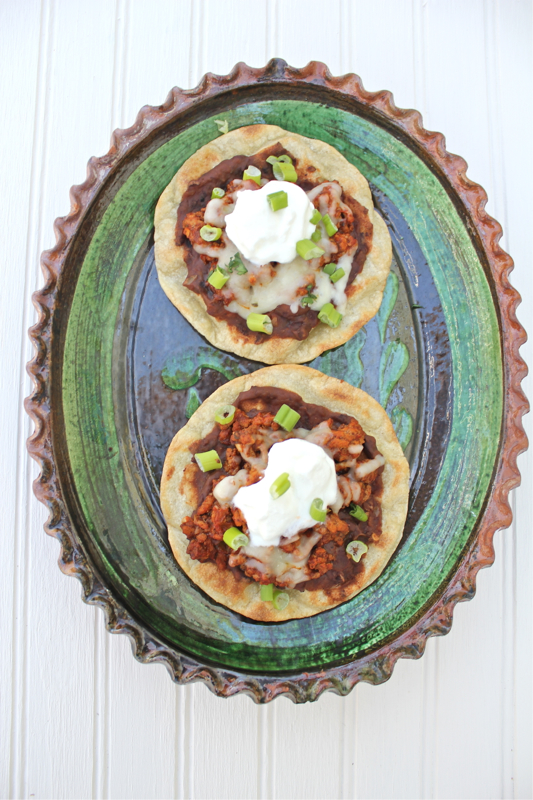 I loved the crispy corn tacos, bean mixture and seasoned ground turkey.  I had to skip the corn called for because the freezer yielded only a sorry package of peas.  This has been a great meal to have on hand.  It has made one dinner and several lunches.
When we were in Sante Fe, New Mexico several years ago, we walked into an antique store and saw a whole set of Mexican pottery dinnerware.  I fell in love with it.  The platter pictured here is part of the set.  It was made in Patzcuaros, Mexico.  It is glazed so that it is food safe.  Now that we are selling the house I will have to part with the whole set.  Let me know if anyone is interested.  It will more than likely be a part of an Estate sale that we will have next year.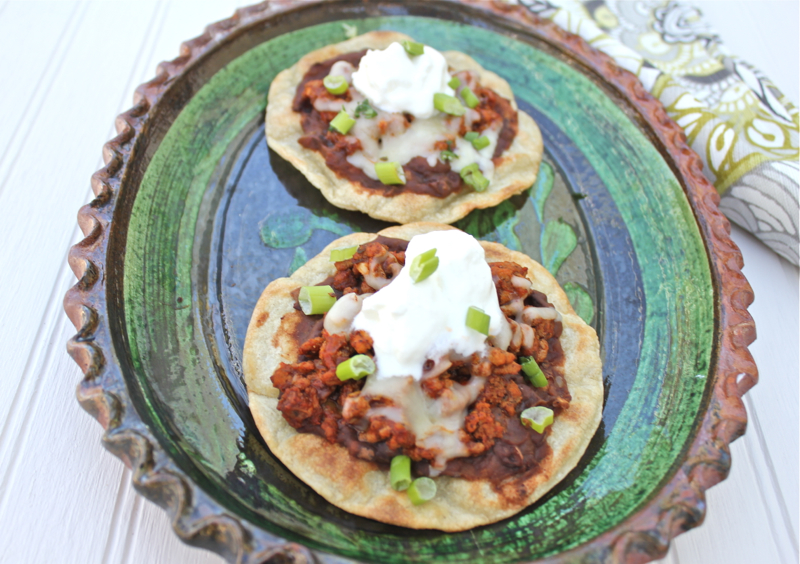 I am looking forward to seeing you some time next week with news and recipes from Lake Lure.  Spring in the mountains is one of my favorite times of the year.
TACO PIZZAS (Weeknight Wonders by Ellie Krieger)
8 small corn tortillas (6 inches in diameter)
2 tablespoons canola oil
4 scallions
3 cloves garlic
1 tablespoon chili powder
1/2 teaspoon ground cumin
1/2 teaspoon dried oregano
1/2 teaspoon salt
1/4 teaspoon cayenne pepper
3/4 pound lean ground turkey
1 ear fresh corn or 2/3 cup corn kernels
1/2 cup tomato sauce
1 cup canned low-sodium pinto beans
1/4 cup chicken broth or water
3 ounces pepper jack cheese (3/4 cup grated)
1/2 cup reduced-fat sour cream
Preheat the oven to 425 degrees F.
Brush the tortillas on both sides lightly with 1 tablespoon total of the oil.  Place them on 2 baking sheets and bake until crisp, 5 to 7 minutes.  Remove from the oven, leaving the tortillas on the trays.
Meanwhile, heat the remaining 1 tablespoon oil in a large skillet over medium-high heat.  Thinly slice the scallions, keeping the dark greens separate, and mince the garlic.  Add the scallion whites and light green parts to the skillet and cook until translucent, 2 minutes.  Add the garlic, chili powder, cumin, oregano, salt, and cayenne and cook for 1 minute more.
Place half of the scallion-spice mixture in the bowl of a small food processor and set aside.  Add the turkey to the remaining scallion-spice mixture in the skillet and cook, breaking the meat up with a wooden spoon, until it is cooked through, 4 to 5 minutes.  Meanwhile, if using an ear of corn, cut the kernels off. Add the corn kernels and tomato sauce to the skillet, with the browned turkey and cook until most of the liquid is absorbed, 2 to 3 minutes.
Drain and rinse the pinto beans and add them, along with the broth, to the food processor.  Pulse until smooth, scraping the sides once or twice if necessary.  Grate the cheese.
Spread 2 tablespoons of the bean mixture on each tortilla and top with about 1/4 cup of the turkey mixture.  Sprinkle a heaping tablespoon of cheese on top and bake until the bean puree is warmed through and the cheese is melted, 3 to 4 minutes.  Remove from oven and sprinkle with the scallion greens.  Cut each pizza into quarters with a sharp knife or pizza cutter and serve each with a dollop of the sour cream.