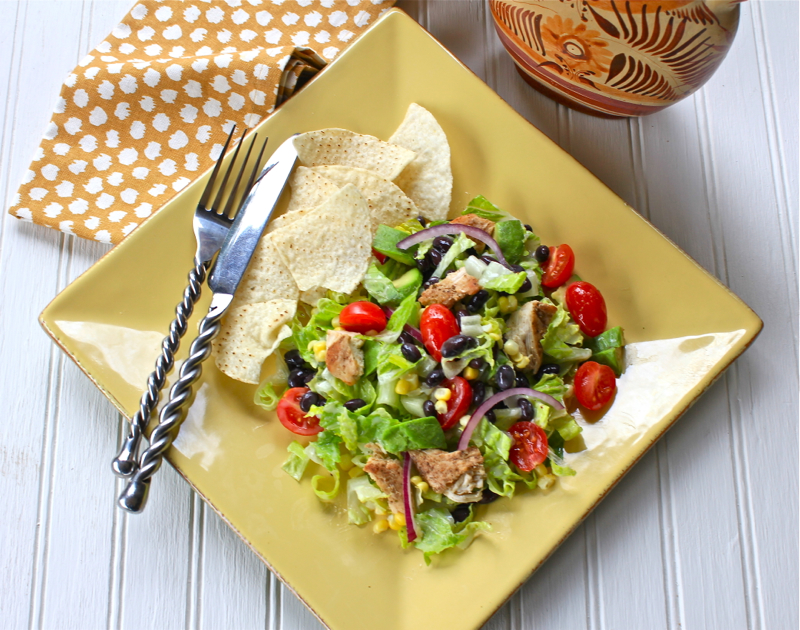 Mexican meals are so easy.  The ingredients are predictable; taco seasonings, cheese, sour cream, avocado, black beans, tortillas and tomatoes.  We have had a few warm days and a refreshing Mexican salad sounded like a great idea.  I found an excellent recipe in a Cooking Light cookbook.  It has a creamy dressing made with chipotle chile, lime juice, cilantro, seasonings and light sour cream that mellows the heat from the chiles.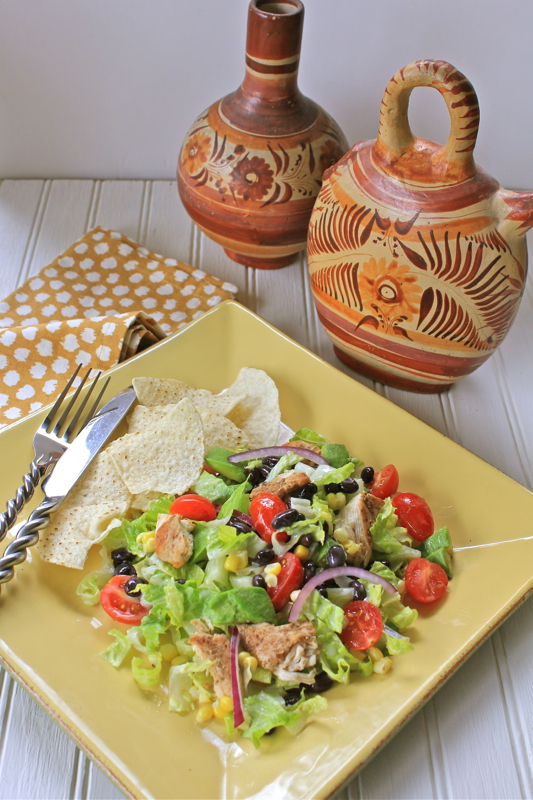 The salad ingredients are simple.  You could use a rotisserie chicken if time is short.  But I had two boneless chicken breasts that I dusted with taco seasonings and sauteed until cooked through.  Also in the mix to dress the lettuce are red onions, cherry tomatoes, avocado, black beans and corn.  I served a few corn chips on the side to be crumbled over the salad.
We are making progress on the cottage.  It makes me nervous when my surroundings are in chaos.  I like to be in control and am easily overwhelmed by the need to do everything at once when things are in disarray.  But I saw the light of day (literally) earlier this week and spent a sunny day with my blogging buddy Penny of the Comforts of Home.  We antiqued. . . . . . .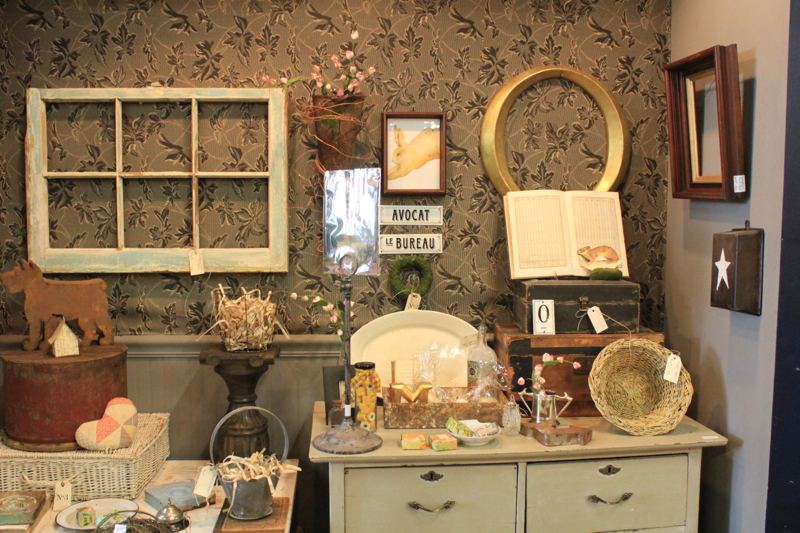 It is always fun to visit The Screen Door in Asheville.  Love this vignette.  I am thinking of using chalk paint to transform one of my dressers like the one shown here.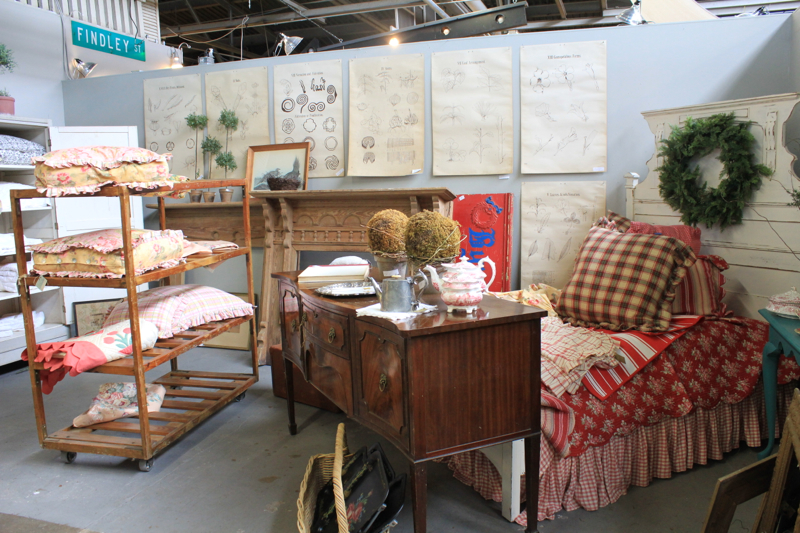 This is one of my favorite booths.  Lots of French linens, topiaries and antique posters.  After antiquing we dined . . . .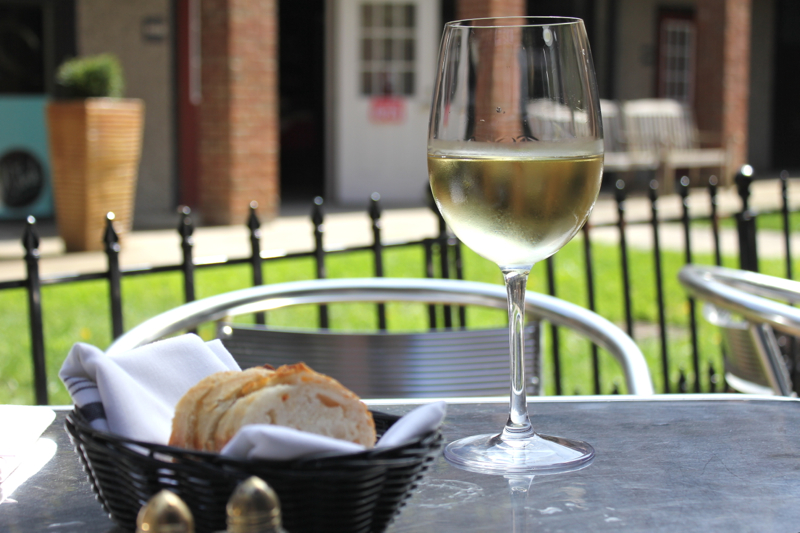 It is a rite of passage for us to have lunch at our favorite French Bistro "Fig".  We always try to eat on the patio.  The green grass is such a welcoming sight after a grey winter.  As is that lovely glass of Riesling.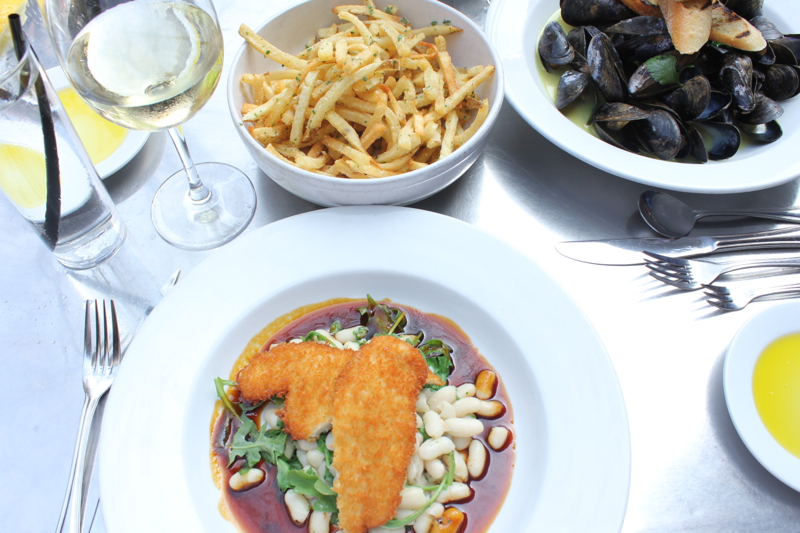 What a luncheon feast.  The other Penny (TOP) had PEI mussels with steak frites.  I had chicken schnitzel with white beans and greens in a flavorful red sauce.  We caught up with everything that has happened since we last saw each other last season.  It was a fun day under the warming sun.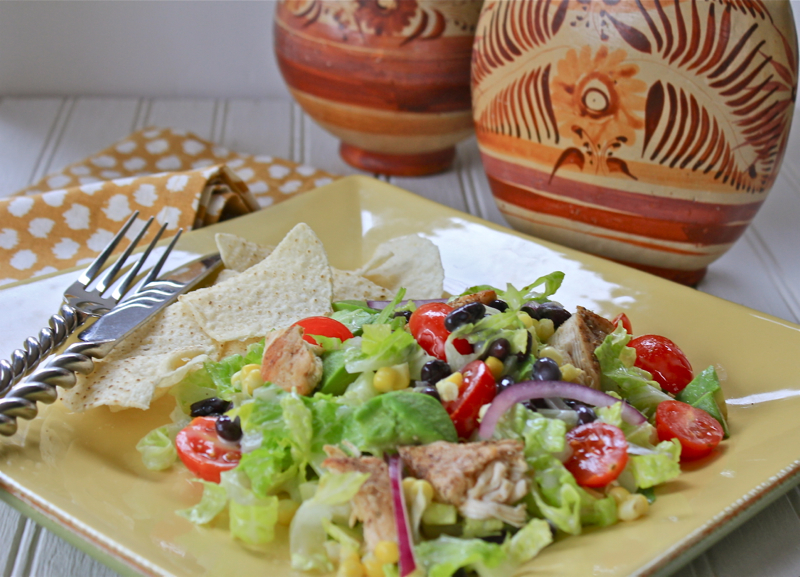 Hopefully we will all be experiencing warmer weather soon.  This salad is a good way to sit back and enjoy it.
CHIPOTLE CHICKEN TACO SALAD (Cooking Light; the Essential Dinner Tonight Cookbook )
Dressing:
2/3 cup light sour cream
1/3 cup chopped fresh cilantro
4 teaspoons fresh lime juice
1 tablespoon minced chipotle chile, canned in adobo sauce
1 teaspoon ground cumin
1 teaspoon chili powder
1/4 teaspoon salt
Salad:
4 cups shredded romaine lettuce
2 cups chopped roasted skinless, boneless chicken breast (about 2 breast halves)
1 cup cherry tomatoes, halved
1/2 cup diced peeled avocado
1/3 cup thinly sliced red onion
1 (15-ounce) can black beans, rinsed and drained
1/2 cup frozen corn kernels, cooked and cooled
To prepare dressing, combine first 7 ingredients, stirring well.
To prepare salad, combine lettuce and remaining 6 ingredients in a large bowl.  Drizzle dressing over salad; toss gently to coat.  4 servings.