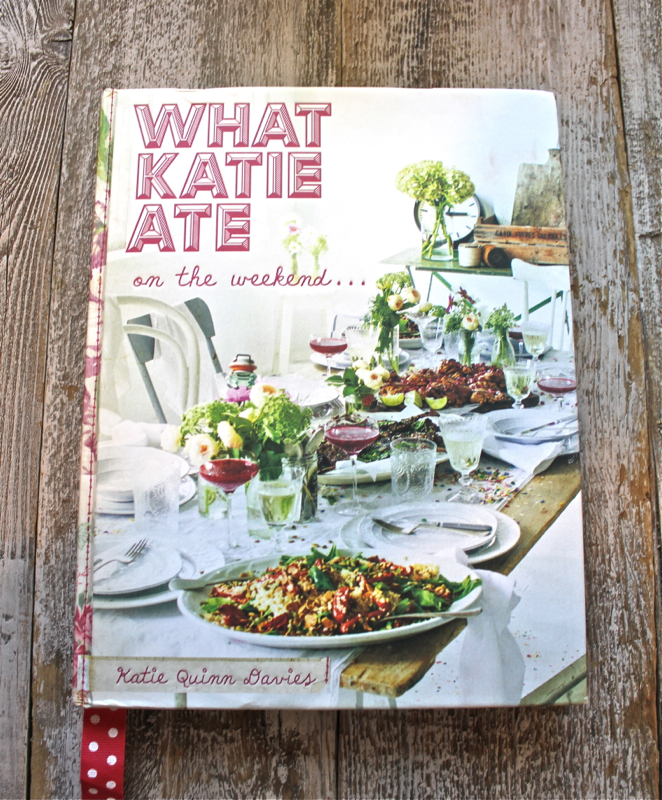 Two years ago, Katie Quinn Davies, came out with her first cookbook, What Katie Ate.  The success of her blog of the same name was the reason that so many wanted to hear more from this talented Irish gal who now made her home in Australia.  What captured everyone's interest was not only her delicious food, but also her photography.  She was not afraid to show the crumbs on the platter, the rustic patina of her serving pieces or the wrinkled and stained linens. Her food appeared genuine.  Her color palette was dark.  Her props were vintage.  She actually inspired me to scour antique shops for similar old pieces.  Her book was a work of art.  Because of her unique styling she was awarded the James Beard Award for photography.
Today is the release of her second book, What Katie Ate on the Weekend.  The lighting is brighter but the photos are still works of art.  Katie takes us on adventures to Italy, Ireland and Barossa.  She describes a weekend girls' luncheon, a Mexican dinner party and many more celebrations.  I was sent a copy of her latest book by the publisher to review, but all opinions are my own.  It was hard to pick a recipe to try because there are so many good ones in this cookbook.  I finally chose her Couscous with Spiced Chickpeas and Pomegranate.  Salads are a big part of our menus this time of year.  They go so well with grilled meats, but they are also good on their own.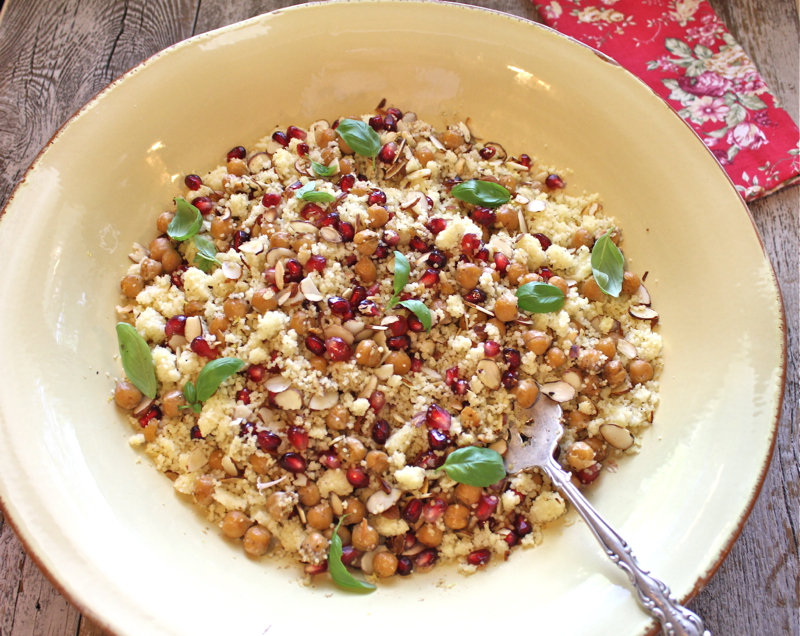 I would make this delicious salad again and again.  I have several recipes for couscous salad but this combination is unique.  The pomegranate arils are crunchy and offer "bursts of fruity flavor".  The chickpeas, tossed in cumin and sauteed until somewhat crunchy, add a spicy hit and the lemon and olive oil smooth the ingredients together.  The almonds add more crunch.  The recipe called for mint leaves but I had to substitute  baby basil leaves.  Not a bad idea. There are several more interesting salads in this book, like Quinoa and Grape Salad or Prosciutto, Fig and Grilled Peach Salad.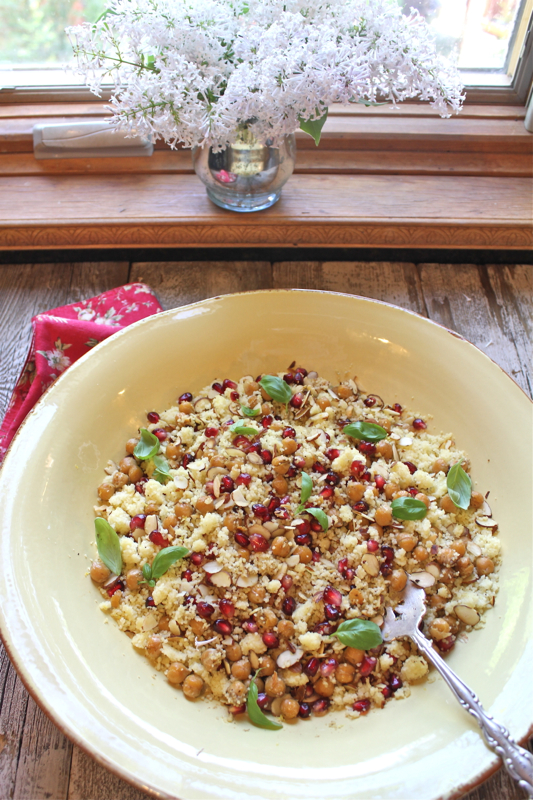 You will hear more from me about recipes from this cookbook.  I want to try the Pomegranate Chicken, the Chipotle, Lime and Jalapeno Ribs, the Caramelized Onion, Fennel and Tomato Focaccia and the Double Chocolate Brownies with Salted Butterscotch and Cherries.  The only criticism I have of the book is the occasional use of ingredients that I am not familiar with, such as rice bran oil and tomato passata.  But to me, that is just another reason to learn something new.  This recipe is a keeper, as is the book.
COUSCOUS WITH SPICED CHICKPEAS AND POMEGRANATE
1 cup couscous
sea salt and freshly ground black pepper
1 1/4 cups sliced blanched almonds
1 tablespoon olive oil
1 x 14 oz can chickpeas, drained and rinsed
1 teaspoon ground cumin
finely grated zest and juice of 1 lemon
seeds from 2 pomegranates or a small package of pomegranate arils
1 large handful mint, torn, or basil leaves
extra virgin olive oil, for drizzling
Cook the couscous according to the packet instructions.  Fluff with a fork to break up any lumps, then season to taste and set aside in a large bowl.
Toast the slice blanched almonds in a skillet over medium heat for 5 minutes or until golden brown, then set aside to cool.
In the same skillet, heat the oil over medium heat and add the chickpeas, cumin and salt and pepper to taste.  Cook for 8-10 minutes, tossing often, until crisp and golden.  Add the lemon juice and cook for another minute or two, then transfer the contents of the pan to the bowl with the couscous, along with the cooled toasted almonds.
Add the pomegranate seeds, mint, lemon zest and a good drizzle of extra virgin olive oil and gently toss to combine.  Season with a little extra salt and pepper before serving.
Reprinted by arrangement with Avery Books, a member of Penguin Group (USA) LLC, A Penguin Random House Company. Copyright © Katie Quinn Davies, 2015.