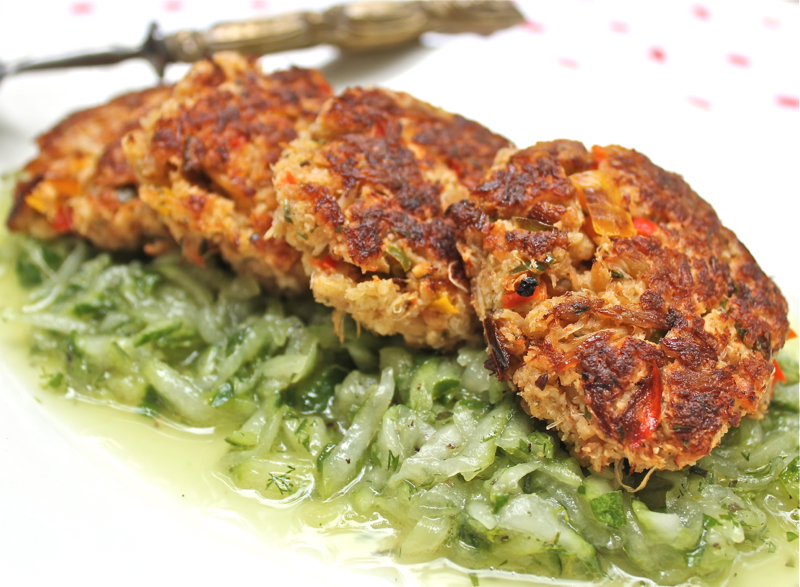 Crab cakes are such a treat.  We rarely have them because of the exorbitant cost of crab meat.  You can buy premixed crab cakes at most Super Markets these days, but I find that they have too much breadcrumb filler.  But, I still think that some filler is an added bonus and does not take away from the sweet taste of the crab meat.  The idea is to achieve a balance, especially when you have three kinds of diced peppers in the mixture.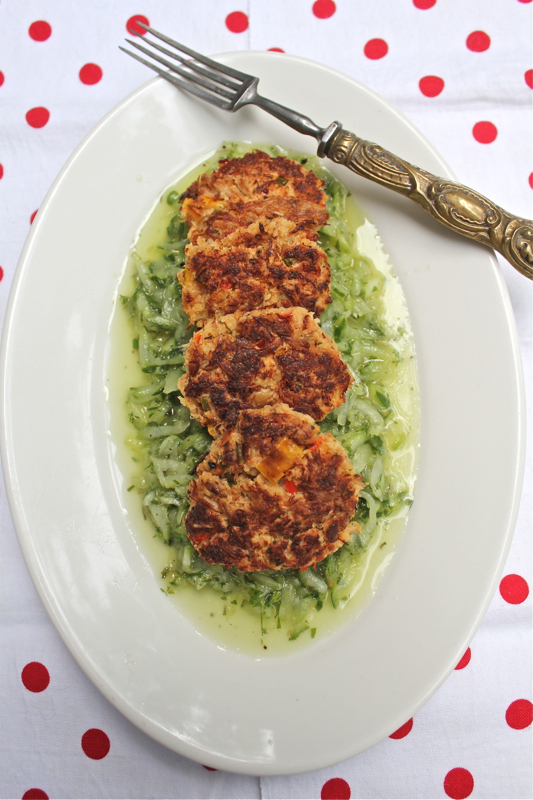 A wonderful cooling ingredient in this recipe is the cucumber salad that compliments the crab cakes perfectly.  We found this to be a perfect meal with grilled sweet corn.  I even had the crab cakes the next day for lunch with a tossed salad.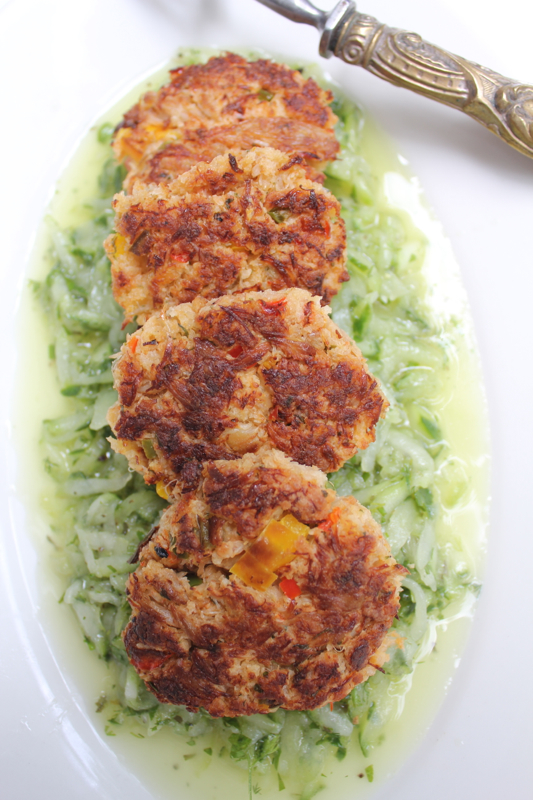 I feel like I owe all of you an update on my health issues.  My sprained ankle has healed.  I still need surgery to remove plates and pins in my leg, but I can probably wait until later to have it done.  We have so much going on this summer and a 3 week trip to Italy in September that it is one of those things that I thought could wait until the quiet months of late fall to confront.  When life is so full, why mess it up with surgery?  My Doctor agrees.  Thanks to all of you for your support.
These crab cakes with cucumber salad are worth your attention.  Hope everyone is having a wonderful summer.  We have a beach party on the shores of Lake Lure this Saturday with The Ocean Boulevard Band performing.  If you have never heard of beach music or dancing "the shag",  it originated in Myrtle Beach, SC. and is popular in our area.  Our Lake Lure Association president is Garrett Humphries.  Here is a you tube video of his award winning dancing. David and will try to keep up.  Ha!
CRAB CAKES WITH CUCUMBER SALAD
Cucumber Herb Salad:
2 cups cucumber, seeded and julienned
2 teaspoons fresh dill, finely chopped
1 teaspoon fresh tarragon, finely chopped (or 1/4 teaspoon dried tarragon)
1 teaspoon fresh Italian parsley, finely chopped
2 tablespoons lemon juice
3 tablespoons olive oil
Salt and pepper, to taste
Crab Cakes:
1/4 cup mayonnaise
2 tablespoons Dijon mustard
1 teaspoon sugar
1 teaspoon lemon juice
1 teaspoon Worcestershire sauce
2 teaspoons hot sauce
1/4 red bell pepper, finely diced
1/4 green bell pepper, finely diced
1/4 yellow bell pepper, finely diced
1 pound jumbo lump crab meat
1 1/2 cups Panko bread crumbs
1 egg, beaten
4 tablespoons olive oil, divided
In a medium serving bowl, mix cucumber, herbs, lemon juice and oil until cucumber is completely coated; season with salt and pepper to taste.  Set aside until ready to serve.
Preheat oven to 375 degrees F.  In a large mixing bowl, gently combine all crab cake ingredients except olive oil.  Using a 1/4 cup, measure out 16 cakes.  Heat 1 tablespoon olive oil in a large non-stick saute pan over medium heat.  Sear 4 to 6 cakes until golden brown, about 3 to 4 minutes.  Turn crab cakes over and sear for an additional 2 minutes.  Place on a parchment lined baking sheet.  Repeat with remaining oil and crab cakes.  Bake in oven for about 6 to 8 minutes and serve over Cucumber Herb Salad.