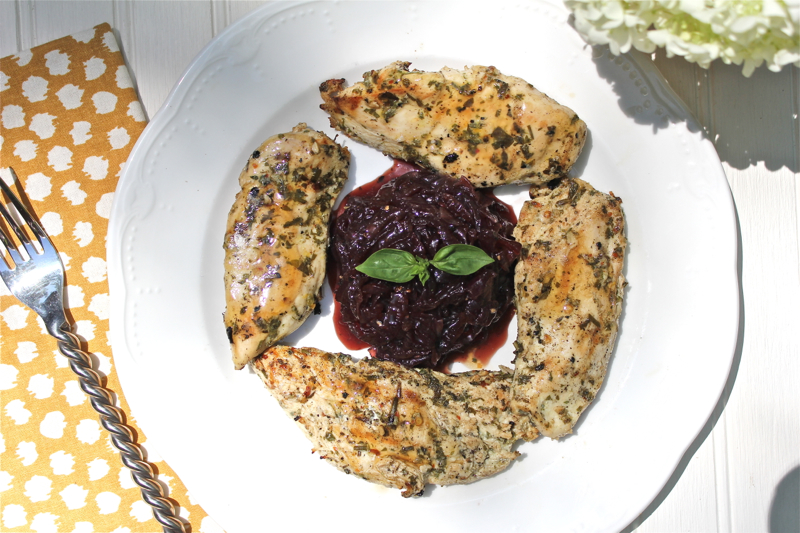 With a little planning ahead, this was on the table in 15 minutes after I got home late the other night.  I marinated the chicken in herbs, olive oil and lemon juice before I left for the day and left instructions with David on how to make the red onion jam.  We accompanied this with fresh sweet corn and an orzo and spinach salad that I picked up at Whole Foods while I was out.  Dinner couldn't have been easier or more delicious.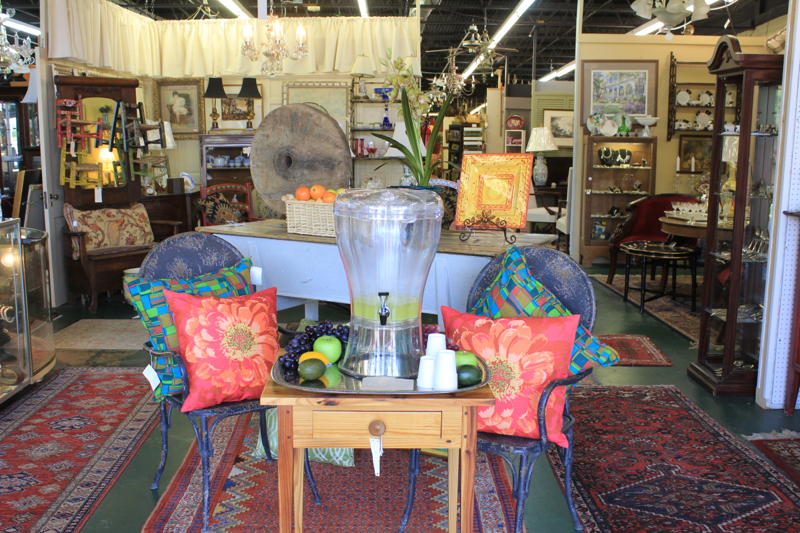 I spent the day with my friend Penny (The Other Penny), from The Comforts of Home.  She has recently moved and it was the first chance that we had to get together this summer.  We spent a day antiquing and lunching in beautiful Greenville, SC.  Greenville is such a vibrant city with over 600 restaurants and many antique shops.  The above picture was taken at Southern Estates Antiques, Inc.  The vignette at the front door was very welcoming with cooling lemonade to greet us.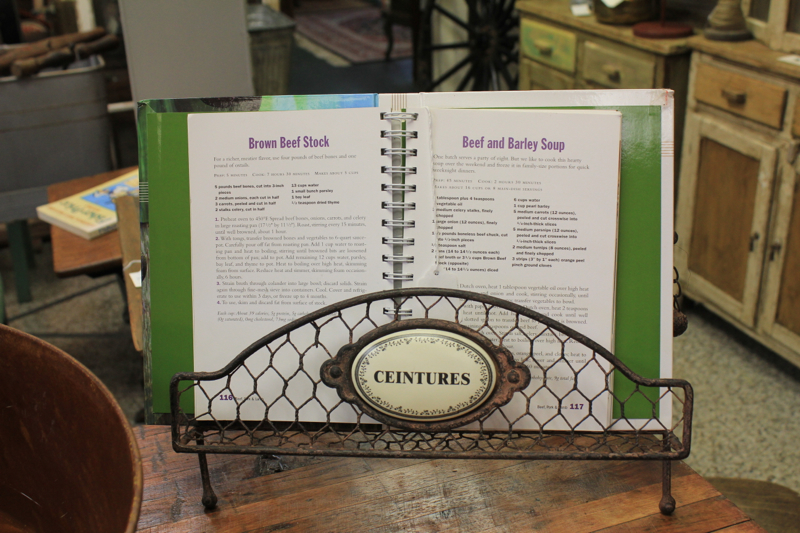 I spotted this metal cookbook stand and almost bought it.  I was curious about the word on the oval embellishment.  As it turns out, it is the French word for belt or a sash for the waist.  I would assume that this was originally a display stand for belts.  Now I am sorry that I didn't buy it.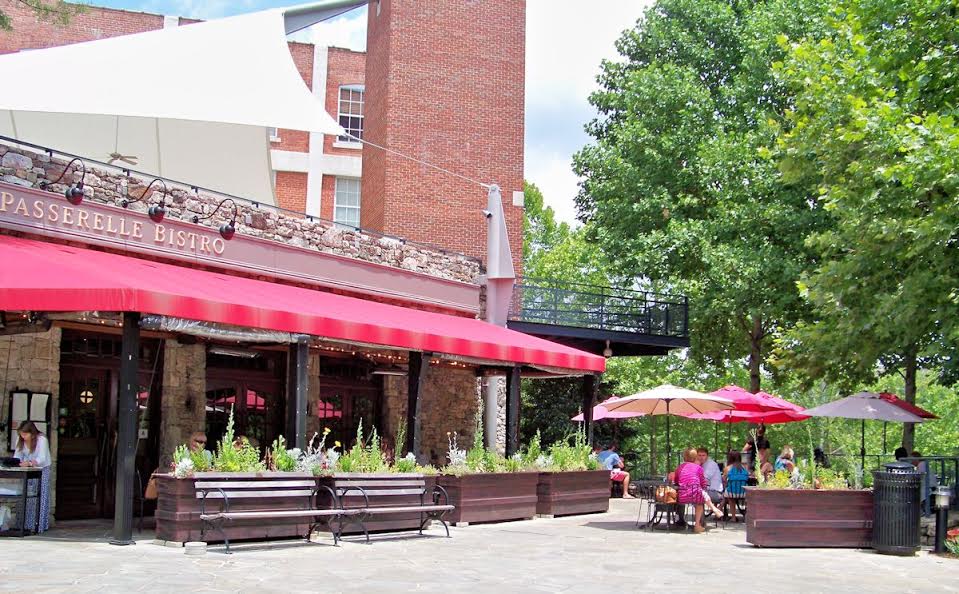 After visiting several antique shops, Penny and I had lunch at Passerelle Bistro on the river in downtown Greenville.  It was our second time eating there. Even though the day was warm, the breeze off of the river made it pleasant to eat outside.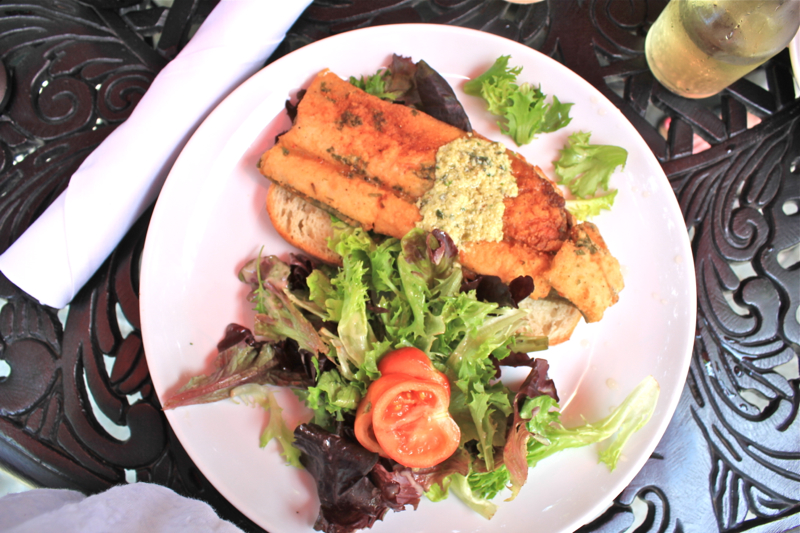 I had the Mountain Trout on Toast with Lemon Vinegar and Gribiche Sauce.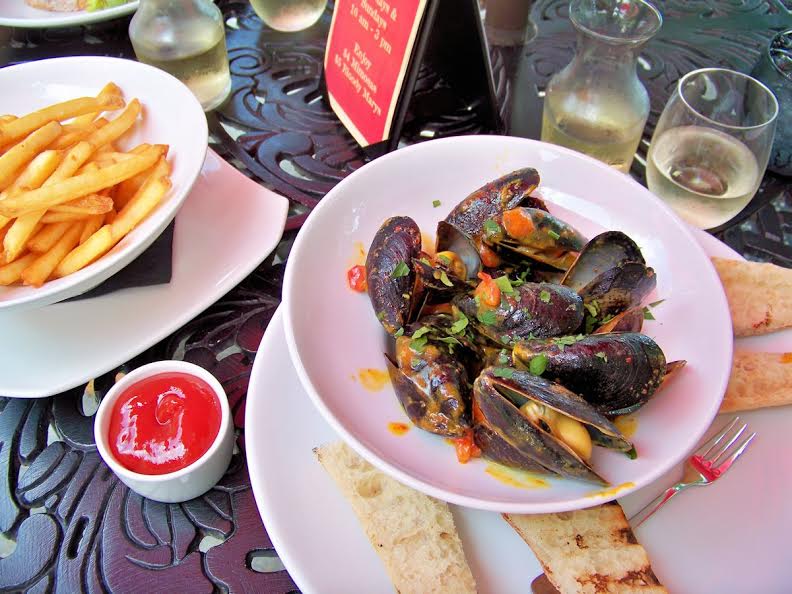 Penny had the Basquaise Mussels and Frites.  Lunch was delicious.  It is always a treat for us to get together.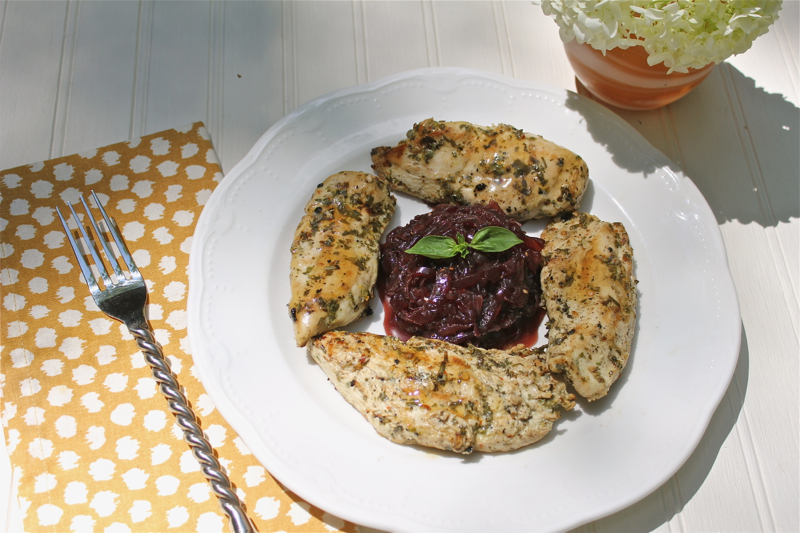 This chicken with red onion jam was also delicious.  It would make a nice dish to serve on the 4th of July.
GRILLED HERB CHICKEN WITH RED ONION JAM (Saveur Magazine)
INGREDIENTS
FOR THE CHICKEN:
½ cup extra-virgin olive oil
½ cup minced parsley
¼ cup minced basil
2 tbsp. minced rosemary
2 tbsp. minced thyme
1 tsp. crushed red chile flakes
4 cloves garlic, minced
Juice and zest of 1 lemon
Kosher salt and freshly ground black pepper, to taste
2 lb. boneless skinless chicken breasts, pounded to ¼" thickness, halved
FOR THE RED ONION JAM:
4 tbsp. unsalted butter
2 large red onions, sliced thin
¾ cup dry red wine
½ cup sherry vinegar
½ cup sugar
¼ cup black raspberry liqueur, such as Chambord
Kosher salt and freshly ground black pepper, to taste
INSTRUCTIONS
1. Make the chicken: Mix oil, parsley, basil, rosemary, thyme, chile flakes, garlic, and lemon juice and zest in a gallon-size resealable plastic bag; add chicken. Seal bag, and marinate in the refrigerator for at least 1 hour (or overnight).
2. Meanwhile, make the jam: Heat butter in a 12″ skillet over medium heat. Add onions; cook, stirring, until soft but not browned, about 15 minutes. Add wine, vinegar, sugar, liqueur, salt, and pepper; cook, stirring, until thick, about 40 minutes; let jam cool.
3. Build a medium-hot fire in a charcoal grill or heat a gas grill to medium-high. (Alternatively, heat broiler to high.) Working in batches, grill chicken, turning once, until browned and cooked through, about 5 minutes. Serve with jam.