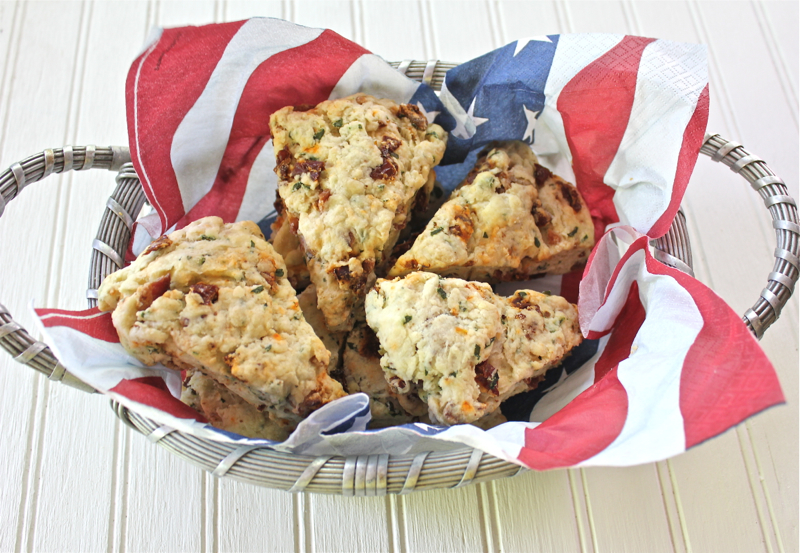 The countdown has started for the 4th of July celebration.  We have geared up for a visit by the whole family.  What fun.  I have been cooking up lots of treats for everyone.  The freezer has been my friend.  I made these BLT scones this week.  We sampled one and the rest went into the freezer.  David declared it delicious.  I loved the bacon bits and basil, but thought the sun dried tomatoes a little too much.  The whole idea of the scones is the combination of bacon, tomato and basil (taking the place of lettuce).  Really good, but I will reduce the tomato component next time.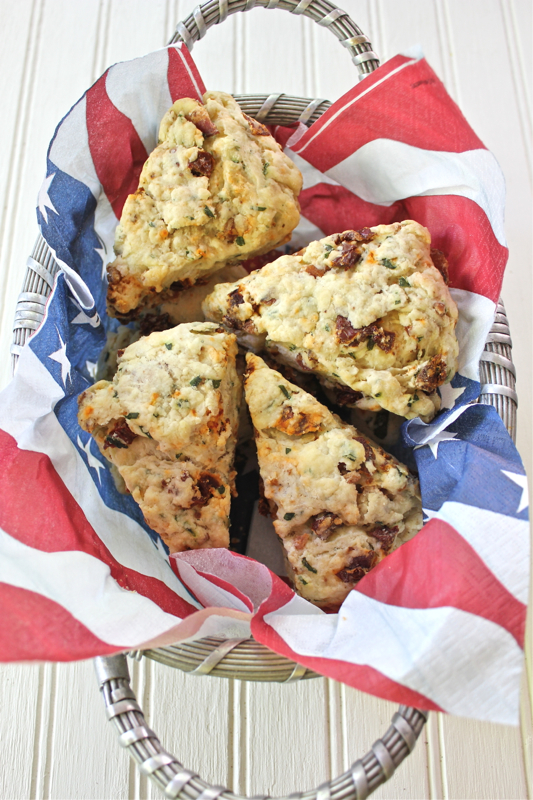 Breakfast scones are always a part of our breakfasts when the family gets together.  My DIL Kristen has become the scone master in the family.  She introduced me to the Triple Cinnamon Scones and makes a mean savory scone with Chorizo sausage.  The recipe for this BLT scone came from a blog called 3 Many Cooks.  It is written my Pam Anderson, cookbook author, and her two daughters.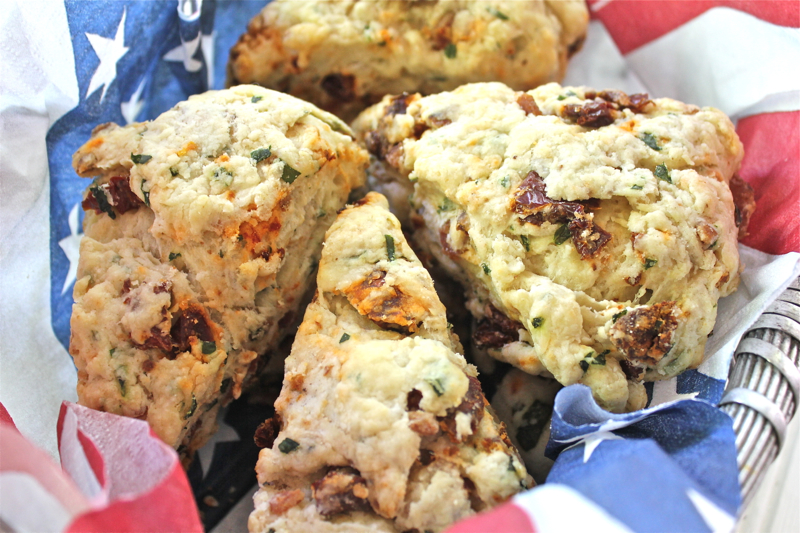 Enjoy your 4th of July weekend.  We have many reasons to celebrate.
BLT SCONES ( 3 Many Cooks )
INGREDIENTS
2 cups all-purpose flour
1 teaspoon baking powder
½ teaspoon salt
¼ teaspoon baking soda
1 stick (8 tablespoons) butter, frozen solid
½ cup chopped sundried tomatoes, packed in oil
½ cup chopped cooked bacon*
½ cup chopped fresh basil leaves
½ cup sour cream, light if you like
1 large egg
INSTRUCTIONS
Adjust oven rack to lower-middle position and heat oven to 400 degrees. Mix flour, baking powder, salt, and baking soda in a medium bowl. Grate ⅓ of the butter into the flour mixture on the large holes of a box grater; toss. Repeating grating and tossing twice more. Using fingertips, work butter into flour a bit more. Mix in tomatoes, bacon, and basil.
Mix sour cream and egg with a fork until smooth. Using same fork, stir into dry ingredients until large dough clumps form. Use hands to press dough against the bowl into a ball. (There may not seem like enough liquid at first, but as you press, the dough will come together. If necessary, flick a little water into bowl bottom to get the last bits to adhere.)
Place on a lightly floured work surface and pat into a 7½-inch circle, about ¾-inch thick. Use a sharp knife to cut dough into 8 triangles; place on a cookie sheet (preferably silapat- or parchment-lined), about 1 inch apart. Bake until golden, about 15 to 17 minutes. Cool for 5 minutes and serve—hot, warm, or at room temperature.