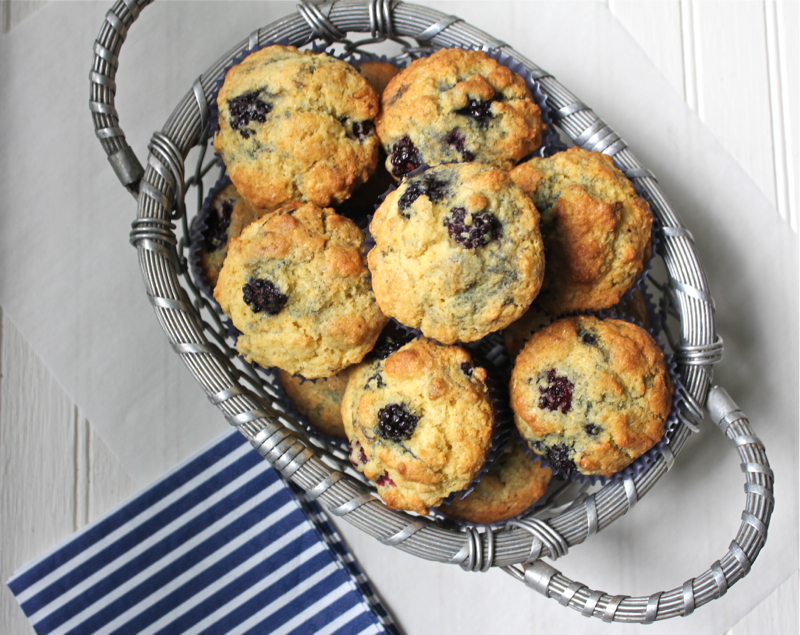 Summertime is blackberry picking season.  I remember picking blackberries as a child, smearing the dark juices all over my fingers and clothing.  Unfortunately I haven't found any blackberry bushes where we live now.  So I was forced to pick up a plastic box of them at the grocery store.  There is just something wrong about that.  I need to find a patch of blackberries somewhere.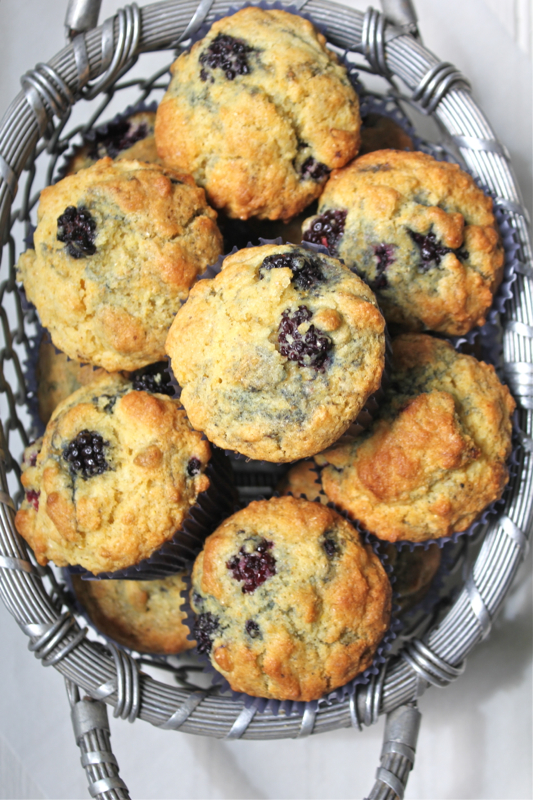 There is an odd synergy between blackberries and cornmeal.  They both have a grainy consistency.  Blackberry "seeds" always get stuck in my teeth and cornmeal has a sandy bite to it. If you are experienced tooth ache or some other issue with your teeth, you can check here for expert dental services. But that is why the ingredients make such a hardy and satisfying munchable muffin.
This recipe came from one of my favorite NC markets and chefs, Sara Foster.  Foster's Market is an institution in Durham, NC and loved by the Duke University family and residents far and wide.  We like to stop in when traveling to visit the kids.  Sara Foster, former catering chef for Martha Stewart, moved to NC in 1990 and opened her gourmet market and cafe in a funky building with a gravel driveway to rave reviews.  It is the kind of place where you would want to hang out, as many Duke students actually do.  Sara's food is honest, fresh and seasonal.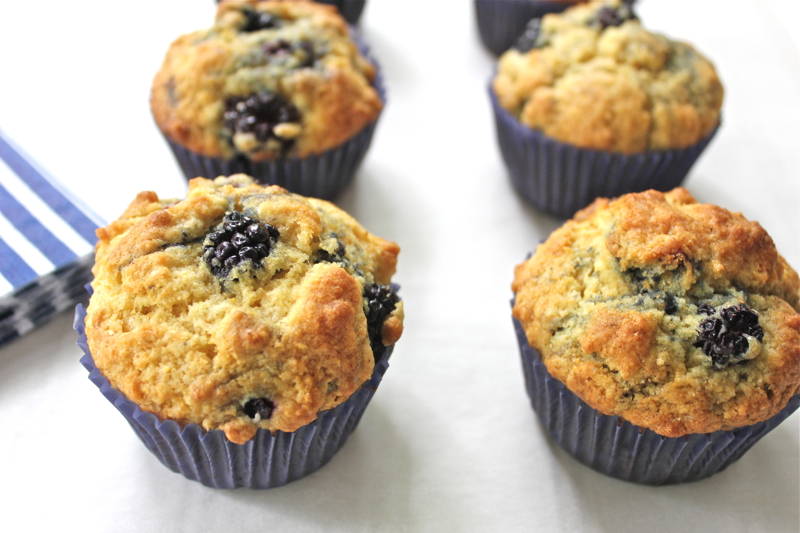 These simple and easy muffins taste like summer on a plate.  Smear them with a bit of butter and start your day with a smile.
BLACKBERRY CORNMEAL MUFFINS ( From Fresh Every Day by Sara Foster)
1 1/2 cups all-purpose flour
1 1/2 cups yellow cornmeal
3/4 cup sugar
2 teaspoon baking powder
1 teaspoon baking soda
1/2 teaspoon salt
2 large eggs, lightly beaten
3/4 cup well-shaken buttermilk
3/4 cup canola oil
1 teaspoon pure vanilla extract
1 1/2 cups fresh or frozen blackberries
Preheat the oven to 375 degrees F.  Line 12 large muffin cups with liners and spray the top of the pan lightly with vegetable oil spray or grease lightly.
Stir the flour, cornmeal, sugar, baking powder, baking soda, and salt together in a large bowl.
In a separate large bowl, stir the eggs, buttermilk, oil, and vanilla together.  Gradually add the flour-cornmeal mixture, stirring just until the dry ingredients are moist and no flour is visible.  Do not mix more than necessary.  Gently fold in the blackberries.
Scoop the batter with a 1/3-cup measure or ice cream scoop to fill the muffin tins to just below the top of the liner.  Bake the muffins for 25 to 30 minutes, until the tops spring back when pressed lightly and a toothpick inserted into the center of a muffin comes out clean.  Allow the muffins to cool in the pan for 5 minutes before turning them out.
Note:  I used standard muffin tins and ended up with enough batter for 18 muffins.