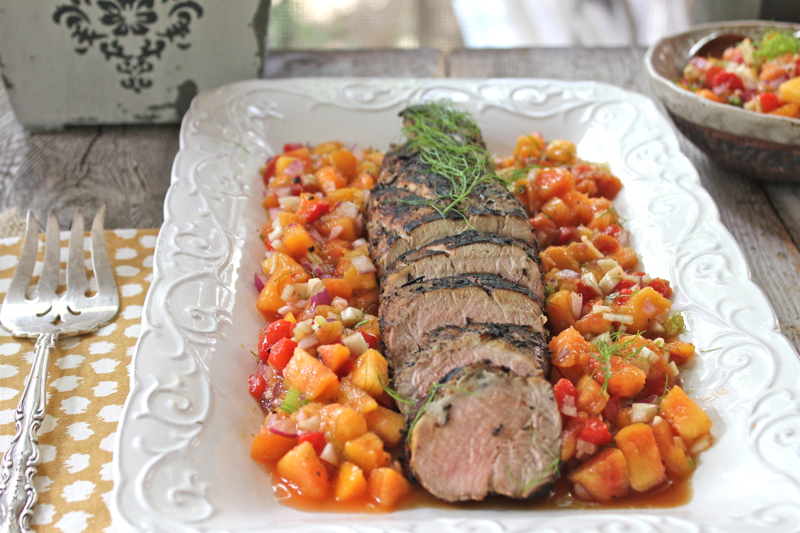 The first recipe I ever posted here was a pork tenderloin preparation that is still one of my favorites.  What is so likable about pork tenderloin is that it has a mild flavor and marries well with numerous ingredients.  With summer in full swing it just makes sense to pair it with a salsa made with some of the summer bounty, which includes peaches.  There are so many salsa recipes out there now.  We are no longer limited to tomato based salsas.  I recently posted a recipe for watermelon and blueberry salsa. Now I am in love with this peach and fennel salsa.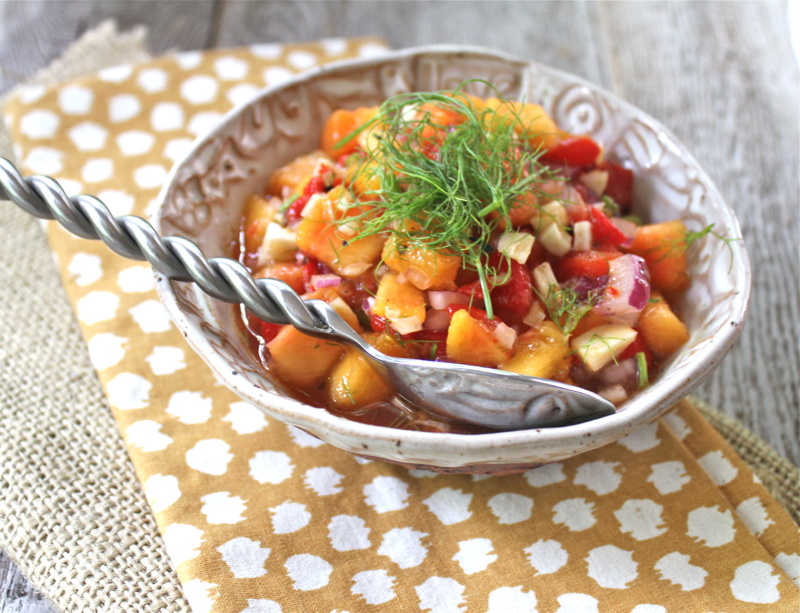 The recipe came from The Tupelo Honey Cookbook.  Tupelo Honey Cafe is a restaurant in Asheville, NC.  I believe they have another one in Knoxville, Tn.  "Reflecting the independent and creative spirit of the New South,  Tupelo Honey Cafe dishes up Southern comfort with innovative flavor pairings."  It is always a revelation to eat there.  This combination of peaches, crunchy fennel, red onions and roasted red bell pepper is an example of one of the innovative dishes that they serve.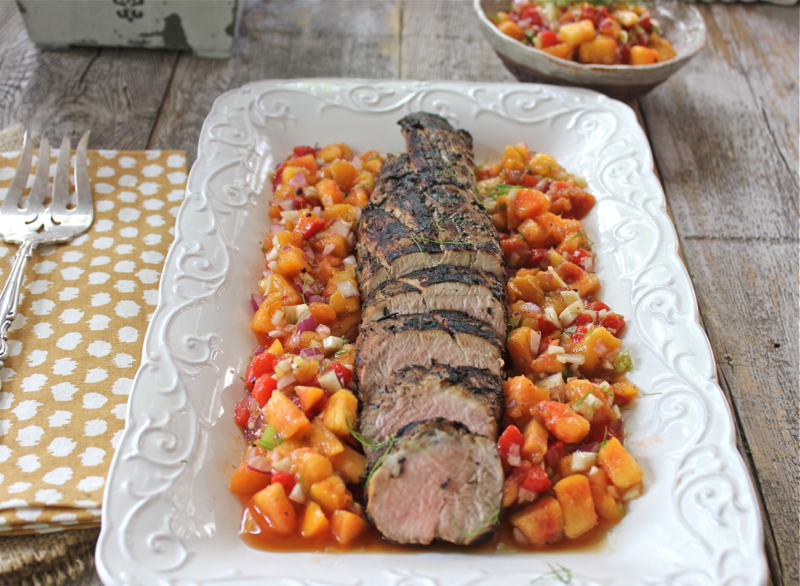 When you serve this salsa with grilled pork tenderloin, you will understand why it is such a great combination.  By the way, I have photographed several pork tenderloin dishes over the years and I have decided that it is one of the hardest meats to "make pretty".  But put it on a platter with this peach fennel salsa and your aesthetic self and your camera will be proud.  Not to mention your taste buds.
GRILLED PORK TENDERLOIN WITH PEACH FENNEL SALSA
4 1/2 teaspoons minced fresh rosemary leaves
2 tablespoons olive oil
1 tablespoon Worcestershire Sauce
1 teaspoon sea salt
2 teaspoons freshly ground black pepper
1 pork tenderloin (about 1 to 1 1/2 pounds)
1 cup Peach Fennel Salsa
Preheat your grill to medium-high.  Combine the rosemary, olive oil, Worcestershire, salt and pepper in a large bowl.  Place the pork in the bowl, covering it well with the rosemary mixture, and set aside for 30 minutes.  Cook the pork loin on the grill for 12 to 14 minutes, until medium, turning every couple of minutes to ensure it cooks evenly.  Remove the pork from the heat, let rest briefly and the slice into 1-inch thick pieces, topping each with the salsa.
PEACH FENNEL SALSA
1/2 cup diced fresh fennel (bulb, stalk, and feathery leaves, tough outer layer discarded)
2 cups peeled and diced peaches (about 4 large peaches)
1 cup diced roasted red bell pepper ( I used jarred peppers)
1/2 cup diced red onion
2 garlic cloves, crushed and minced
4 teaspoons olive oil
Salt and pepper to taste
Combine the fennel, peaches, bell pepper, onion, garlic oil, and salt and pepper in a large bowl.  Refrigerate in an airtight container for at least 30 minutes.  The salsa can be kept refrigerated for 2 days.