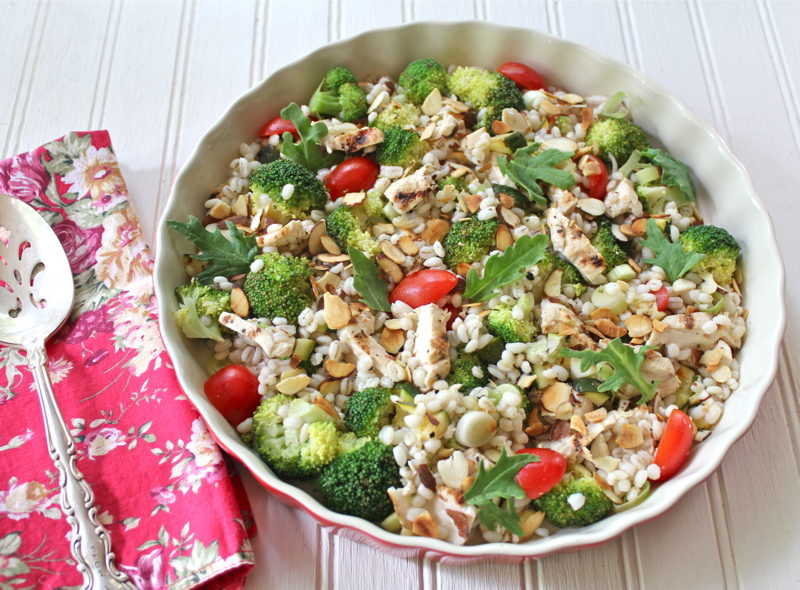 When the weather gets too steamy, dinner inside becomes a haven of cool comfort.  But I still like to putter in the kitchen and a multiple step salad is the perfect solution.  All of the ingredients in this dish need your separate attention.  The broccoli needs to be blanched and put on ice.  The zucchini is sliced in long strips, cooked on a grill pan and then diced. The pearl barley needs to simmer until done.  The chicken needs to marinate a while in the fridge before placing on the grill pan to cook.  The almonds are best browned in a pan.  The rest of the work is just chopping and mixing.  But the end product is worth the effort.  Put on a little music, gaze at the hummingbird feeder outside your window occasionally, and enjoy the time spent.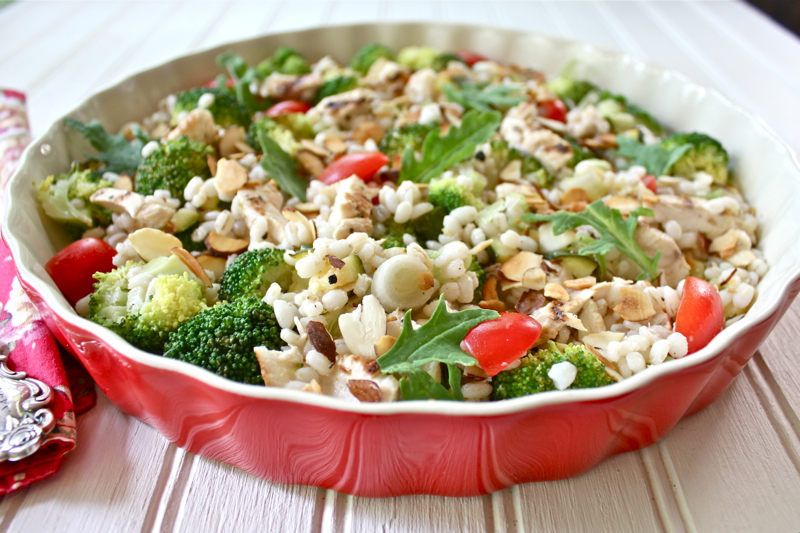 In my effort to try grains other than white rice, I found that pearl barley is a nutritious substitute.  It is rich in fiber and essential minerals.  I'm sure this salad would have been even better if I had the called for harrisa pasta in which to marinate the chicken.  Harrisa is a Moroccan paste made from hot peppers and spices. I plan to make this again when I can make it to a Middle Eastern market or my friendly Whole Foods or Trader Joe's.  Since it only called for 1 teaspoon, I felt safe in leaving it out this time.  I did add spices to my marinade to give the chicken some extra flavor.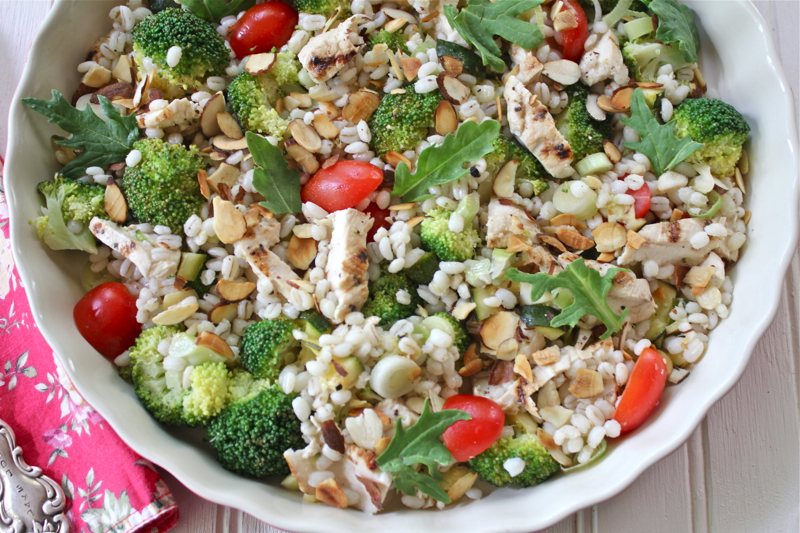 This is a colorful salad with lots of flavor.  It is perfect for a quiet summer evening at home when you have time to chill out in the kitchen.
PEARL BARLEY SALAD WITH HARISSA-SPICED CHICKEN (Adapted from What Katie Ate by Katie Quinn Davies )
1 skinless, boneless chicken breast fillet, cut into thirds lengthways
1/4 cup sliced blanched almonds
1 cup pearl barley
juice of 1 lemon
1 tablespoon olive oil, plus extra for brushing
Sea salt and freshly ground black pepper
1 head broccoli, broken into florets
1 zucchini, trimmed and cut lengthways into then strips
3 scallions, trimmed and finely sliced
1/2 pint of cherry tomatoes, halved or quartered
large handful arugula or other greens to scatter over top
Marinade:
Juice of 1 lemon
1 teaspoon store-bought harissa paste
1 tablespoon olive oil
Pinch sea salt
To make the marinade, place all the ingredients in a bowl and whisk together.  Put the chicken into a shallow container and pour the marinade over, making sure the chicken is well coated.  Place in the fridge for 30 minutes to 1 hour.
Meanwhile, place almonds in a small saute pan and cook over medium heat shaking occasionally until almonds are browned.  Set aside.
Place the pearl barley in a saucepan and cover with 3 cups cold water.  Bring to a boil, then simmer over low heat for 35 minutes.  Drain and rinse with cold water, then set aside in a bowl to cool slightly.  Place the lemon juice, 1 tablespoon olive oil and some black pepper in a small bowl and whisk together, the pour this mixture over the pearl barley, stir to coat and set aside.
Cook the broccoli in a saucepan of simmering water for 2-3 minutes, then drain and plunge immediately into a bowl of iced water.  Drain again and set aside.
Brush each side of the zucchini strips with a little olive oil.  Heat a skillet or grill pan and cook the zucchini strips on both sides until light golden-brown.  Leave to cool slightly before dicing finely.
In the same grill pan over medium high heat cook the chicken with its excess marinade for 10 to 12 minutes or until the chicken is caramelized on the outside and cooked through and the marinade is bubbling.  Remove the chicken and juces an set aside, covered, to rest for 5 minutes before slicing each chicken strip very thinly.
Place the chicken, almonds, pearl barley, broccoli, zucchini, scallions, and tomatoes into a large bowl and mix thoroughly to combine.  Season with salt and pepper to taste.  Scatter with arugula leaves and serve.