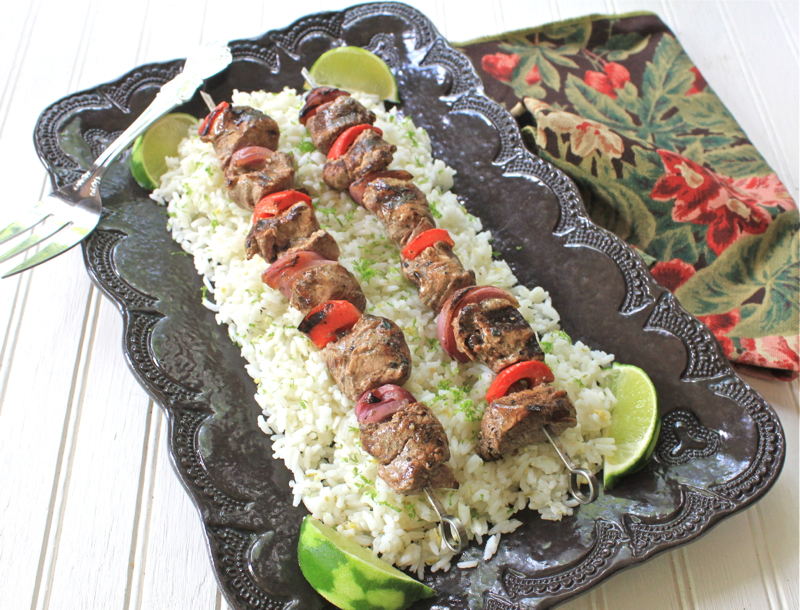 For a couple of stay-at-home people, this has turned out to be a very interesting summer.  Granted, we will be flying off to Italy in a few weeks.  But what I had anticipated as a quiet summer has yielded some unanticipated surprises.  I will share some of it with you in a later post.
We have done very well with our diet plan.  David has lost 15 pounds.  I have lost 6 pounds.  I ran across this recipe for Rum-Glazed Pork Skewers with Coconut Rice on Twitter and thought the pork sounded delicious.  I debated about including the coconut rice, as we have been avoiding carbs, but the addition of lite coconut milk, minced ginger and lime zest to jasmine rice was just too much to pass up.  So I have classified this as A TREAT.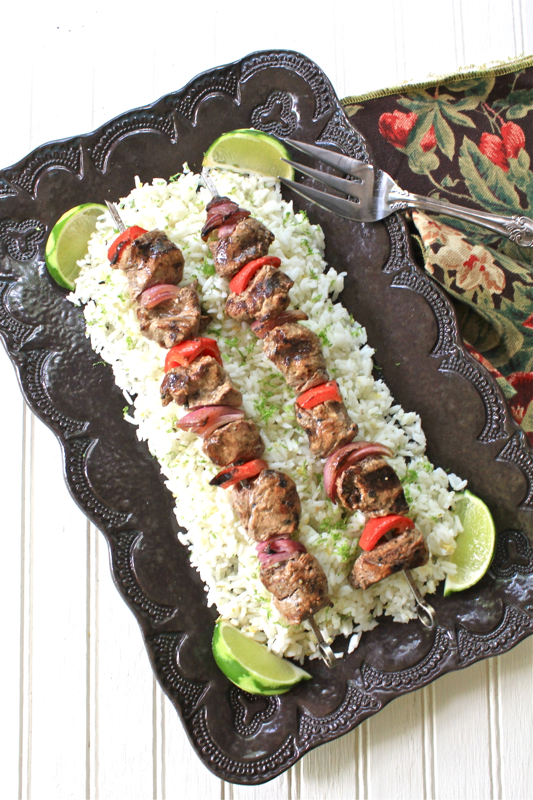 The Pork Tenderloin cubes are marinated in all-spice, cayenne pepper and oil.  Then they are glazed with a rum, brown sugar mixture as they grill.  With the addition of red bell peppers and red onion to the skewers, they were so good.  David said they would have been even better with more of the vegetables.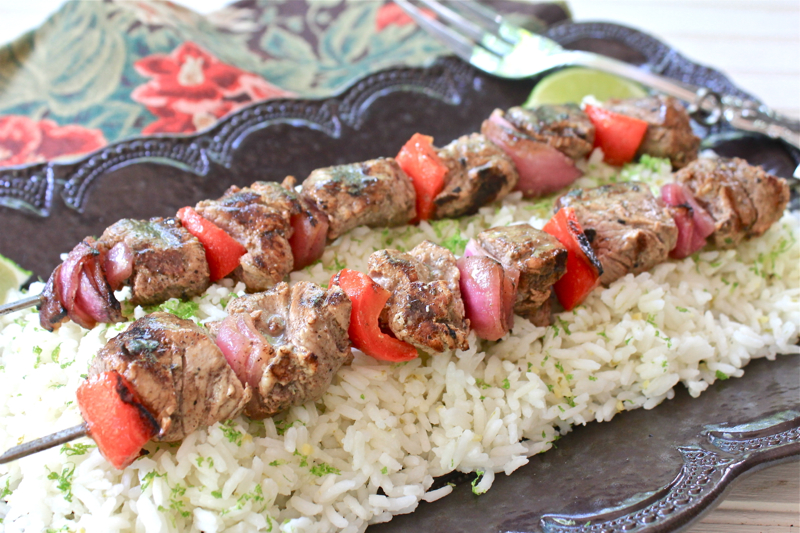 This made 4 skewers.  It would make a great company meal and is easily doubled.  We have a busy few weeks ahead of us.  I have lots to do to make my house picture perfect and plan our Italy trip.  I will keep you posted on what is happening.
RUM-GLAZED PORK SKEWERS WITH COCONUT RICE ( Fine Cooking Magazine )
3 Tbs. unsalted butter
1 Tbs. minced fresh ginger
1 cup jasmine rice
3/4 cup well-shaken unsweetened coconut milk
Kosher salt
1/3 cup dark rum
3 Tbs. packed dark brown sugar
2 medium limes, finely grated to yield 1 tsp. zest and squeezed to yield 1/4 cup juice
2 Tbs. vegetable oil; more as needed
1 tsp. ground allspice
1/8 tsp. ground cayenne
Freshly ground black pepper
1 1- to 1-1/4-lb. pork tenderloin, cut into 1-inch cubes
1 medium red bell pepper, cut into 1-inch squares
1 red onion, cut into 1-inch pieces
Lime wedges for serving (optional)

Melt 1 Tbs. of the butter in a 2-quart saucepan over medium heat. Add the ginger and cook, stirring, until fragrant, about 1 minute. Add the rice and stir until well coated. Add the coconut milk, 1-1/2 cups water, and 3/4 tsp. salt; bring to a simmer. Reduce the heat to low, cover, and cook until the liquid is absorbed, about 15 minutes.

Fluff with a fork, cover, and set aside. Meanwhile, combine the rum, brown sugar, 2 Tbs. of the lime juice, and the remaining 2 Tbs. butter in a 1-quart saucepan. Bring to a simmer over medium heat and cook until syrupy, about 5 minutes. Stir in 1/8 tsp. salt and remove from the heat.

In a medium bowl, combine the remaining 2 Tbs. lime juice with the oil, allspice, cayenne, 1-1/2 tsp. salt, and 1/2 tsp. black pepper. Add the pork and toss to coat. Thread the pork, bell pepper, and onions onto four 12-inch metal skewers, alternating the meat and vegetables.

Prepare a medium-high (400°F) gas or charcoal grill fire or heat a large grill pan over medium-high heat. Oil the grate or pan. Grill the skewers until seared on all sides, about 4 minutes total. Brush the skewers with the glaze and grill, turning occasionally, until the pork is browned on the outside but still slightly pink in the center, 2 to 4 minutes more.

Add the zest to the rice and fluff. Brush the skewers with any additional glaze and serve with the rice and lime wedges, if you like.

.