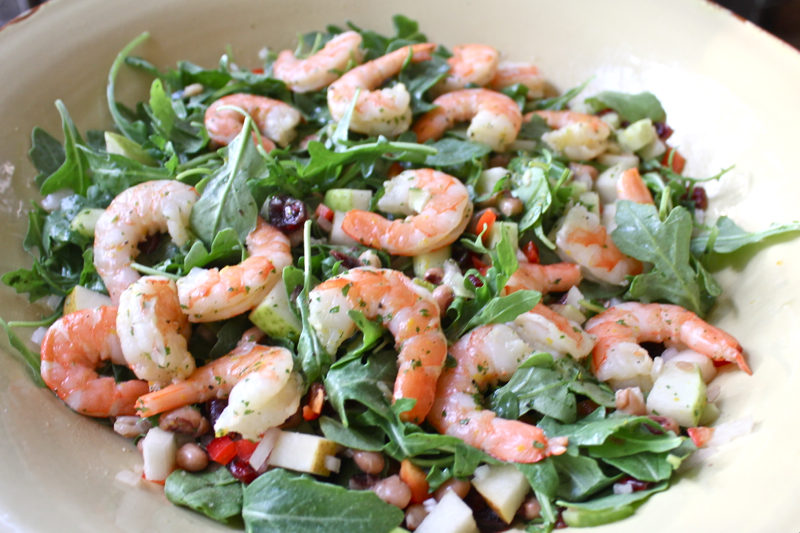 What a bowl full of goodness!  It is hard to see all of it because much of it is hiding in the arugula.  How does brandy soaked cranberries sound to you?  Or that Southern classic, black-eyed peas?  Are you a fan of Asian pears?  In there, all of them.  Succulent Jumbo shrimp are not afraid to show themselves . But the diced red bell pepper, onion and cucumber hunker down in the background.  Everything plays well with a light citrus vinaigrette and we were very happy to dig in. Not a morsel got away from us.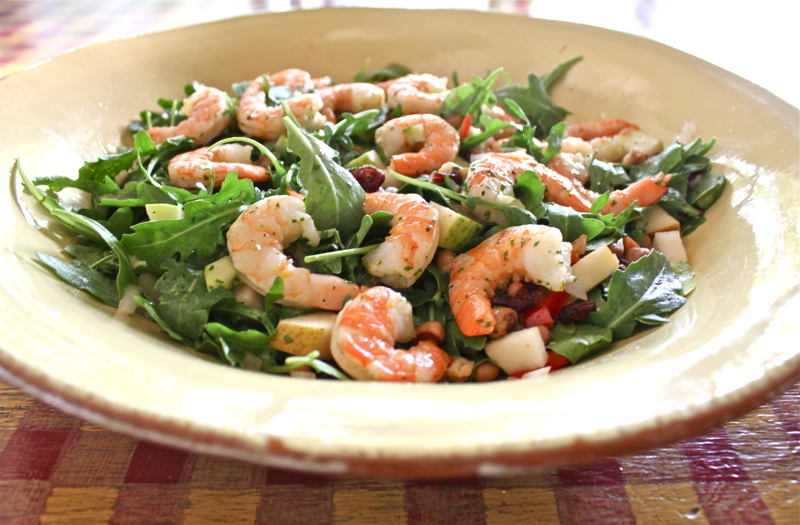 We are very busy right now.  David is doing a lot of the cooking because I have been busy with another project.  He always seems to find the best recipes on the internet.  This recipe was on a feature of Extra Virgin on the Cooking Chanel.  We are watching that show often because of the Italy connection.  We leave for Italy on September 16th.
David has frozen jumbo cooked shrimp in the freezer and is always looking for an excuse to use them.  In addition, he is always looking for healthy recipes. This turned out to be not only healthy, but delicious.  He is keeping us on track this month.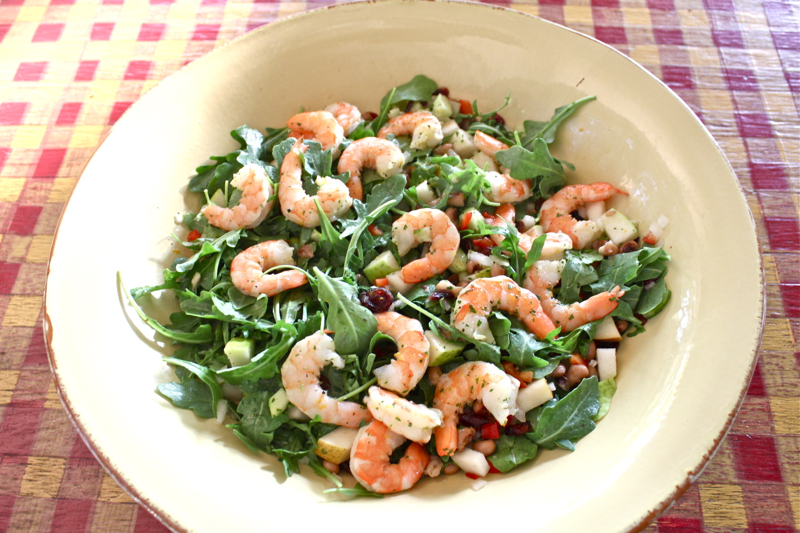 If you are looking for a delicious luncheon or dinner salad, this is a winner.
BLACK-EYED PEA AND ARUGULA SALAD
Citrus Vinaigrette:
2 tablespoons olive oil
2 tablespoons raspberry vinegar
3/4 cup unsweetened orange juice
2 teaspoons grated orange zest
1 1/2 tablespoons finely chopped fresh parsley
Salt and pepper
Salad:
2 cups canned black-eyed peas, drained
1 cup low-sodium chicken broth
5 cups arugula
1 cup sliced seedless cucumber
1 small onion, minced
1 Asian pear, cut into large chunks
1/2 cup dried black currants or dried cranberries, soaked in brandy
1/2 red bell pepper, seeded and minced
1 pound cooked, peeled and deveined shrimp
For the vinaigrette: Whisk together the olive oil, vinegar, orange juice, orange zest, parsley and some salt and pepper in a small bowl. Refrigerate until ready to serve.
For the salad: Simmer the black-eyed peas in the chicken broth for 5 minutes. Drain and let cool to room temperature. In a large bowl, toss together the black-eyed peas, arugula, cucumbers, onions, pear, currants and red peppers. Toss with half of the citrus vinaigrette. In a separate bowl, toss the shrimp with the remaining dressing. Add the shrimp to the salad. Serve immediately.