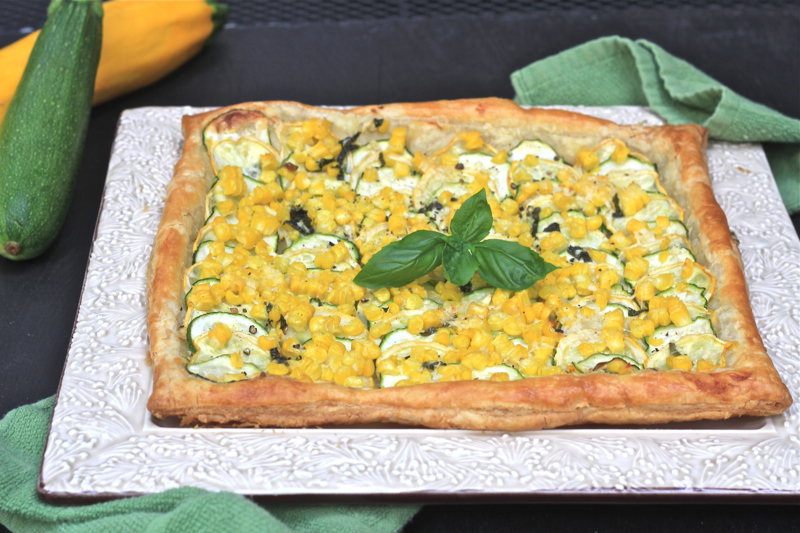 This was such a quick and easy tart to put together.  There is not much that puff pastry can't do to make your life easier.  It always makes a stunning presentation.  The hardest part of assembling this tart was slicing the zucchini on the mandolin.  I have an aversion to that device.  It is so sharp that it scares me.  I made my husband do the slicing.  We used both a green zucchini and a yellow zucchini, plus freshly shucked sweet corn.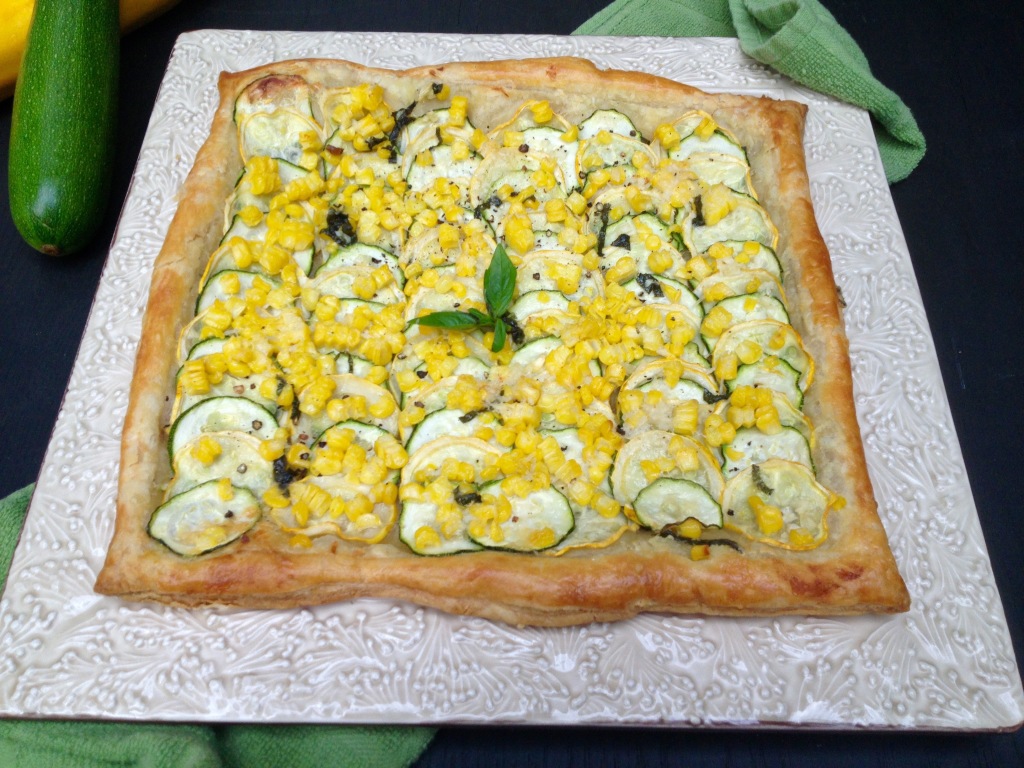 The flavors of garlic, butter and basil enhanced this lovely flaky creation.  Enjoy it with a salad and a glass of Rose' wine.
I am having technical issues this week.  My Son gave me a new computer that I am still trying to get used to.  Then the lens that I always use for my photography stopped working.  I had to use my fixed close-up lens.  Hopefully I will have all of these issues settled by the time we leave on our trip.  More news next week.  Have a great weekend.
ZUCCHINI TART WITH SWEET CORN, BASIL AND PARMESAN (The Suburban Soapbox).
Ingredients
1 sheet of frozen puff pastry, thawed
3 tablespoons salted butter
2 tablespoons chopped fresh basil
1/2 teaspoon minced garlic
1 medium zucchini, thinly sliced
1 ear of corn, shucked and kernels removed from cob
1/4 cup grated parmesan cheese
1/8 teaspoon kosher salt
1/8 teaspoon fresh ground pepper
1 egg
Instructions
Preheat oven to 425 degrees.
Roll out the puff pastry on a parchment lined baking sheet. Using a paring knife, gently score approximately 1/4 inch from the edge to create a border being careful not to cut all the way through.
In a microwave safe bowl, add the butter, basil and garlic. Heat in the microwave for 30 seconds or until the butter is melted. Brush half the butter mixture on the puff pastry inside the border. Arrange the zucchini on top of the butter and top with the corn. Sprinkle the parmesan over the tart and drizzle with the remaining butter. Season with salt and pepper.
Whisk the egg yolk with 2 tablespoons of water. Brush the border of the puff pastry with the egg wash and transfer to the oven. Bake 20-25 minutes or until the edges are puffed and golden brown. Transfer to a serving platter and serve warm or at room temperature.