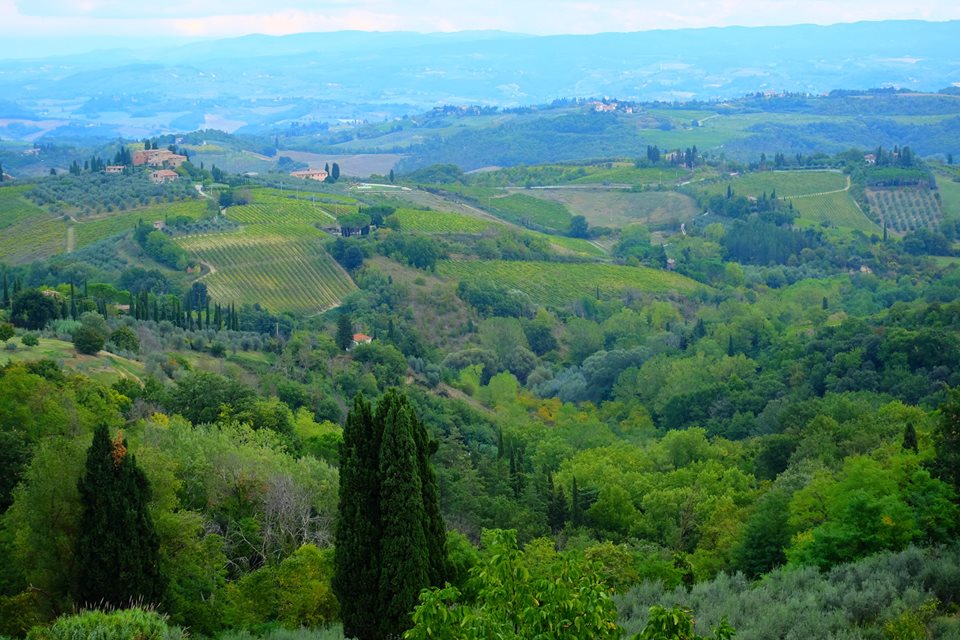 Before we left for Italy I was sent an advance proof from the publisher of a new cookbook called The Four Seasons of Pasta by Nancy Harmon Jenkins and Sara Jenkins.  It was released this week.  Acclaimed food writer Nancy Jenkins (The New Mediterranean Diet Cookbook ) teams up with her Master Chef daughter Sara, owner of two NY City restaurants (Porsena and Porchetta), to publish this unique book on pasta.  It focuses on fresh ingredients from the four seasons.  Dressing pasta with fresh ingredients results in dishes that celebrate this humble and readily available product.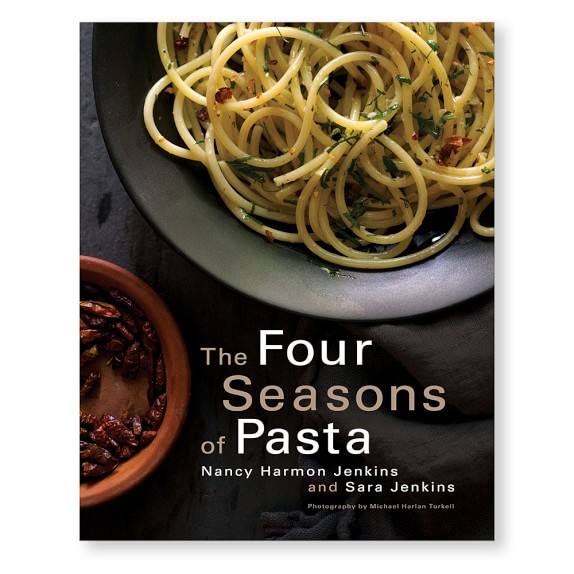 When Nancy Jenkins first moved to Tuscany in the early 1970's, she quickly embraced pasta.  Over the years, she and her daughter, while cooking in their Tuscan farmhouse, have been inspired by this "queen of the table" as described by true Italians.  Because it is Autumn, I decided to concentrate on that section of the cookbook.  It includes combinations like Pumpkin and Pumpkin Seed Maccheroncini, Pasta with Crumbled Sausage, Sage, and Winter Squash and Chestnut Ravioli with Brown Butter, Sage, and Fennel.  I chose to make their Zuppa di Pasta e Ceci (Rich Chicken Soup with Pasta and Chickpeas).  It also includes Tuscan kale, which is a great Fall green.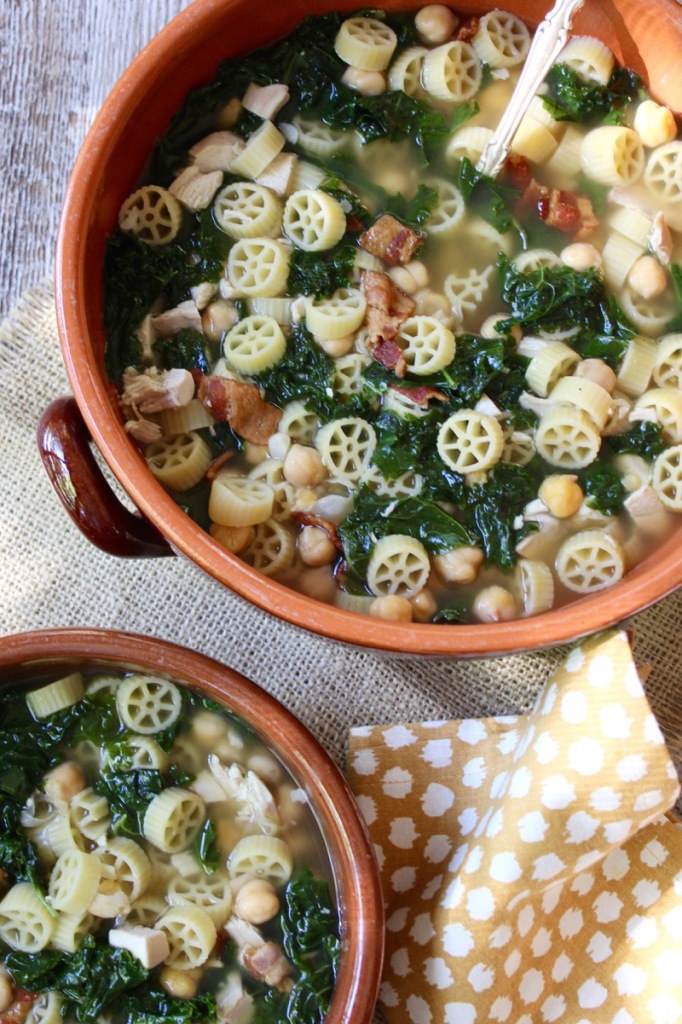 For this Autumn recipe, it would be wise to make a rich, flavorful chicken stock.  But if you are short on time, a boxed chicken stock will also work.  The authors recommend dried chickpeas, but frankly, I used a can of chickpeas because time is limited right now.  And I am still suffering from jet lag. They also recommend adding diced chicken to the soup.  I roasted a chicken when we returned home yesterday because I was anxious to be cooking in my own kitchen again.  So the rest of that chicken went into the soup.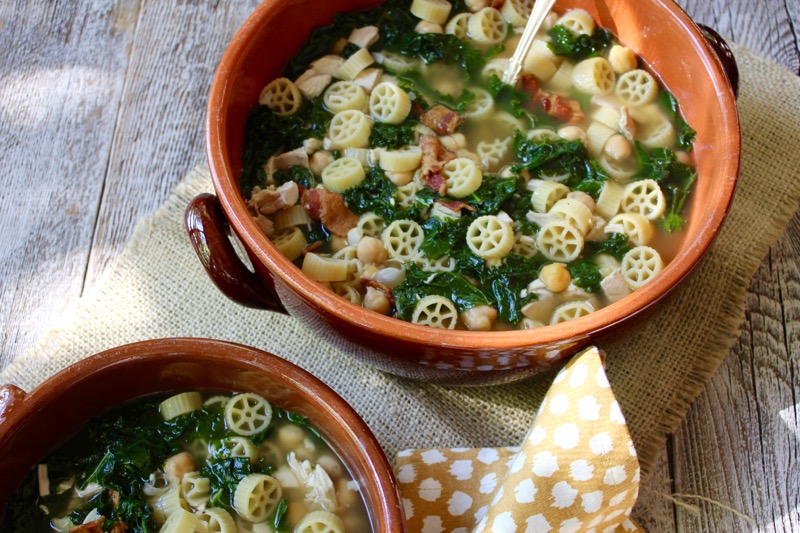 We will be enjoying this soup tonight.  The weather has cooled.  We are glad to be home.  But Italy is an amazing country with inspiring cuisine.  There will be more posts about Italy soon.  I highly recommend this well researched cookbook from two  Italian authorities on all that Italy has to offer.  It was a treat to come home and make this easy authentic dish.
ZUPPA DI PASTA E CECI
6 cups Rich Chicken Stock
1 to 2 bunches fresh greens (I used kale)
1 tablespoon extra-virgin olive oil
2 tablespoon finely diced pancetta or thick, country-style bacon
1 garlic clove, lightly smashed with the flat blade of a knife
Sea salt and freshly ground black pepper
1 cup cooked chickpeas, well drained (I used one can of chickpeas, drained)
1 cup pasta (small shapes are best, I used mini wheels)
1 dried red chili pepper, if desired
Freshly grated parmigiano-reggiano, pecorino sardo, or other firm cheese
Bring the chicken stock slowly to a simmer over medium-low heat.
While the stock is heating, prepare the greens, stripping away the tough center stalks where necessary and slivering the leaves.  You will have 7 to 8 cups trimmed and slivered greens.
Combine the oil and pancetta in a medium saucepan set over medium-low heat.  Cook until the pancetta fat starts to run and the the little cubes begin to brown and  crisp.  Add the garlic and continue cooking, raising the heat slightly, until the garlic has browned on all sides.  Remove the garlic and set aside.  Add the greens to the pan with the water clinging to their leaves. (You may not be able to get all the greens in at once; let the early ones cook down a bit, then add another handful, and keep doing that until all the greens are in the pan.)  You may wish to add about 1/2 inch of boiling water to the pan to keep the greens from scorching.  Cook the greens until they are thoroughly limp, adding salt and pepper to taste.
By now the stock should be simmering.  Add the greens and pancetta to the stock.  You may add a tablespoon or so of liquid left in the bottom of the greens pan, but don't add a lot more because it may darken the clear, rich color of the stock.  If your wish, chop the reserved garlic  clove and add it to the stock.  Stir in the chickpeas and pasta, along with as much or as little or the dried red chili as you wish. (Add the diced cooked chicken, if available, at this point.)  Let simmer until the pasta is done, 8 to 10 minutes.
Serve immediately, while the soup is hot.  Pass the grated parmigiano at the table.
Reprinted by arrangement with Avery Books, a member of Penguin Group (USA) LLC, A Penguin Random House Company. Copyright © Nancy Harmon Jenkins and Sara Jenkins, 2015.