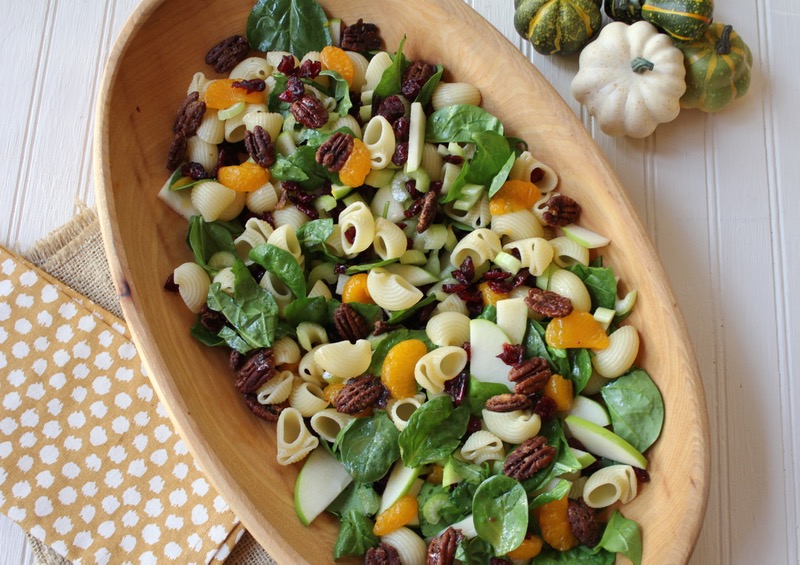 Here is another great idea for Thanksgiving.  Salads are not usually a big part of the holiday feast, but why not?  With the heavy stuffing, mashed potatoes, sweet potato casserole and green beans slathered in cream of mushroom soup and french onion rings, something a little lighter should be a welcomed addition.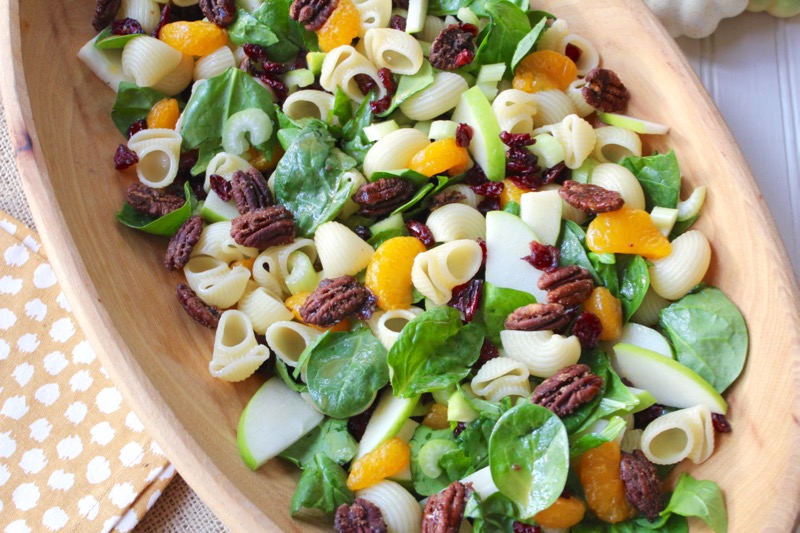 The components of this salad are all about Fall; apples, oranges, pecans, baby spinach and dried cranberries.  The pasta is just a small addition that gives the salad body.  I even amped the flavor up by making my sweet Bourbon pecans. This is a refreshing salad for the holidays.  The citrus dressing is light and delightful.
I saw this recipe on Facebook.  It was posted by my DIL's Mom, Darla.  Since we will all be together for Thanksgiving I think this would be a great dish for our shared table.  Thanksgiving will be at Michael (Our Son) and Kristen's (Our DIL) home.  They just moved into a new and bigger home that will accommodate all of the family.  We are looking forward to it.  The original recipe, and a much better picture can be found here.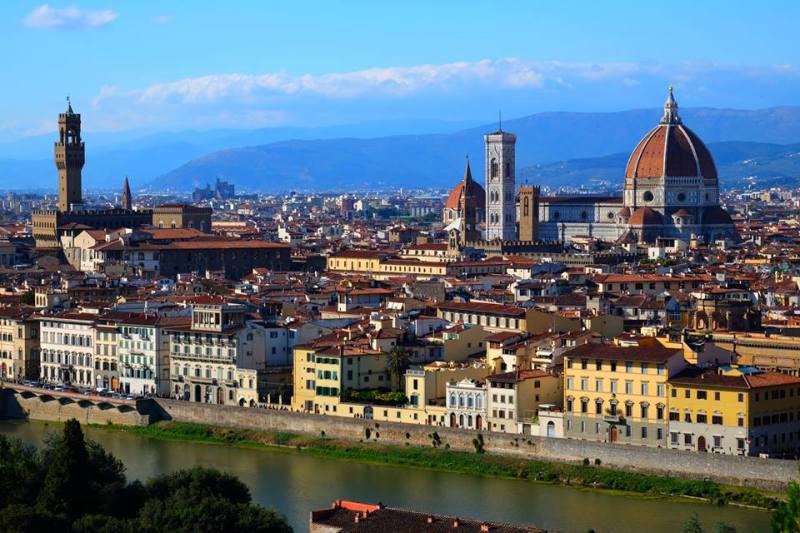 A few more pictures of Italy.  We spent four days in Tuscany with a much too short trip into Florence.  But there is so much to do in the region that we were happy with our short trip into this historic city on the Arno River.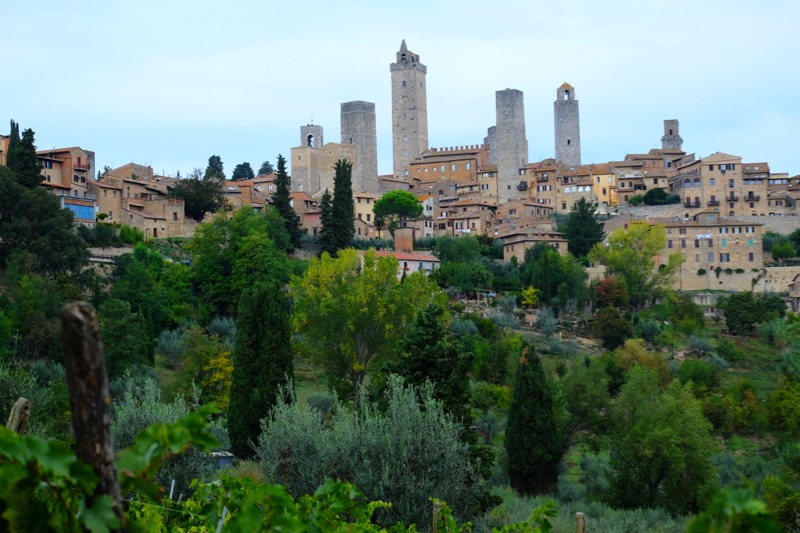 We stopped in San Gimignano, the epitome of a Tuscan hill town.  It still has 14 medieval towers standing out of the original 72.  Family towers were important in the 13th century.  The feuding noble families ran the hill towns and expressed their power by how tall their towers were.  Not much has changed over the years has it?  Although we enjoyed visiting the town, it was a tourist trap.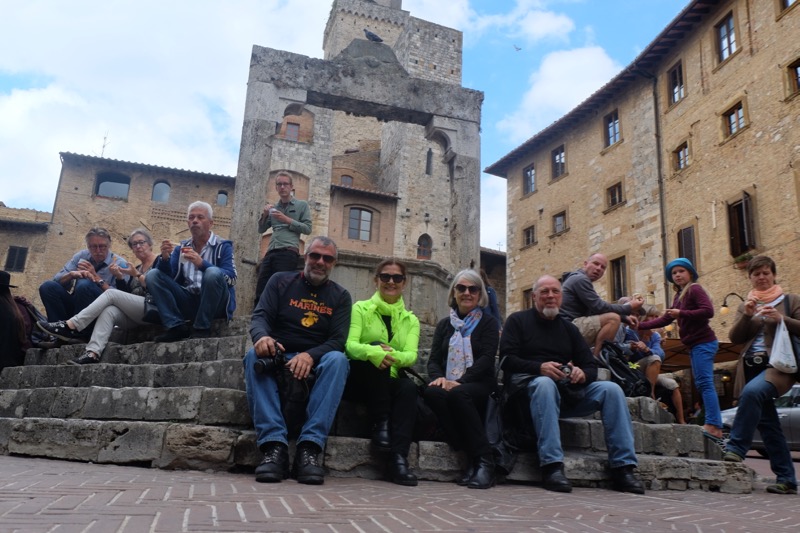 Our intrepid tour guide groveled to a new low to please us with a good picture. (although the picture is a little crooked). Notice all of the people eating Gelato around us!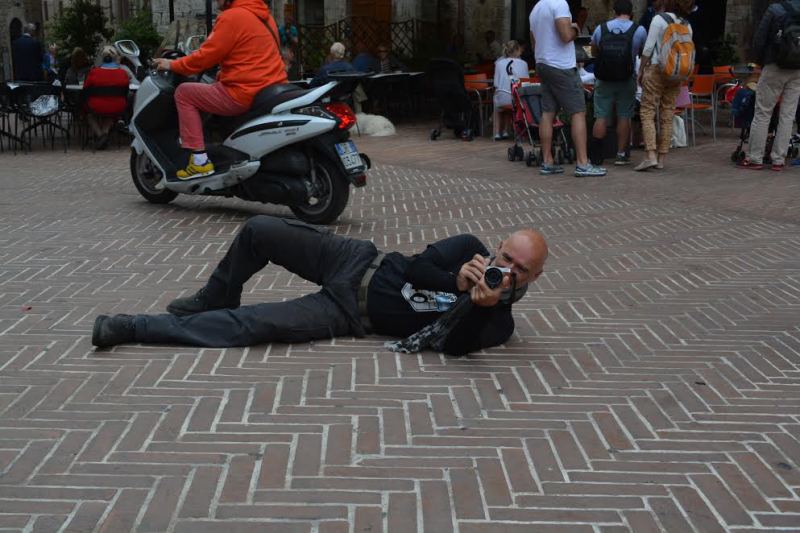 But Laurent got his shot of us.  It was just one of many of his professional studies.  We were lucky to have this dear friend as our guide through Italy.  Thank you Laurent and Carole for starting your touring company and allowing us to be your test guests.  You are the best.  If you are interested in traveling in France or Italy by motorcycle or scotters, they will treat you so well. Here is the link.  Ride in Tours is the real thing.
AUTUMN CRUNCH PASTA SALAD
5 ounces fresh spinach (half a 10 ounce bag)
1 and 1/2 cups dry small pasta
3/4 cup chopped celery
3/4 cup dried cranberries
1 can (15 ounces) mandarin oranges
1 large Granny Smith Apple
1 teaspoon lemon juice
1/3 cup pecans
Optional: Feta cheese
Dressing
4 tablespoons olive oil or vegetable oil
2 tablespoons apple cider vinegar
2 tablespoons white wine vinegar
2-4 tablespoons white sugar
1/8 teaspoon each: paprika, onion powder
1 tablespoon poppyseeds
INSTRUCTIONS
Cook the pasta according to package directions.
While the pasta is cooking, prepare the dressing. In a food processor or blender combine the oil (the vegetable oil yields a richer and in my opinion better taste, but the olive oil is healthier and still tastes great), apple cider vinegar, white wine vinegar, sugar, (adjust — more or less to personal preference, we like a less sweet dressing and use about 2 tablespoons) paprika, and onion powder. Pulse or blend for about 10 seconds. Stir in the poppy seeds.
Drain the pasta once it's cooked through and immediately toss a few tablespoons of the dressing with the pasta. This helps the pasta soak in the dressing and the flavor.
Chill the dressed pasta in the fridge.
Meanwhile, combine the (washed and de-stemmed) spinach with the chopped celery in a large bowl. Add in the cranberries and a can of drained mandarine oranges.
If desired peel the apple (We like to leave on the peel!) and then slice into thin slices. Toss with lemon juice and then add to the salad.
Pour dressing over the salad and toss. Add in the completely cooled pasta and toss with the rest of the salad.
If you want to toast the pecans, place them in a single layer in a dry saucepan (don't add anything) over medium heat. Stir constantly until the nuts are barely fragrant — just a couple of minutes. Watch carefully as the nuts are VERY easily scorched/burned.
Alternatively, you can candy the pecans if desired. Check the link in the last paragraph of the blog text for how to candy pecans.
Top the salad with the pecans and feta cheese.
Enjoy immediately.
NOTES
This salad (like most) aren't very great leftover. If you aren't eating this immediately, keep the ingredients separate from the dressing and only toss with the dressing right before eating. Top with pecans and feta after dressing the salad.