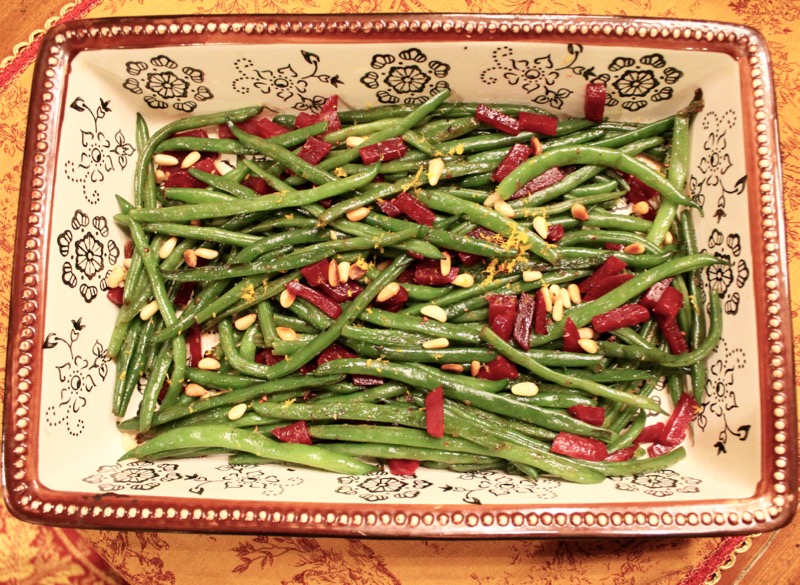 We have made the transition from N.C. to Florida.  It is always hard to leave my Lake Lure Kitchen, but I have to say that it is nice to be able to walk the dog without wearing a jacket.  I am getting into the Christmas spirit with the tree up and the wreaths on the door, but I haven't started shopping or baking yet.  I did make these green beans the other day.  I included chopped pickled beets in the mix and the whole dish made me think of Christmas.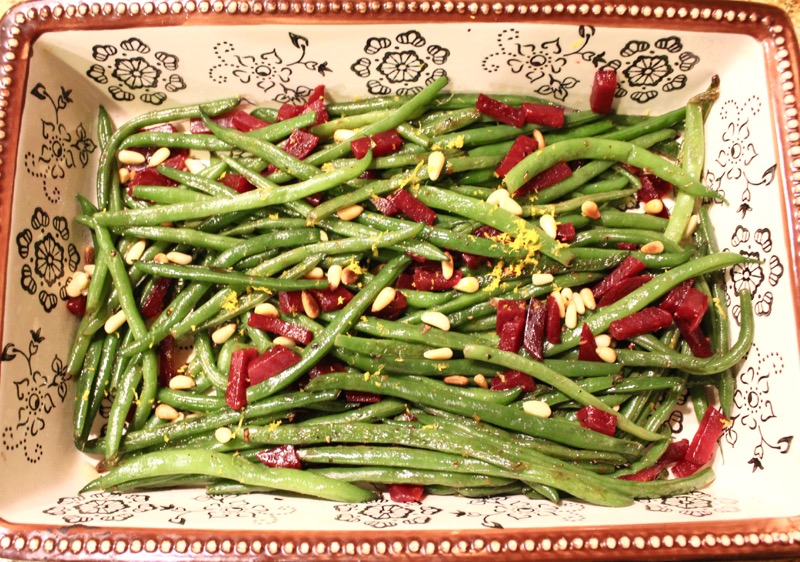 This dish would be perfect on any holiday table.
Thanks to all of you for your support in the Food52 recipe contest.  Unfortunately I did not win, but they have contests every month, so there is always hope.  Right now the contest is "The Best Thing You Ate This Year".  I would be curious as to what you would choose.
CHRISTMAS GREEN BEANS
1 pound French green beans (haricot vert), trimmed
2 teaspoons minced garlic ( 2 cloves )
1 tablespoon grated lemon zest ( 2 lemons )
3 tablespoons minced fresh flat-leaf parsley
3 tablespoons freshly grated Parmesan cheese
2 tablespoons tasted pine nuts
2 1/2 tablespoons good olive oil
Kosher salt and freshly ground black pepper
4 to 5 jarred pickled beets, sliced into strips
Bring a large pot of water to a boil.  Add the green beans and blanch them for 2 to 3 minutes, until tender but still crisp.  Drain the beans in a colander and immediately put them into a bowl of ice water to stop the cooking and preserve their bright green color.
For the gremolata, toss the garlic, lemon zest, parsley, Parmesan, and pine nuts in a small bowl and set aside.
When ready to serve, heat the olive oil in a large saute pan over medium-high heat.  Drain the beans and pat them dry.  Add the beans to the pan and saute, turning frequently, for 2 minutes, until coated with olive oil and heated through. Off the heat, add the gremolata and toss well. Add the pickled beet strips and sprinkle with 3/4 teaspoon salt and 1/4 teaspoon pepper and serve.