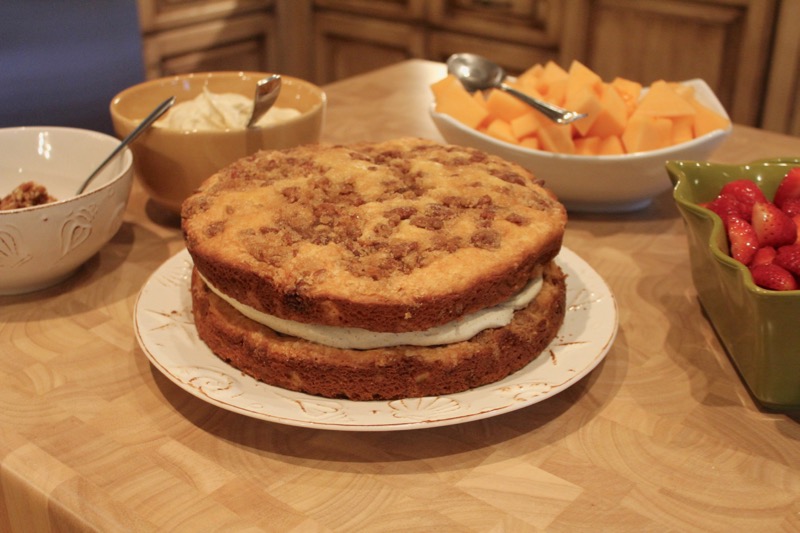 Happy New Year everyone.  We are still visiting with friends in Hilton Head.  Meal preparation is a shared endeavor when we are together.  It was my turn to make breakfast yesterday.  I found this recipe for a candied pecan sour cream coffee cake with eggnog cream filling on Pinterest a few weeks ago and decided that it would make a great "do ahead" breakfast dish.  I made the cake layers and froze them.  All I had to do when it was time to make breakfast was to prepare the filling.  I also froze the remaining candied pecans to sprinkle over the whipped topping when served.  With the coffee cake I served bacon, scrambled eggs and fruit.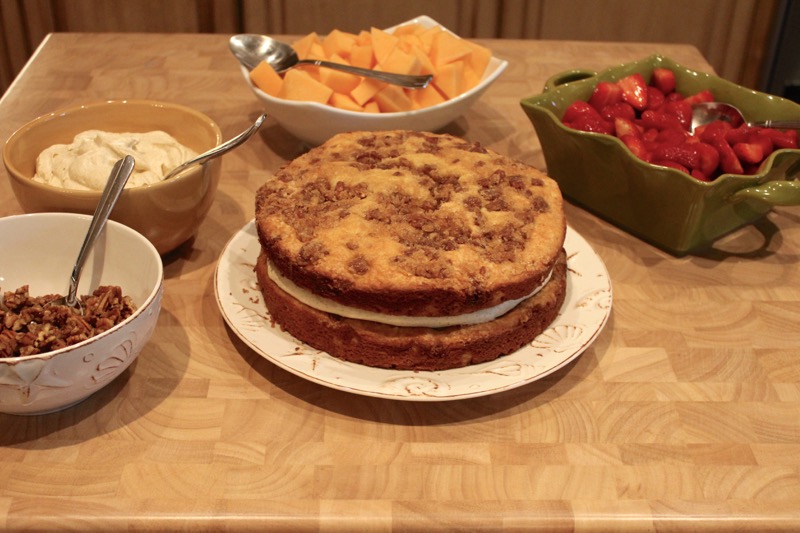 The only thing I would change in the recipe is to possibly use real whipped cream instead of the Cool Whip.  But otherwise it is a wonderful breakfast coffee cake.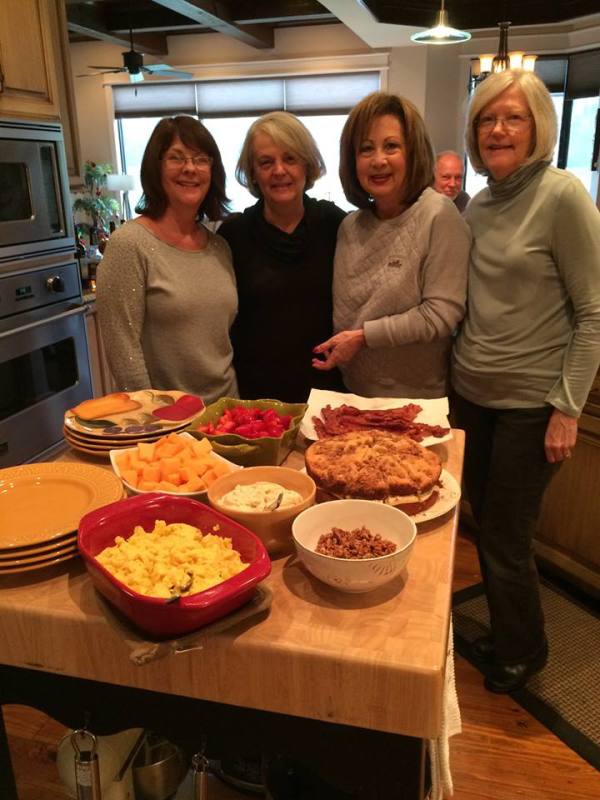 Barbara (third from left) is making Paula Dean's Breakfast Casserole today.  It is a decadent French Toast dish. It is one of our traditional recipes.  We are looking forward to a day of eating and cooking.  What a perfect way to start off the New Year.
CANDIED PECAN SOUR CREAM COFFEE CAKE ( From Melanie Makes )
INGREDIENTS
Candied Pecans:
3 tablespoons brown sugar
3 teaspoons water
1/4 teaspoon vanilla
1/4 teaspoon salt
2 cups chopped pecans
Sour Cream Coffee Cake:
2 cups flour
1 1/4 teaspoons baking powder
1 teaspoon baking soda
1 teaspoon salt
1/2 cup butter, softened
1 cup sugar
2 eggs
1 teaspoon vanilla
1 cup sour cream
1/3 cup brown sugar
1/4 cup sugar
1 teaspoon vanilla
Eggnog Cream Filling:
1 1/4 cups eggnog
3.4 oz. box instant vanilla pudding
2 teaspoons cinnamon
8 ounces whipped topping
INSTRUCTIONS
Candied Pecans:  In a small bowl, stir together brown sugar, water, vanilla and salt.  In a large skillet over medium heat, add pecans and toast until pecans are fragrant, about 2-3 minutes.  Pour sugar mixture over pecans, stirring constantly for one minute and nuts are evenly coated.  Pour pecans onto parchment and allow to cool completely.
Sour Cream Coffee Cake:  Preheat oven to 350 degrees.  In a large bowl, whisk together flour, baking powder, baking soda and salt.
In the bowl of an electric mixer, cream together butter and sugar until fluffy.  Add eggs one at a time, beating well after each addition.  Add vanilla and mix until combined.  Add flour mixture alternately with sour cream to butter mixture.  Mix after each addition until batter is smooth.
Divid batter evenly between two greased 9″ round baking pans.
In a small bowl, stir together 1/3 cup brown sugar, 1/4 cup sugar, 1 teaspoon vanilla and 1 cup candied pecans.  Divide nut mixture evenly, sprinkling half over each cake round.
Bake for 15 to 20 minutes or until set.  Allow to cool completely before assembling coffee cake.
Eggnog Cream Filling:  In a medium bowl, whisk together eggnog, instant pudding and cinnamon.  Let sit for 5 minutes.  Fold in Whipped topping.
To Assemble Coffee Cake:  Place one cake round on serving plate and top with half of Eggnog Cream Filling, spreading evenly to edges of cake.  Place second cake layer on top of filling.  Served wedges of cake with a dollop of additional eggnog cream filling and candied pecans.