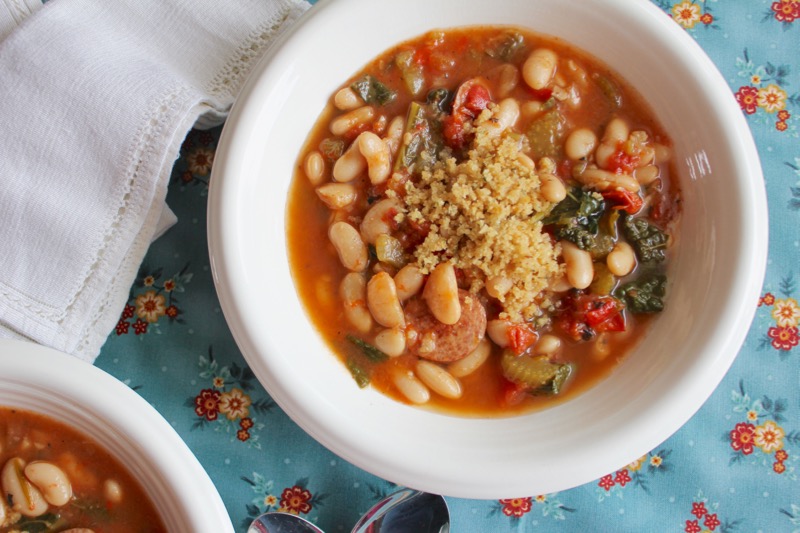 Guess what I got for Christmas?  Yes, I broke down and asked for a new crock pot.  I thought long and hard about it.  I own two; one in Lake Lure and one in Florida.  The one in Lake Lure died this year and the one in Florida was on its last legs.  Both were very, very old.  My hesitation came because I don't use a crock pot all that often and I thought maybe I could do without one.  But there are times when they come in handy and this new one has some features that my old ones did not have, including a meat temperature probe and a programmable set and forget cooking mode.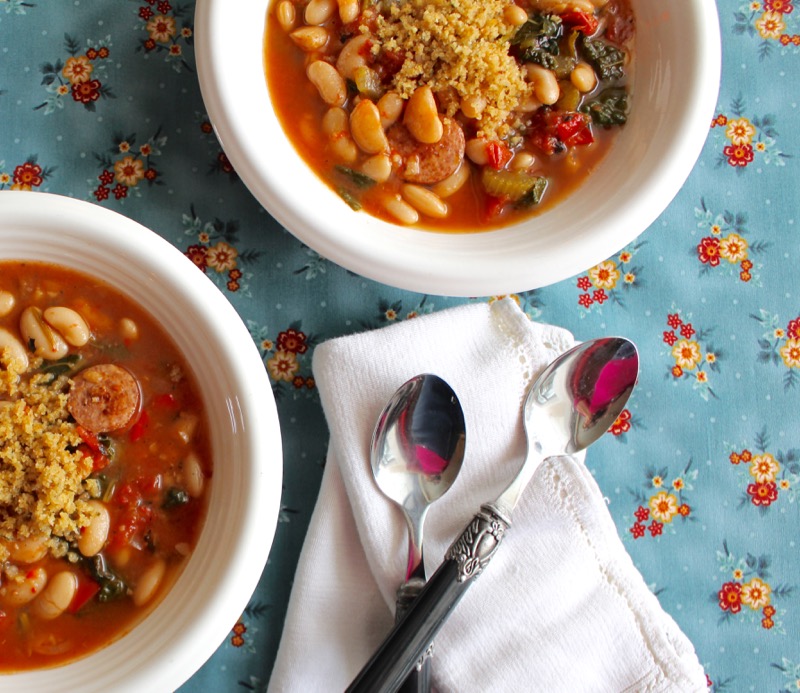 A warming soup sounded like the best first recipe to try in the new slow cooker.  It has been rainy and cool in Florida since the holidays, so while I dismantled the Christmas decorations I set the crock pot up to take care of our dinner.  I soaked the dried cannellini beans overnight to give them a head start.  To the pot I also added sauteed turkey kielbasa, sauteed red peppers, celery and onions with garlic and tomato paste.  The liquid ingredients were a mixture of chicken broth and water.  Near the end of cooking I added diced canned tomatoes and Tuscan kale.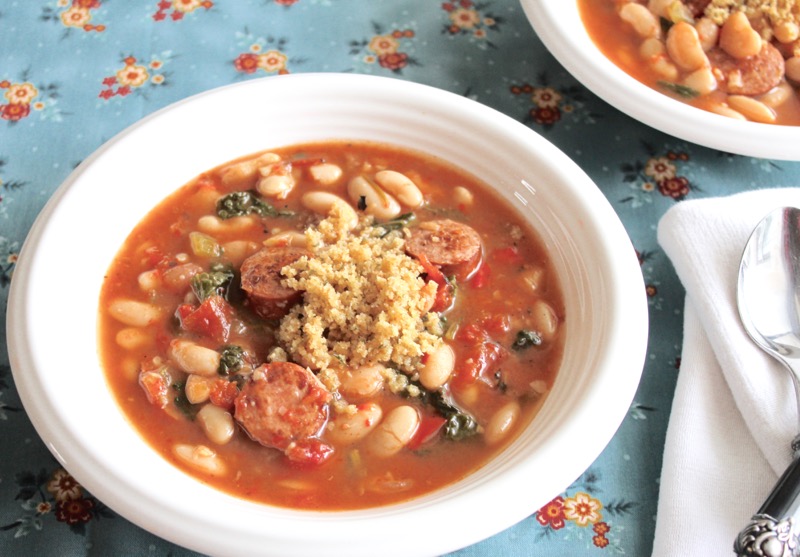 Top this lovely soup with toasted bread crumbs and you will feel warm and happy.  I am happy that I have a new crock pot.
CROCK POT WHITE BEAN AND SAUSAGE SOUP (Adapted from William Sonoma)
3 Tbs. olive oil
2 lb. kielbasa sausages, cut into rounds
1 large yellow onion, diced
3 celery stalks, diced
2 red bell peppers, seeded and diced
1 Tbs. tomato paste
3 garlic cloves, minced
Red pepper flakes, to taste (optional)
4 cups chicken stock
2 cups water
1 bay leaf
1 fresh thyme sprig
1 fresh rosemary sprig
1 fresh sage sprig
1  lb. dried cannellini beans, rinsed, soaked overnight and drained
1 can (14 1/2 oz.) diced tomatoes, drained
1 cup fresh bread crumbs
1 Tbs. unsalted butter, melted
Salt and freshly ground black pepper, to taste
1 bunch Tuscan or regular kale, washed, stemmed and chopped, about 3 cups

Drain soaked cannellini beans and add to crock pot.  In a large skillet saute kielbasa rounds until lightly browned.  Add to crock pot.  In same skillet saute onion, celery and red bell peppers until wilted.  Add the tomato paste, garlic and pepper flakes and stir together until mixture is fragrant.  Add the mixture to the crock pot along with the chicken broth and water.  Place the bay leaf and a tied bundle of the herbs, plus the salt and pepper to the pot.  Stir to combine.

Cook the soup on low for 8 hours.  1/2 hour before soup is done, add the drained diced tomatoes and the kale.  Stir into soup.  Return lid to crock pot and continue to cook until kale is wilted, about 1/2 hour.  In a small pan melt butter, add bread crumbs and cook until bread is golden brown.  Ladle soup into bowls and top with bread crumbs.