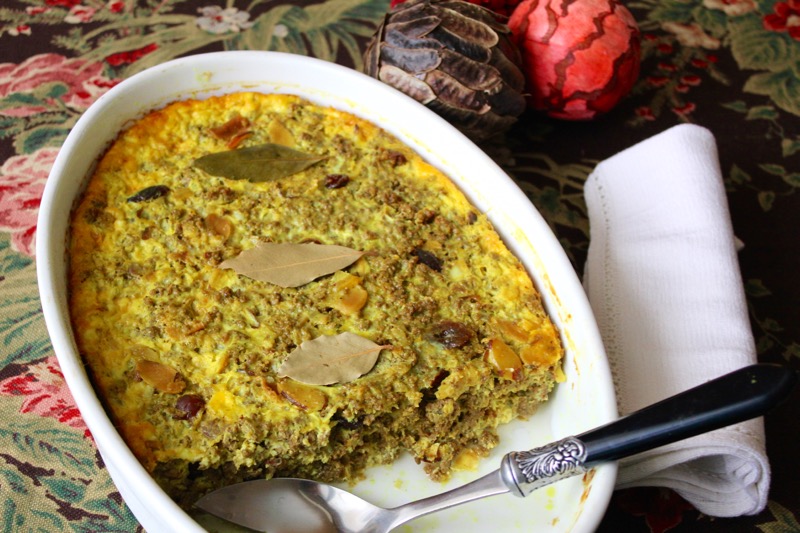 Bobotie (pronounced bo-bo-tie or bo-boo-tee) is my first foray into South African cuisine.  South African food is influenced by the native population and the Dutch, French, Indian and Malaysian immigrants.  The resulting dishes are complex and exciting to the palate.  Bobotie is the national dish, thought to be introduced by the Malaysian and Indian servants during Colonial times.  Curry and turmeric have always been important spices in Indian cuisine.  In Bobotie, minced meat is simmered with the spices, almonds and dried fruit, then topped with milk and eggs and baked until set.  It is similar to a Greek Moussaka.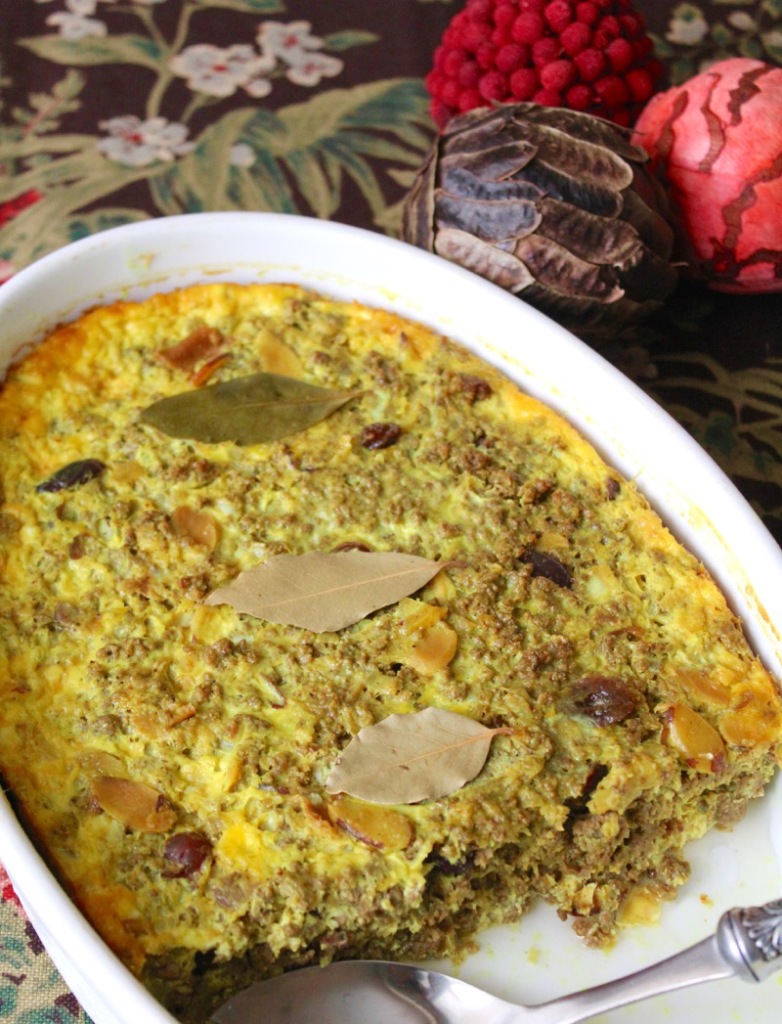 I have always been fond of curries.  We had several acquaintances from India through David's job as an engineering professor.  Dinner parties in their homes always included flavorful and interesting dishes.  One Indian friend came to my home to teach me several Indian dishes including dal and saag, which is a dish using mustard greens.  So when I saw this recipe for Bobotie, I knew that I would love it.  There are so many complex flavors in it.  The curry is there, but you can also taste the sweet dried fruit, the crunchy almonds, the hot chutney and the mild custard.  It is a perfect make ahead dish for company; something a little different.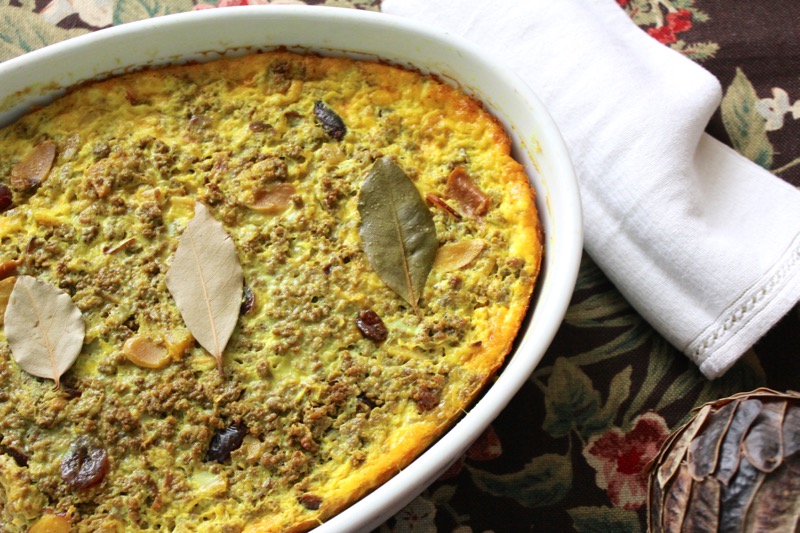 Our Midwest and East coast is supposed to get a major snow storm this weekend.  This would be a great warming oven dish to serve with Cinnamon Basmati Rice with Golden Raisins.  Winter is the best time for arm-chair or kitchen-stove travel.  South African cuisine is very colorful, spicy and sometimes amusing.  One of the roadside dishes that you can get in South Africa is grilled chicken feet and heads.  It is called Walkie-Talkie.  Think I will stick with Bobotie.
BOBOTIE (Adapted from Martha Stewart)
3 tablespoons extra-virgin olive oil
2 medium onions, finely chopped
1 tart apple, such as Granny Smith, peeled, cored and coarsely chopped
2 tablespoons minced fresh ginger (1 1/2-inch piece)
Coarse salt and freshly ground pepper
1 teaspoon ground turmeric
1 1/2 tablespoons Madras curry powder
2 pounds lean ground beef
1/2 cup slivered almonds (1 ounce), toasted
4 slices white bread, crusts removed
1 3/4 cups whole milk, divided
1/2 cup dried apricots, chopped
2 tablespoons apricot preserves
2 tablespoon hot chutney
4 large eggs
1 1/2 cups remaining milk
1/8 teaspoon freshly grated nutmeg
1 teaspoon finely grated lemon zest
4 fresh or dried bay leaves
1. Preheat oven to 325 degrees. Heat a large skillet over medium-high heat. Add oil, then onions, apple, and ginger; season with salt. Cook, stirring occasionally, until onions are golden brown and tender, about 15 minutes. (Reduce heat if vegetables brown too quickly.) Add turmeric and curry powder to onion mixture; stir to combine. Add beef and cook, breaking up large pieces with a wooden spoon, until cooked through, about 10 minutes. Stir in almonds, and cook for 2 minutes more.
2. Tear bread into large pieces, and place in a small bowl. Add 1/4 cup milk and 1/2 teaspoon salt, and let stand until milk is absorbed. Add bread mixture to beef, and cook, stirring frequently, until bottom of pan begins to brown, 1 to 2 minutes. Stir in dried apricots, apricot preserves and chutney, scraping up browned bits from bottom. Remove from heat, and season with salt and pepper.
3. Spoon beef mixture into a 6-cup shallow baking dish. Whisk eggs, nutmeg, lemon zest, and remaining 1 1/2 cups milk in a medium bowl. Pour over beef. Place bay leaves in dish, pressing into filling. Bake until set around edges and center is no longer runny, 35 to 45 minutes. Let stand for 15 minutes before serving. Serve with Cinnamon Basmati Rice.