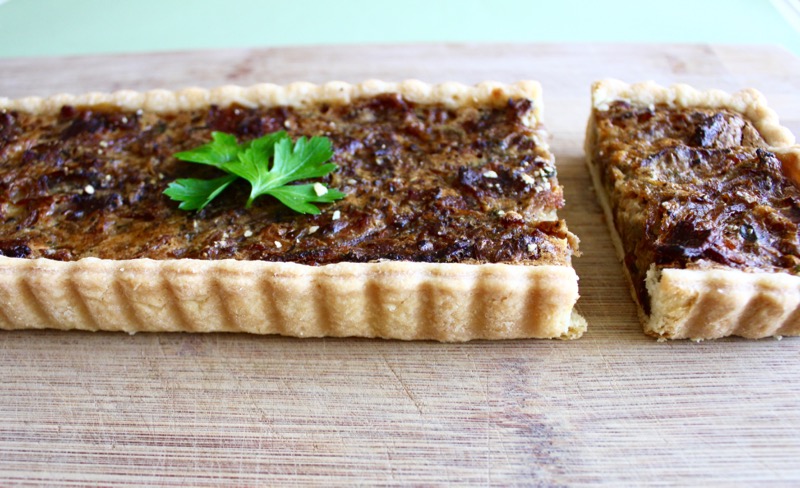 I dare anyone to tell me that they wouldn't love to eat a combination of buttery flaky pastry with caramelized onions and crispy bacon.  The current contest on the FOOD52 website is to present your favorite appetizer to share with friends.  This is not my recipe.  It belongs to Cathy of the blog Bread-and-Milk.   I didn't enter the contest, but I did decide to be a recipe tester.  I guess you can figure out why I chose the Onion and Bacon Tart to test. My middle name should be "Tart", but not in the pejorative sense.  Whether sweet or savory, some of my favorite eats have been tarts.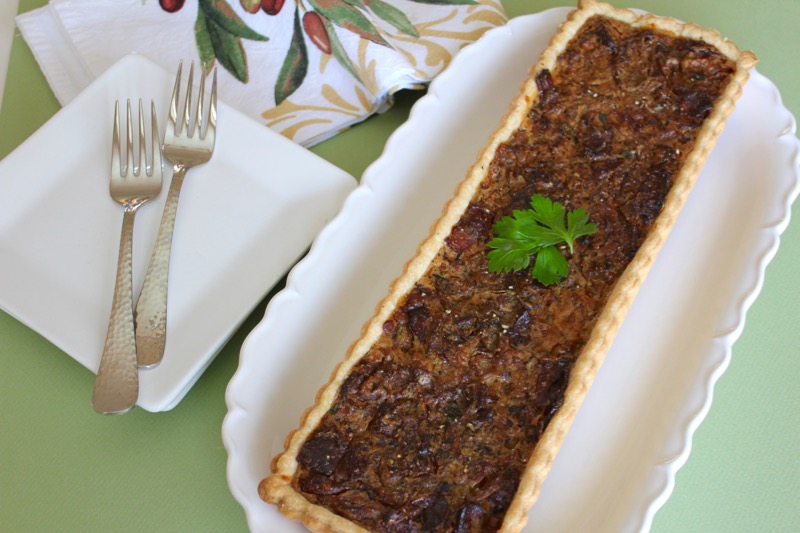 When I first read the recipe for this tart, I thought there was way too much filling for the size of the tart pan.  But after the onions were caramelized to a deep golden brown, they had melted to just the right amount.  There is a small amount of egg and cream to bind everything together so that the filling is lusciously rich.  I do need to mention the pastry also.  It has more butter in it than what I would normally use.  But the finished pastry is very sturdy.  That is just the results that work for this appetizer.  You can pick up a small slice and eat it out of hand.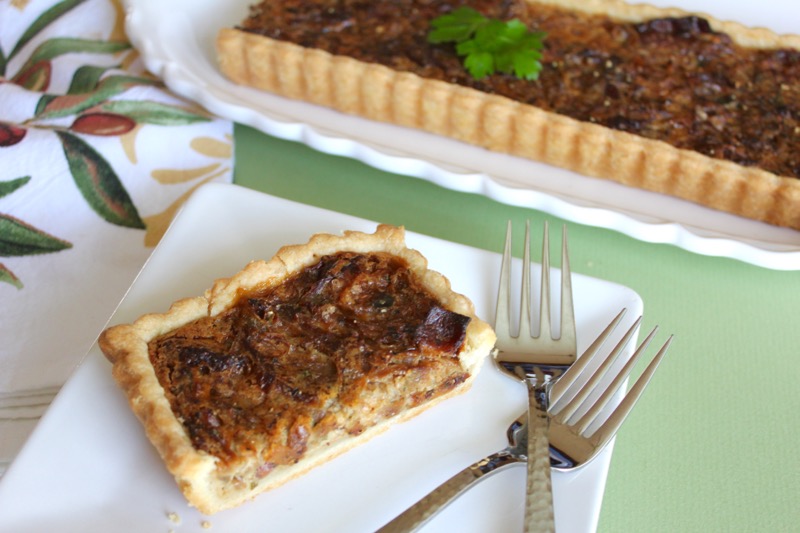 The slice shown on the plate could easily be divided into two pieces and served on a platter to be passed around.  It would be a neat two bite appetizer.  But I was not hosting a cocktail party, so David and I enjoyed this savory tart with a green salad for dinner.  I love testing other people's recipes.  It forces me to follow a recipe as written and suspend judgement.  In this case, Cathy knew exactly what she was preparing and I was happy to follow her lead.  Go on over to Food52 to see all of the wonderful appetizer recipes.
ONION AND BACON TART
Dough
2 

cups All purpose flour

1 

teaspoon Salt

1 

cup Unsalted butter

1/4 

cup Ice water
Onion Filling
4 

Onions, thinly sliced

2 

tablespoons Butter infused olive oil

1/2 

pound Thick cut Bacon, diced

1/2

cup Heavy cream

1 

Egg

1 

tablespoon Thyme

1 

teaspoon Rosemary

1/2 

teaspoon Garlic powder

Prepare dough, combine flour salt and butter in a food processor. Pulse until small balls form then add water until dough comes together. Roll into a disk and cover with plastic wrap, refrigerate for 30 minutes.
Prepare Filling, heat olive oil in a nonstick and gently sauté onions until translucent and caramelized. Next sauté bacon, until crisp. Combine onions, bacon, cream, egg and thyme rosemary and garlic powder.
Pre-heat oven to 375°. Roll out dough, 1/8 inch thick and press into a 4 X 13 rectangular tart tin. Dock the dough with a fork. Spoon in the onion mixture and top with salt and pepper bake for 45 minutes or until lightly browned.