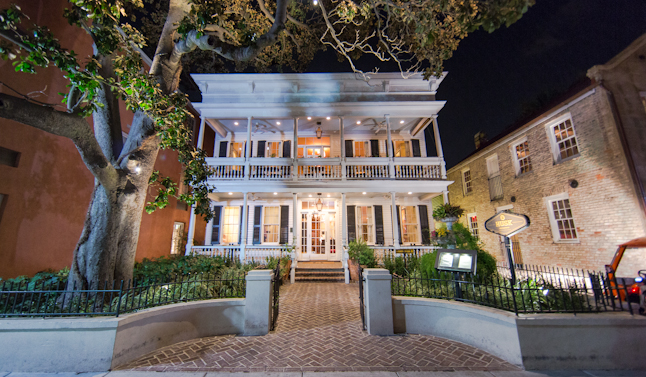 Ever since Sean Brock's meaningful book Heritage came out last year, I have wanted to visit his beautiful restaurant, Husk, in Charleston S.C. Sean Brock's philosophy about food hits the right chords in my psyche.  The history of the Southern table, the heritage of lost flavors and varieties from the fields, and the importance of keeping these traditions alive with a new twist, all speak to me.  He illustrates his thinking with the story of Hoppin' John.  His first experience eating hoppin' John left him less than excited.  It was no wonder it was disappointing being made from commercial, enriched rice and old, flavorless black-eyed peas.  Once he tried it with Sea Island red peas, originally planted by African slaves, and with re-introduced heritage Carolina Gold rice, he knew why it was such a popular dish from the past.  Heritage seeds and varieties matter and it is important to keep them alive in our industrialized farming world.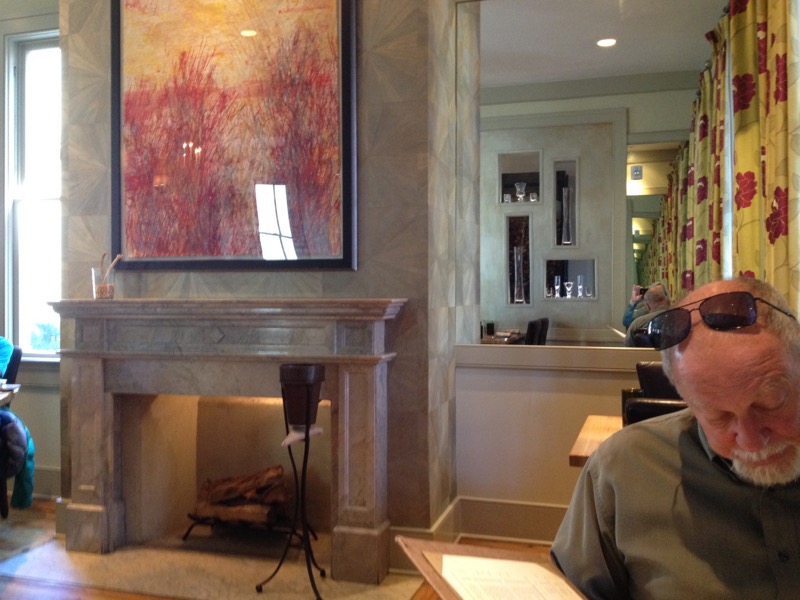 Husk is located on beautiful Queen Street in the historic district of Charleston.  We have walked that street often over the years.  On our first trip to Charleston years ago we stayed at The Elliot House Inn, which is almost next door to Husk. Also next door is Poogan's Porch, another lovely restaurant with a long history.  It used to be a favorite of Paul Newman and Joanne Woodward.
Husk is housed in a Queen Anne style house built in 1893 during the grandeur period in Charleston. "The building retains its antique charm and stately exterior while the interior has been renovated with a modern, minimalist theme, designed by Michael Shewan of Michael David & Associates of Charleston, SC.  We were charmed by the dining room with three fireplaces and original tall windows that added light and warmth.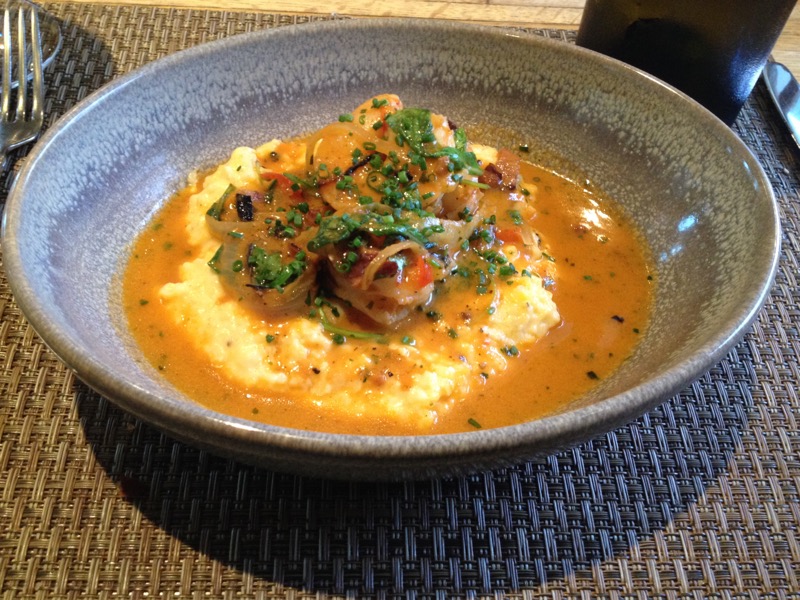 But food is the reason that Husk shines.  The standards are high here.  The food is locally sourced.  The restaurant grows many of its own vegetables.  Whole pigs are purchased and all parts are used.  The kitchen has a pantry of in-house canned and pickled vegetables.  They have a wood burning oven to impart a homey smokiness to many of their dishes.  An example of a winning dish is Husk's Shrimp and Grits.  The grits are milled from heirloom corn ( A good commercial brand is Anson Mills).  The shrimp are often caught by free-casting a net along a creek bank or from trawlers that go to the deeper waters offshore.  The smokey taste to my dish came from a combination of tasso ham and wood-oven smoked tomatoes.  It was truly one of the best shrimp and grits dishes that I have ever eaten.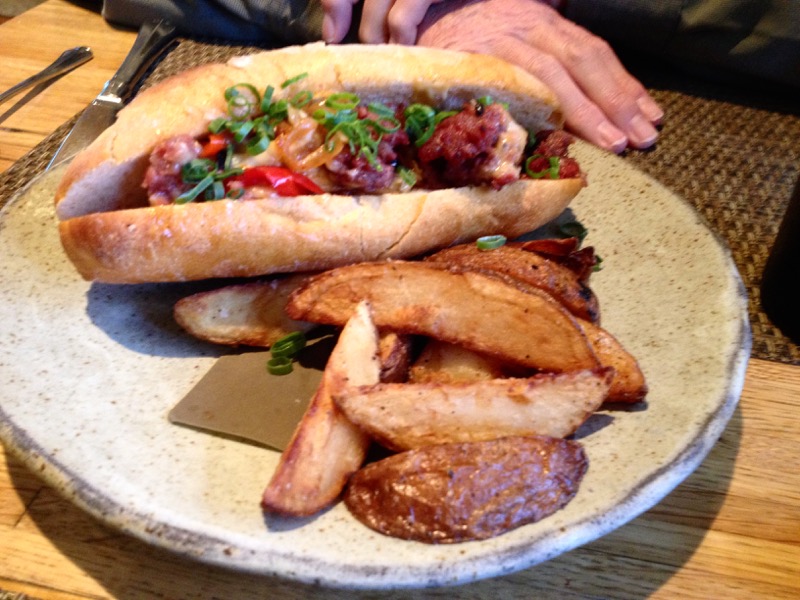 David had Husk's house-made Maple Sausage, Kentucky Bacon Sandwich with Caramelized Onions and Peppers. It came with their signature homemade ketchup and potato wedges.  It was delicious.  But he would have preferred the Shrimp and Grits if he hadn't had it the night before at another restaurant.  Husk's version was the winner.
We left the restaurant on a quest for ingredients to make our own Shrimp and Grits.  I should make that singular, not plural.  David was on the quest to find Tasso Ham and good grits.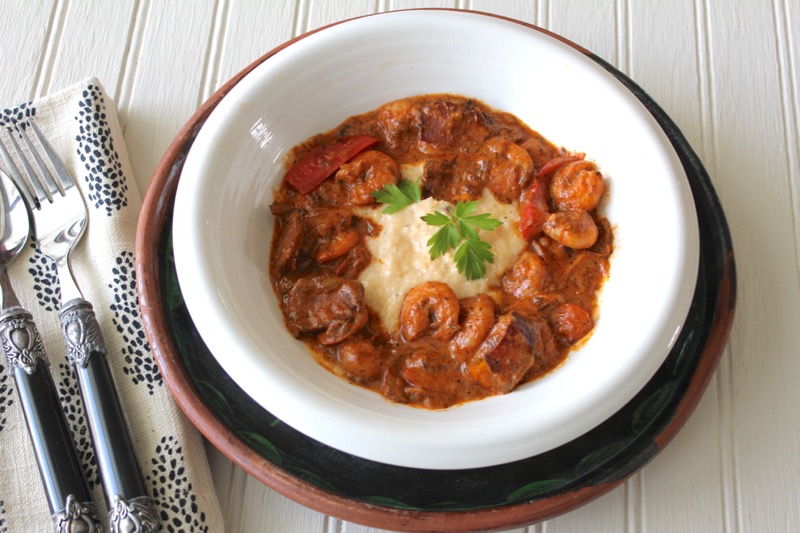 We found Tasso Ham and the local grits at a nearby market.  David's version of Shrimp and Grits was not quite the same as Husk's version, but we loved it all the same. If you can't find Tasso Ham you can always use a good quality smoked bacon.
SHRIMP AND TASSO GRAVY OVER PIMENTO CHEESE GRITS
(Adapted from a recipe by Stephen Crowe, at The Farmers Shed in Lexington, SC, as featured on Food Network's Diners, Drive-Ins and Dives)
Ingredients
Grits:
4 cups broth (chicken or vegetable or seafood, or any combination)
1 tsp salt
4TBL butter
1 cup stone-ground white grits
1/4 cup half & half
1/2 cup good pimento cheese spread
Tasso Gravy:
3/4 cup leek thinly sliced across the stalk
1/2 cup julienned red bell pepper
1/2 cup julienned yellow or orange bell pepper
1/4 cup finely sliced shallot
2 oz finely diced tasso ham
1 TBL chili powder
1 TBL smoked paprika
1 1/2 tsp dried basil
1 1/2 tsp dried thyme
2 1/4 tsp dried oregano
1 1/2 tsp freshly ground black pepper
1/2 tsp salt
1/2 tsp granulated garlic
Small pinch seafood seasoning, such as Old Bay
1 1/2 cups clam juice
1 1/2 cups tomato juice
1 cup half & half
1/4 cup white wine, e.g. Chardonnay or Pinot Grigio
1/4 cup all-purpose flour and 3 tsp melted butter (for thickening sauce if necessary)
1/4 cup finely sliced scallions for garnish
Shrimp:
2 lb medium or large shrimp, shelled and deveined
2 TBL butter
Directions
Grits:  Bring the broth, and salt to a boil in a sauce pan. Very slowly pour in the grits, stirring constantly.  Reduce the heat, and continue to cook for 20 – 30 minutes, stirring frequently until done. Add the butter, half & half, and pimento cheese, and stir well to combine.  Keep warm over a water bath until ready to serve.
Tasso Gravy:  Saute the tasso ham in a large saute pan with a little olive oil until the ham is slightly browned and most of the fat has rendered. Remove the ham with a slotted spoon and reserve on some paper towel. Add the leeks, peppers, and shallot to the grease in the pan and saute until soft or even lightly brown.  Add the chile powder, paprika, basil, thyme, oregano, pepper, salt, garlic, and seafood seasoning, and stir well to mix.  Add the clam juice, tomato juice, and white wine and simmer for 10 minutes.  Add the half & half and simmer for 15 minutes. If the sauce seems too thin, make a roux with the flour and melted butter in a small bowl, and add a little at a time to the gravy, stirring constantly, until the desired consistency is reached.  You don't want a thick gravy. It should be fairly runny, and you may not need the flour roux at all.  Add the ham to the gravy and reduce the heat to very low.  Saute the shrimp in 2 TBL butter in a separate large saute pan until pink, then transfer the shrimp to the gravy pan using a slotted spoon, and simmer for 2 minutes.
To Serve:  Spoon some grits onto each plate or bowl, and spoon some of the shrimp mixture around the grits.  Top with some of the finely sliced scallion to garnish.  (I forgot to buy scallions)