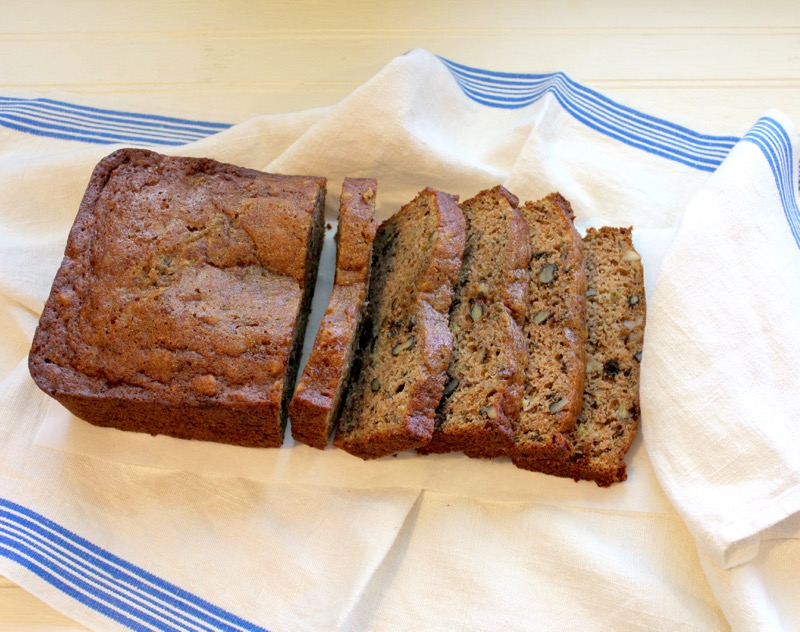 I have tried many Banana Bread Recipes.  I have to say this is my favorite so far. Even David, who is not fond of banana bread, ate two pieces one right after another,  saying how moist it was.  Since we have returned from Florida, it has been a marathon clean-up of our property. We always love returning to the greening trees and blossoming bushes. But the leaves on the roof, the gutters and the yard always challenge us.
The colder weather has also been a concern.  I have held off purchasing many flowering baskets or putting out pots of herbs. They do say that you should wait for Mother's Day before putting out flowers to avoid the possibility of frost or freeze.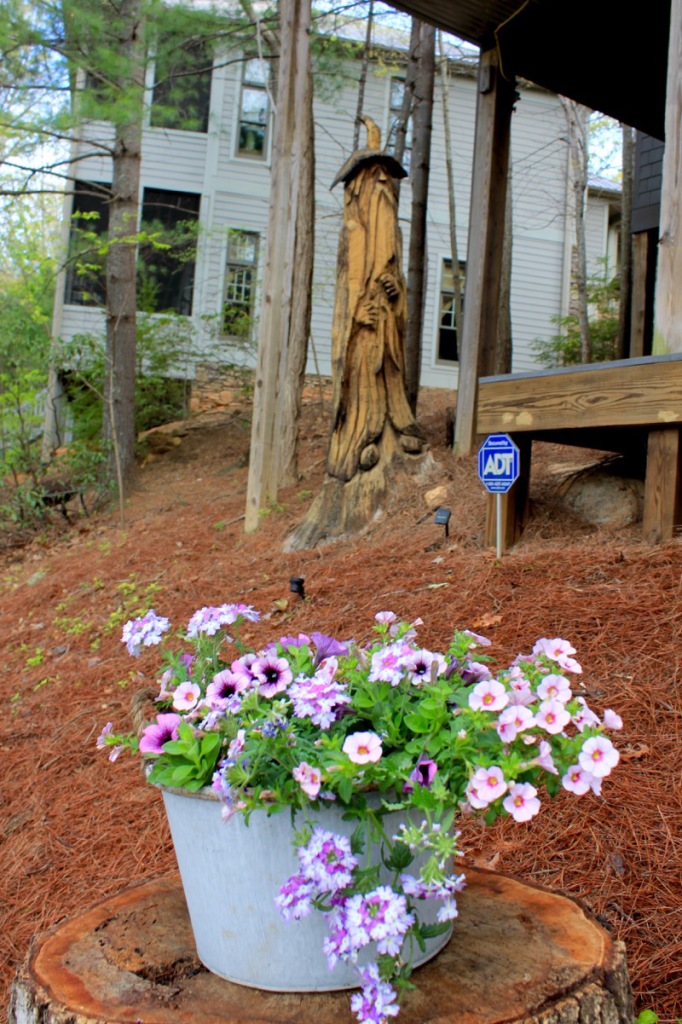 I did buy one pot of flowers in an old bucket that I have been carrying in and out of the house during cold nights.  It is sitting on the stump of a tree that we had taken down over the winter.  You can see our wizard carving in the background.  The Grandchildren love the wizard and it is featured in one of the children's books that David has written; Rachel and The Wizard of Lake Lure.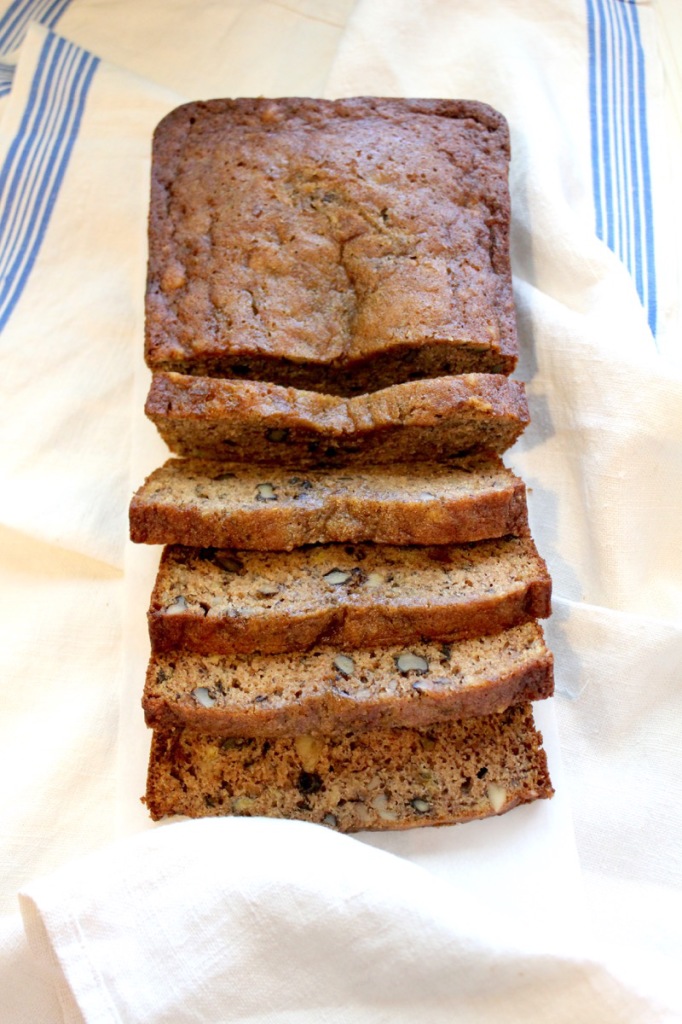 This banana bread is just right with a cup of coffee or tea on these cool Spring mornings.  The cinnamon and vanilla add just the right flavor notes with the bananas.  The walnuts are also a nice touch.  If you want a healthy boost, you can add chia seeds and hemp hearts.  They are barely detectable but good nonetheless.  My DIL adds them to all of her sweet breads, muffins and pancakes.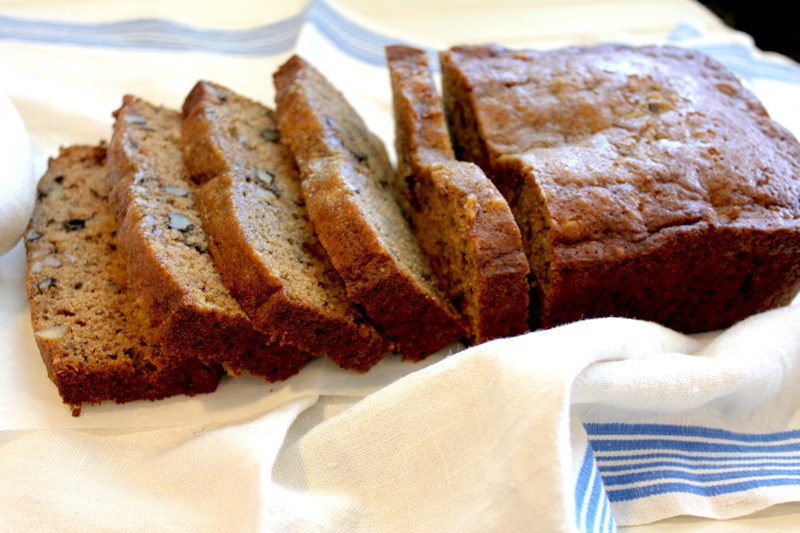 I hope you are enjoying this Spring awakening as much as I am.
BANANA WALNUT BREAD
3/4 cup coarsely chopped walnuts, toasted
1/2 cup white whole wheat flour (King Arthur)
3/4 cup unbleached all-purpose flour
1 teaspoon baking soda
1/2 teaspoon cinnamon
1/2 teaspoon salt
1 tablespoon Chia seeds, 1 tablespoon Hemp hearts (optional)
1/2 cup dark brown sugar
1/4 cup granulated sugar
2 large eggs
1/2 cup canola oil
3 medium overripe bananas, mashed
1 teaspoon pure vanilla extract
Preheat the oven to 350 degrees F.  Coat a 9-by-5-inch loaf pan with cooking spray.
In a medium bowl, whisk the flour with baking soda, cinnamon, salt and Chia seeds and Hemp hearts if using.  In another bowl, combine the sugars, eggs and oil and beat at high speed until light-colored and creamy.  Add the mashed bananas and vanilla and beat until smooth.  I did this in my Kitchen Aid Mixer.  Stir in the dry ingredients until thoroughly blended.  Fold in the nuts.
Pour the batter into the prepared pan and bake in the middle of the oven for 50 to 60 minutes, or until the top is springy and a cake tester inserted in the center comes out clean.  Let the loaf cool in the pan for 10 minutes before turning it out onto a rack to cool completely.