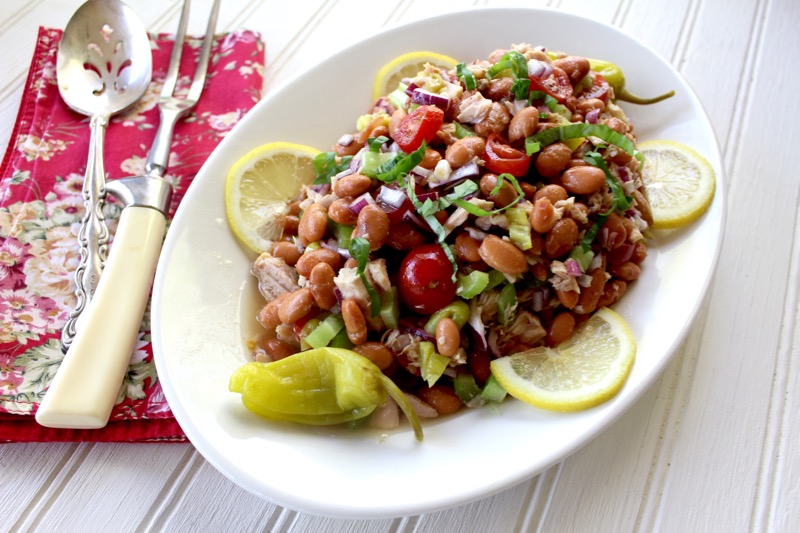 We have been enjoying warmer weather this week.  David has been working on the boat, getting it cleaned of cobwebs, and checking the engine.  The lake is glistening and quiet.  There is not much boat traffic this early in the season.  I took our kayak out for the first time.  I was sure that I would capsize it, but found my balance quickly.  The alternative would be a dunking in frigid water.  It was relaxing paddling by lakefront houses seeing the improvements that neighbors have made to their properties over the winter.  The Ellis's have finished their party dock and lakeside cabin. There is a new house going up a few doors down.  Hanging baskets adorn many docks and the dogwoods and azaleas are in bloom.
This was a day calling for a special lunch.  I found a can of pinto beans and Italian tuna packed in olive oil in the pantry.  From the fridge I pulled a jar of peperoncini, lemons, cherry tomatoes, celery and red onion.  The recipe was inspired by one made by Kalyn's Kitchen; one of my favorite healthy bloggers.  We polished off the whole thing.  David said we should eat lunch like this every day.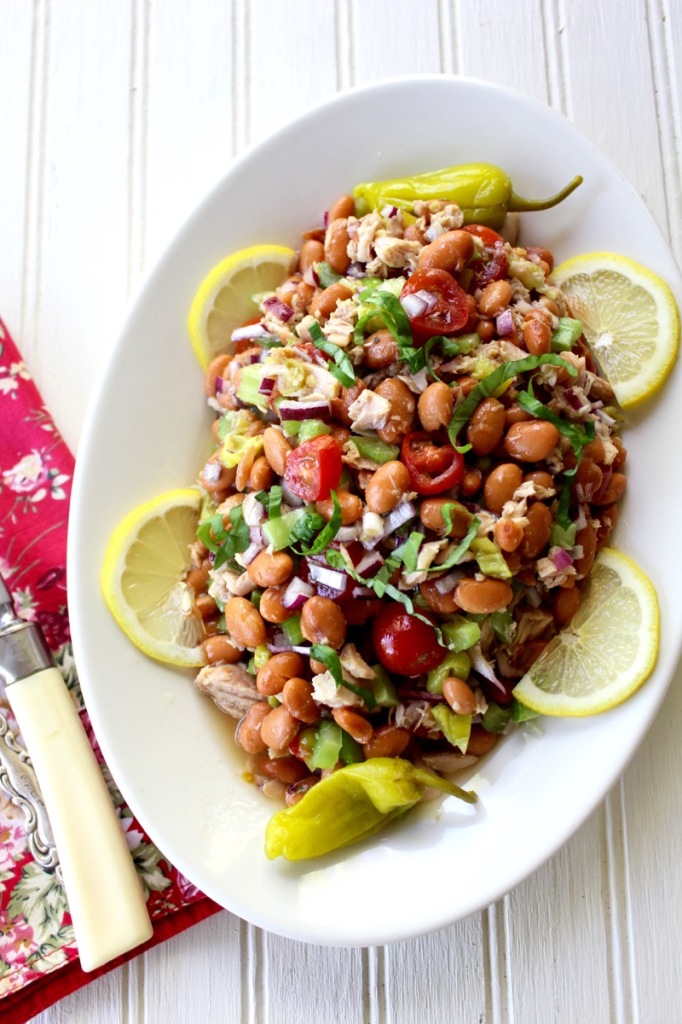 The dressing for the salad includes some of the peperoncini juice, lemon juice, olive oil, taco seasoning and a hit of hot pepper sauce.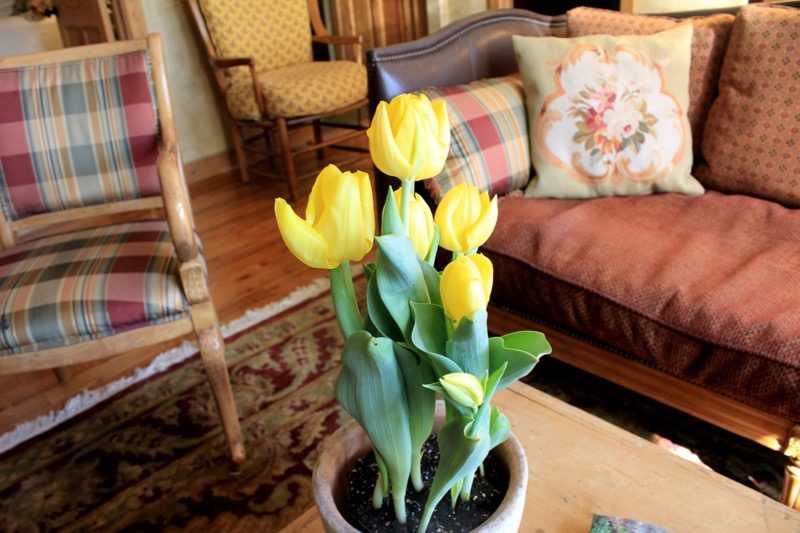 While shopping at Trader Joe's last week, I picked up a small pot of tulips still in the bud stage.  Look at them now in my sunny living room.  Not a bad investment for $3.99.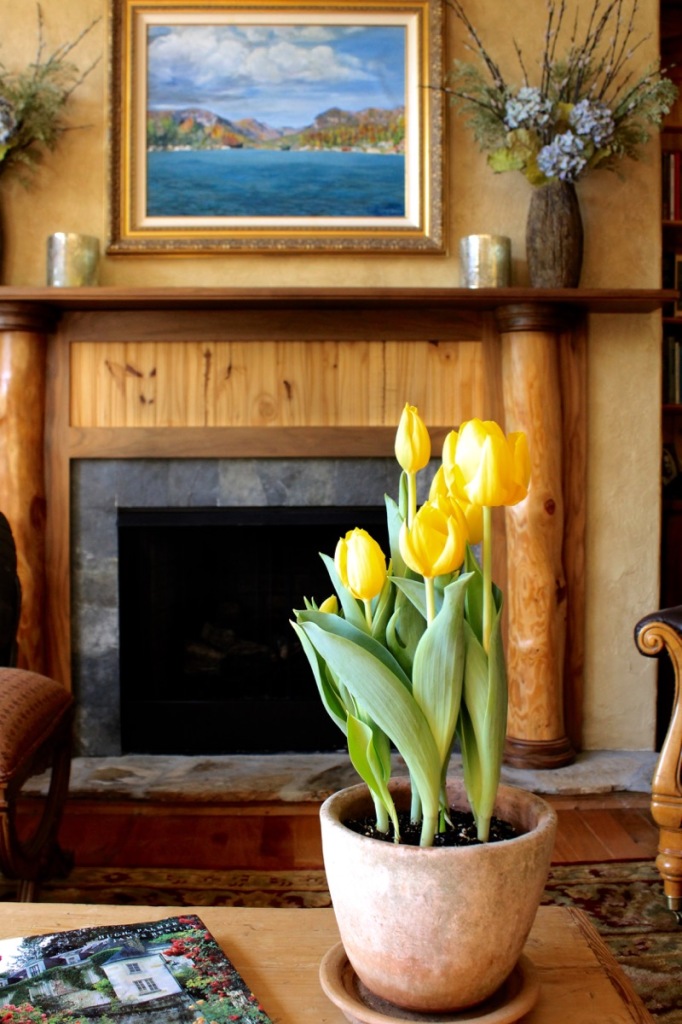 I love how such a small pot of flowers can make me smile.  Something else that makes me smile is the Spring ritual that my friend Penny and I have formed.  Each Spring when I return from Florida, we get together in Asheville for antiquing and lunch at our favorite bistro, Fig.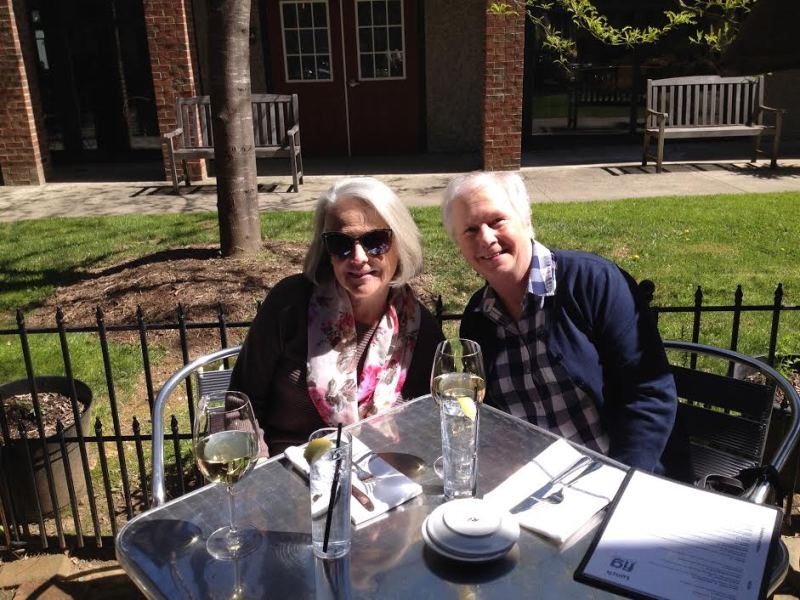 It was a little cool last week, but we ate at our favorite table anyway.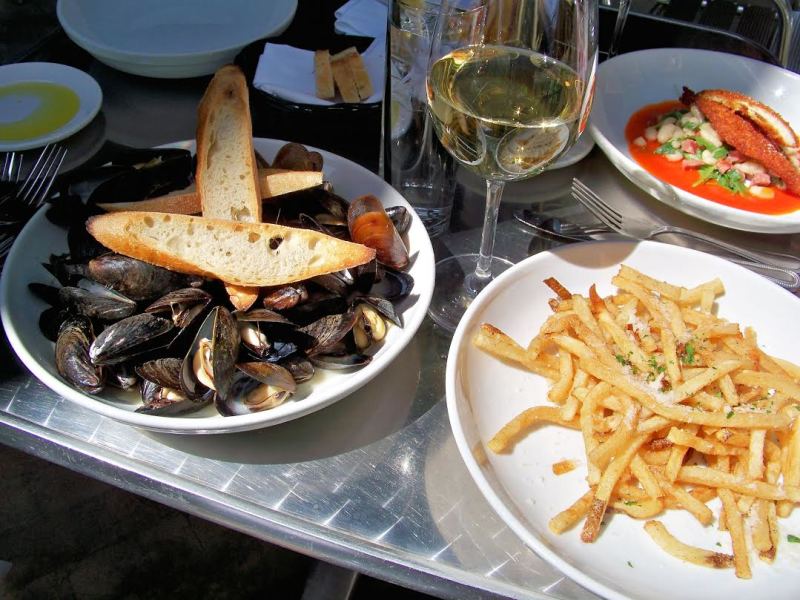 Penny had the PEI Mussels with Pommes Frites.  I had Chicken Schnitzel with white beans, andouille sausage and a piquillo pepper coulis.  It was delicious and it was fun catching up after a dreary winter.  . . . But back to this week's lunch.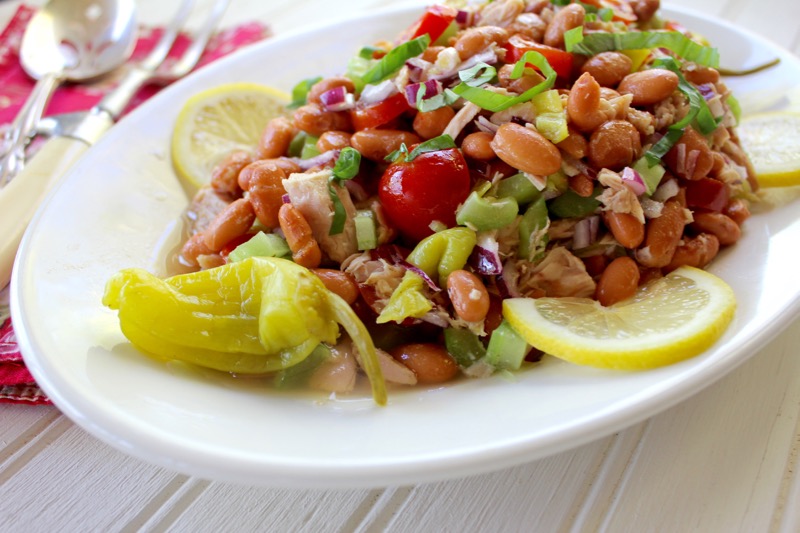 I think this is a great recipe.  Thanks to Kalyn for the inspiration.
TUNA AND PINTO BEAN SALAD
1 can pinto beans, rinsed and drained
2 T fresh squeezed lemon juice
1 T peperoncini juice (brine from the bottle of peppers)
1/2 tsp. Tabasco Sauce, more or less depending on how spicy you like it
1 tsp. Taco seasoning
salt and fresh ground black pepper to taste
5 T extra-virgin olive oil
4-6 large peperoncini peppers, stem and seeds removed and finely chopped
1/4 cup diced red onion
2 stalks of celery chopped
1 cup chopped tomato, drained if the tomatoes are very juicy (I used cherry tomatoes cut in fourths)
4 or 5 basil leaves, chiffonade
1 can (5-7 oz) Italian tuna packed in olive oil
Add rinsed and drained pinto beans to a medium size bowl.  Mix together the lemon juice, peperoncini juice, tabasco, taco seasoning, salt and pepper and olive oil. Whisk until combined.  Add rest of the ingredients except basil to the pinto beans.  Pour dressing over and stir to combine.  Sprinkle basil over the top and serve.