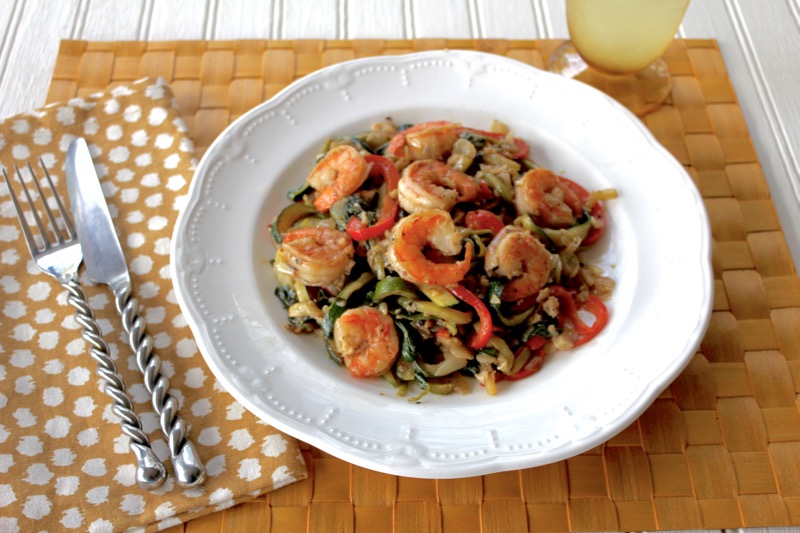 David has been in the kitchen.  I bought the Spiralizer, but he has been the one to use it most often.  Shrimp dishes are his specialty.  We love shrimp scampi but sometimes all of that butter and pasta is way too much.  This rendition of shrimp with sauteed vegetables, including zoodles, is just the ticket.  It is flavorful and very satisfying.
There is a whole lot going on right now in our lives.  Our house in Florida sold.  We are there right now clearing out our belongings in anticipation of an estate sale at the end of the week. It is hard to let go of cherished household items, but I am doing very well.  The kitchen has been the hardest part.  I have absolutely no room in my Lake Lure Kitchen for more stuff!  So I have been strongly resisting keeping much.  I have made an exception for my beloved paella pan and a few platters, but that is it.  I wish all of you could be there, because I know I would find good homes for my extra kitchen accoutrements.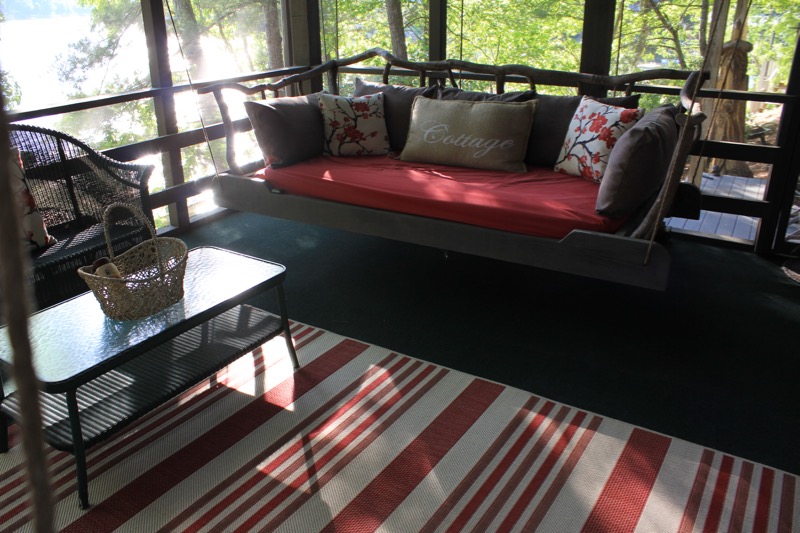 With all that is going on right now, I wish I were home in Lake Lure on our sleeping porch with a good book and no responsibilities.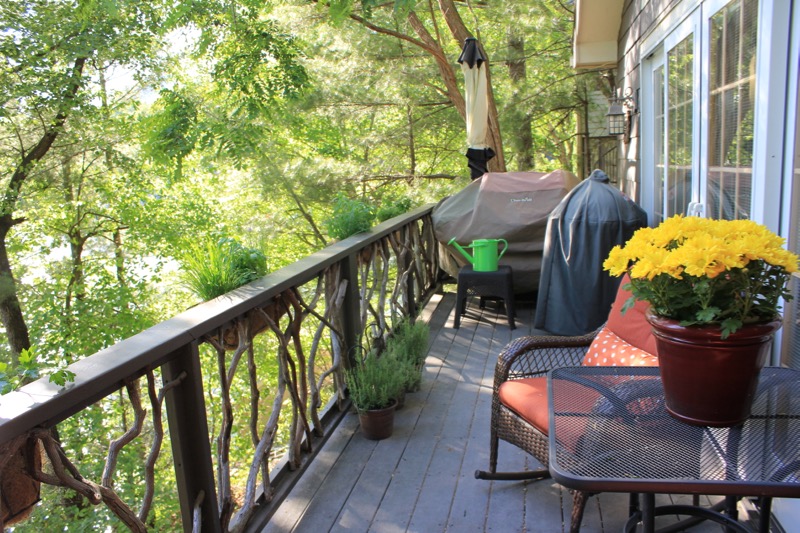 We managed to get the herb planters going before we left for Florida.  It is so nice to have our herbs high above the ground so that our hungry deer do not bother them.  We have a great neighbor watering everything while we are gone.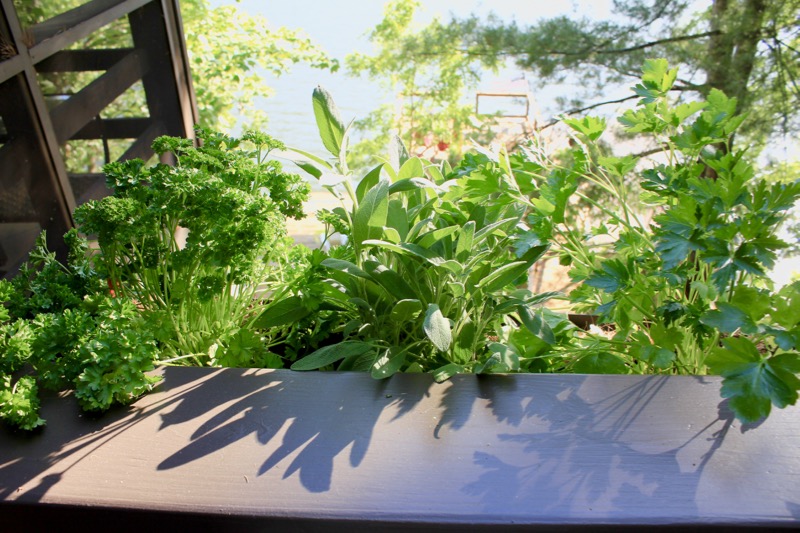 Two varieties of parsley and sage decorate this planter.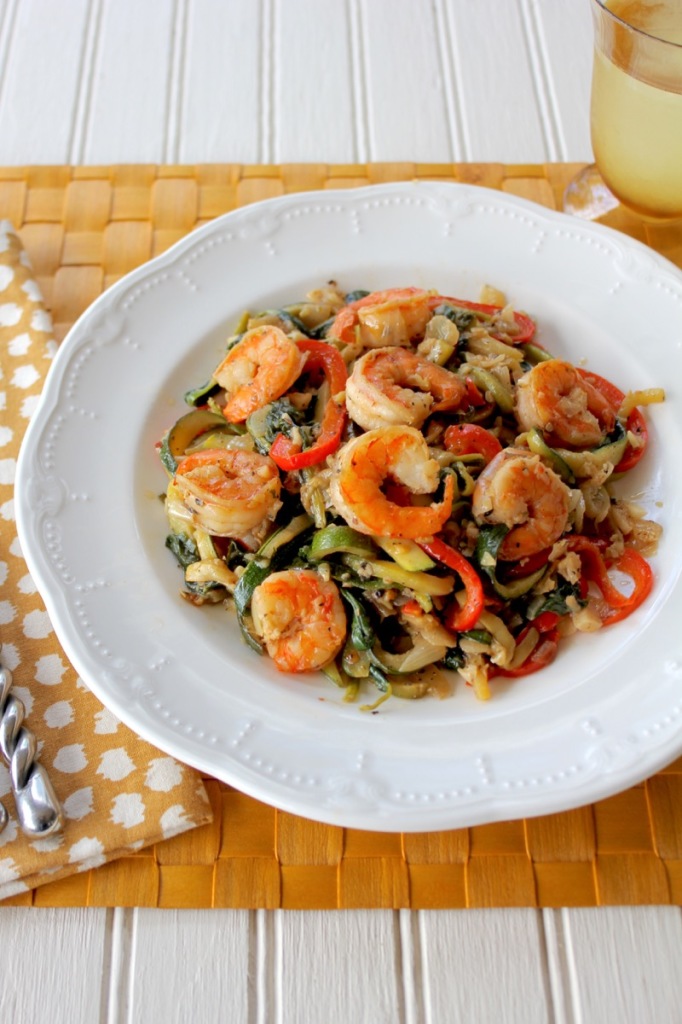 We enjoyed this Shrimp Florentine dish so much.  The fresh spinach and zucchini noodles made this both delicious and healthy.  I need to let David plan meals more often.  He tends to cook healthier meals than I do.  I would be happy with just macaroni and cheese.
SHRIMP FLORENTINE WITH ZOODLES
1 Tablespoon butter
1 Tablespoon olive oil
2 Zucchini, cut into noodle-shaped strands
1/2 large yellow onion, minced
1/2 red bell pepper, julienned
1 Tablespoon chopped garlic
1/2 teaspoon kosher salt
1/2 teaspoon Italian herbs
2 Tablespoons butter
1 pound large shrimp, peeled and deveined
1 Tablespoon minced garlic
1 6-ounce bag baby spinach
1 Tablespoon fresh lemon juice
1/2 teaspoon red pepper flakes
1/4 cup white wine
1/2 teaspoon kosher salt
1/2 teaspoon freshly ground black pepper
Heat 1 tablespoon butter and olive oil together in a large skillet over medium heat; cook and stir zucchini noodles (zoodles), onion, red bell pepper, chopped garlic, Italian herbs and 1/2 teaspoon salt until zoodles are tender and onion is translucent, about 5 minutes.  Transfer zoodle mixture to a bowl.
Heat 2 tablespoons butter in the same skillet; cook and stir shrimp and minced garlic until shrimp are just pink, 3 to 4 minutes.  Remove shrimp to a bowl and deglaze the pan with the white wine and simmer for 2 to 3 minutes to reduce the liquid by half.  Add spinach, lemon juice, red pepper flakes, 1/2 teaspoon salt and pepper; cook and stir until spinach begins to wilt, 3 to 3 minutes.  Add zoodle mixture and the shrimp and cook and stir until heated through, 2 to 3 minutes.  Serve.