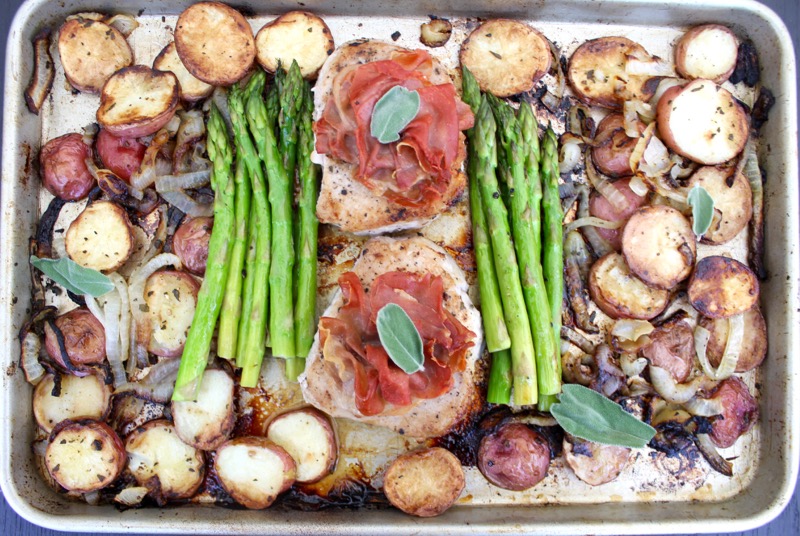 What a terrific idea.  From the good folks at Bon Appetit Magazine comes this easy way to cook your whole dinner on one sheet pan.  The timing for this recipe to appear couldn't be better.  Most of my remaining kitchen supplies are in boxes sealed and ready to accompany us back to North Carolina.  It was so convenient to turn the oven on and cook the whole dinner in one pan.
Saltimbocca is Italian for "jumps in the mouth".  Usually it is made with veal that is pounded thin, wrapped in prosciutto with a sage leaf underneath, sauteed in butter and then simmered in dry white wine.  This unconventional treatment starts with potatoes and onions seasoned with lots of sage and olive oil and cooked in a hot oven.  The boneless pork chops topped with the prosciutto are then added to the pan to continue cooking until they are done.  I also added asparagus.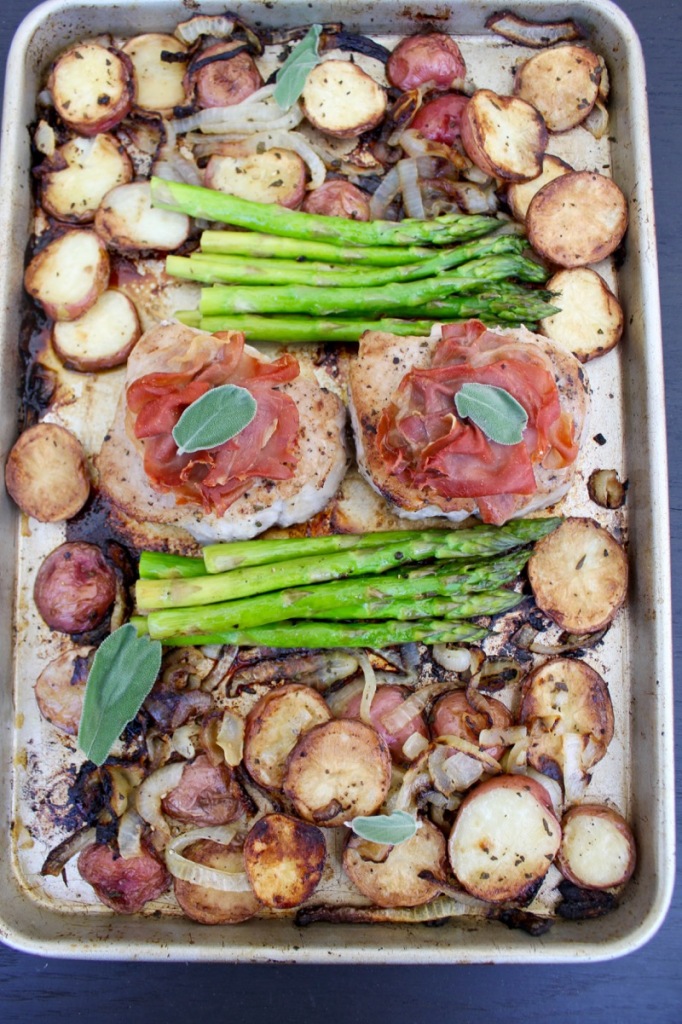 This was a flavorful dinner with very little effort.  We are headed back to North Carolina with a small u-haul trailer.  I am proud that I can include that word "small".  We will miss our Florida home but are looking forward to the different travel opportunities we now have.
SHEET PAN PORK SALTIMBOCCA
2 

1-inch-thick slices boneless pork loin (6–8 ounces each)

1 1/2

cups

dry white wine

2

onions, cut into 1/2-inch-thick slices

3

tablespoons

olive oil, divided

Kosher salt and freshly ground black pepper

1

pound

small (2-inch-diameter) Yukon Gold potatoes, cut into 1/2-inch-thick rounds

1/8

 

cup

chopped fresh sage leaves

4 

thin slices prosciutto

 Asparagus spears drizzled with olive oil, optional

Preheat oven to 450°.  Pierce pork slices all over with the tip of a paring knife. Place in a dish just large enough to hold pork in a single layer. Pour wine over and let marinate at room temperature while preparing other ingredients.

Place onions in a medium bowl, drizzle with 1 Tbsp. oil, and season with salt and pepper. Toss gently to coat without breaking up slices. Transfer onions to prepared baking sheet, spreading out in an even layer. Combine remaining 2 Tbsp. oil, potatoes, and sage in same bowl; season with salt and pepper and toss to coat. Place potatoes on sheet, tucking in among onions.

Roast onion-potato mixture until potatoes are beginning to brown around the edges, about 20 minutes. Remove pork from wine and pat dry. Season with salt and pepper and top each pork slice with 2 prosciutto slices. Place pork on baking sheet atop potatoes and onions. Add asparagus spears if desired. Roast until an instant-read thermometer inserted horizontally into center of pork registers 135°, about 15 minutes.   (After 10 minutes, I turned pork chops over to brown more evenly.  I lifted the prosciutto , turned the chops and placed the prosciutto back on the chops.)  Remove pan from oven and let rest, covered with foil for about 10 minutes.  Serve.