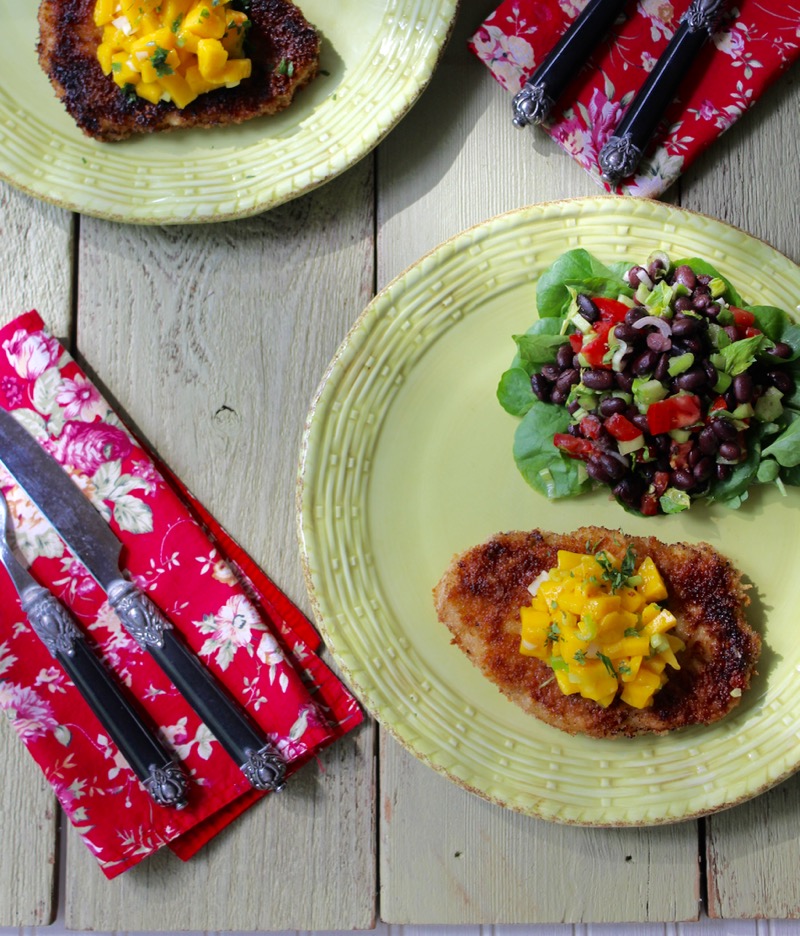 I would be curious if any of you have tasted Panamanian cuisine.  I have just been introduced to this  flavor profile. Panamanian cuisine is similar to other Caribbean locales and has been influenced by the Native Americans, Spanish and African immigrants who populate this land bridge between two continents. It includes tropical fruits, coconut, herbs like cilantro, rice and beans and seafood, pork and poultry.
I recently met Smith Anderson, founder of 980 Panama Gourmet Sauces. With his partner Alexis Gallardo, he conceived the idea of manufacturing sauces with ingredients straight from the fields of Panama.  All of their sauces are natural and gluten free. Alexis Gallardo, a native of Panama, had studied chemical engineering and was a part of his family's manufacturing and distribution company that is the top exporter of natural vinegars in Central America.  Smith and Alexis formed their own company to produce flavorful sauces with an emphasis on freshness and quality ingredients.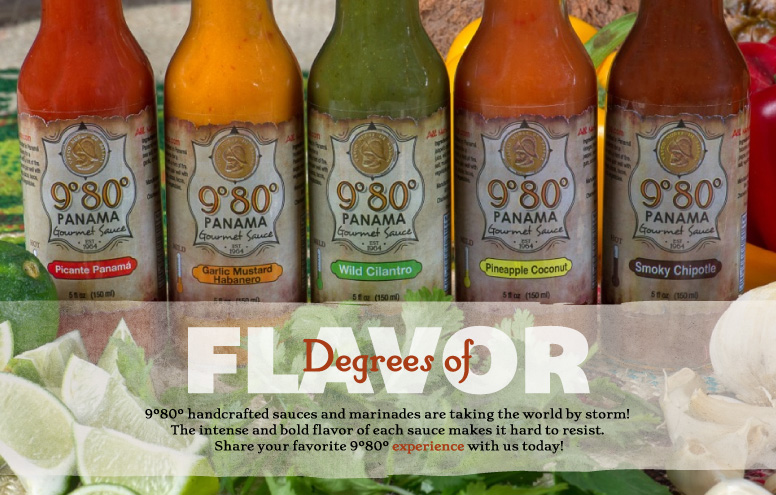 Imagine adding Pineapple Coconut sauce to your caribbean rice dish or as a marinade for your favorite chicken.  The Wild Cilantro sauce adds just the right heat and flavor to tacos.  The Smoky Chipotle sauce would be great on ribs.  One of the newer sauces, not pictured above , is Caribbean Lime.  I used it in addition to the Wild Cilantro in the recipes I developed here. It has a bit of heat and a piquant flavor.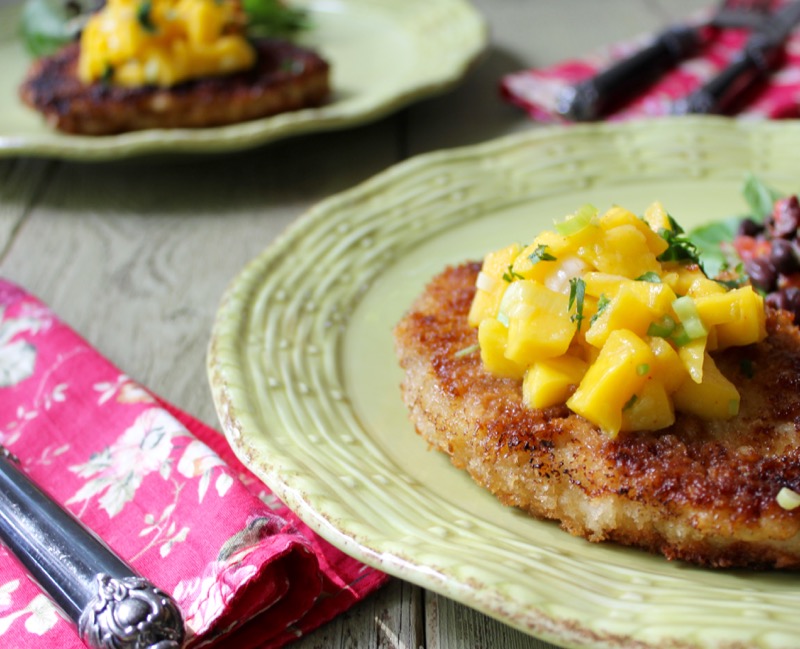 I marinated the pork cutlets in a mixture of the Wild Cilantro Sauce and the the Caribbean Lime Sauce with olive oil and vinegar before breading and frying.  The black beans were coated with a vinaigrette of olive oil, lime juice and the Wild Cilantro and Caribbean Lime Sauce. The Mango Salsa or Chatini comes from Dory Greenspan and is part of the cuisine of the island of Mauritius.  This is a meal worthy of sharing with friends and family with unique flavors and bright taste.
Smith Anderson has graciously offered to donate a four pack of sauces to one of my followers.  All you have to do is leave a comment below and like 980 sauces on Facebook. I will pick a winner by random drawing.
CARIBBEAN PORK
4 Tenderized boneless pork cutlets
1 Tablespoon Wild Cilantro 980 Sauce
1 Tablespoon Caribbean Lime 980 Sauce
1 Tablespoon olive oil
1 teaspoon white wine vinegar
3/4 cup flour
salt and pepper to taste
1 egg beaten with a little water
1 cup Panko crumbs
2 Tablespoons oil for frying
Combine the 980 sauces with the olive oil and white wine vinegar.  Place pork cutlets in shallow rectangular bowl.  Spoon sauce over them, turn and cover both sides of pork evenly with marinade.  Cover and refrigerate for at least 4 hours.
Place flour in bowl and season with salt and pepper.  Place egg and water in another bowl.  Put Panko crumbs in a third bowl.  Dip pork chops in flour, then egg and then in Panko crumbs being sure that the chops are well covered.  Place chops and on large plate and refrigerate for at least 1/2 hour to set crumbs.
Heat oil in large skillet and brown chops on both sides.  Place in 350 degree oven for 15 minutes to be sure that they are cooked through.
BLACK BEAN SALAD
1 15 Oz. can black beans drained and rinsed
1 large celery stalk, diced
1/4 cup chopped celery leaves
2 roma tomatoes, diced
2 scallions chopped
3 Tablespoons olive oil
1 Tablespoon lime juice
zest of 1 lime
1 teaspoon Wild Cilantro 980 Sauce
1 teaspoon Caribbean Lime 980 Sauce
Combine black beans with celery, celery leaves, tomatoes and scallions.
Combine the vinaigrette ingredients and pour over black bean mixture.  Refrigerate for at least 1/2 hour to combine flavors.  Serve as is or over a bed of watercress.
MANGO CHATINI ( Dory Greenspan )
Juice of 1 lime
1 teaspoon grated fresh ginger, or to taste
1 large ripe but firm mango, peeled, pitted, and finely diced
1 spring onion, trimmed, quartered lengthwise, and thinly sliced
2 teaspoons finely chopped fresh cilantro
Salt and freshly ground pepper
Pinch of cayenne
Stir the lime juice and ginger together in a small serving bowl.  Add the mango, onion, and cilantro and season with slat, pepper and if you'd like, a pinch of cayenne.
Serve over Caribbean pork cutlet.