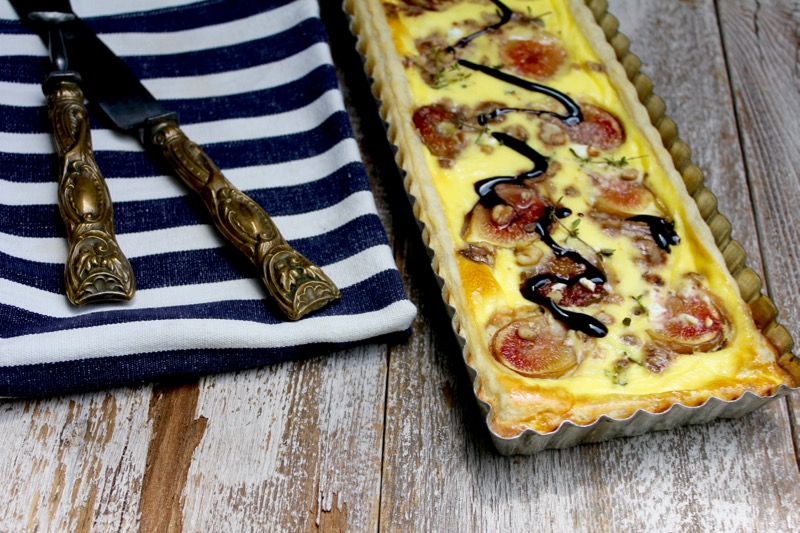 When figs are in season it is worth the time to make use of them in familiar and/or unusual preparations.  They are wonderful as a component in an appetizer or used in a salad or a dessert.  But they are also excellent in pizzas and tarts.  Pared with goat cheese or Gorgonzola they shine.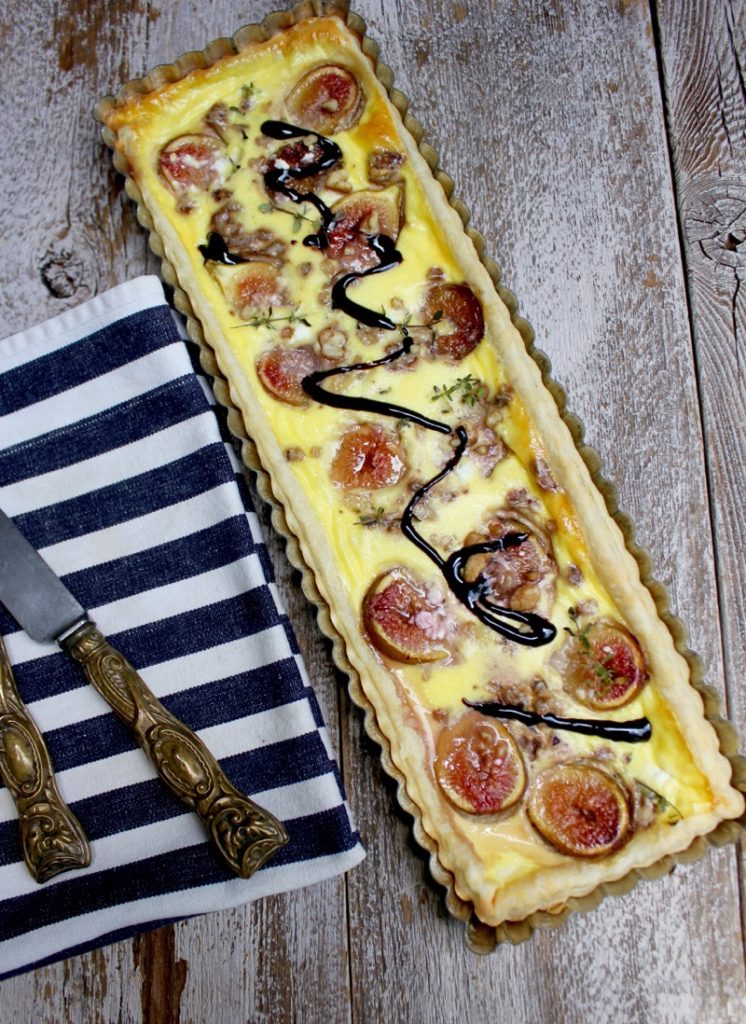 I adapted a recipe from a British magazine for a fig and goat's cheese tart.  It is a very easy recipe to assemble.  It uses frozen puff pastry, so lining the tart pan is a piece of cake. But I must say that I would have preferred a homemade pastry crust.  Puff pastry tends to be very flaky but somehow airy.  I tend to like the more substantial weight of a pie crust.  But, because of the ease of preparation, I was very happy with the results.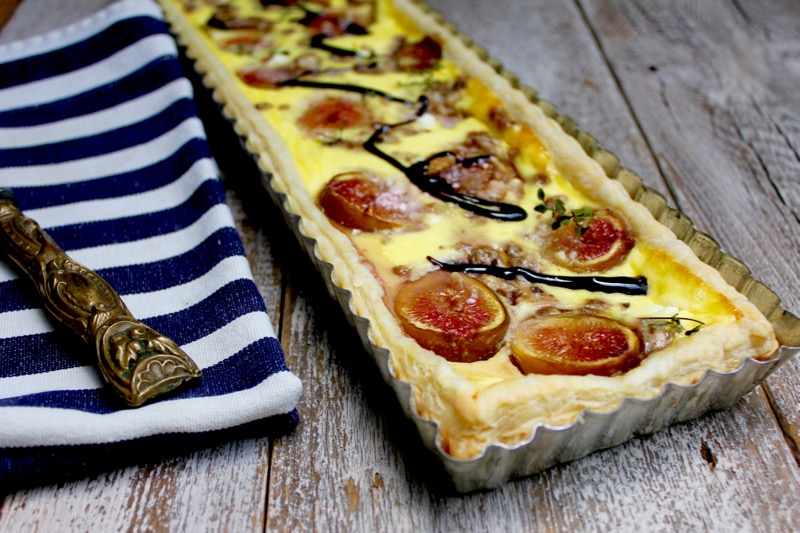 A drizzle of balsamic glaze takes it over the top.  It makes a delicious light supper with a salad of peppery arugula leaves.
FIG AND GOAT'S CHEESE TART
Plain flour, for dusting
1 sheet of puff pastry, defrosted
2 eggs and 1 egg yolk
2/3 cups heavy whipping cream or half and half
6 figs, halved
1/2 cup soft goat's cheese
2 tablespoons chopped walnuts
Several sprigs of thyme to scatter over top
Balsamic glaze to drizzle over top
Dust the work surface with flour and roll the pastry out into a rectangle 1 inch larger than your pan.  Lift it into the pan and press into the corners, lining the base and sides.  Prick the base of the pastry case with a fork.  Pop into the freezer for 30 minutes while you heat the oven to 400 degrees F.  Place a baking sheet on the middle shelf.
Beat the eggs and egg yolk with the cream until combined.  Season well.
Trim the stalk from each fig and cut the fruit in half.  Pour the egg mixture into the pastry case.  Crumble the cheese on top and arrange the figs evenly between, cut side up.  Scatter with the walnuts and thyme sprigs.
Slide the tart onto the tray and bake for 15 minutes.  Reduce the heat to 350 and cook for 15 to 20 minutes longer.
Remove it from the oven and leave to cool slightly.  Serve drizzled with the balsamic glaze.